The five things you need to know on Friday, January 13…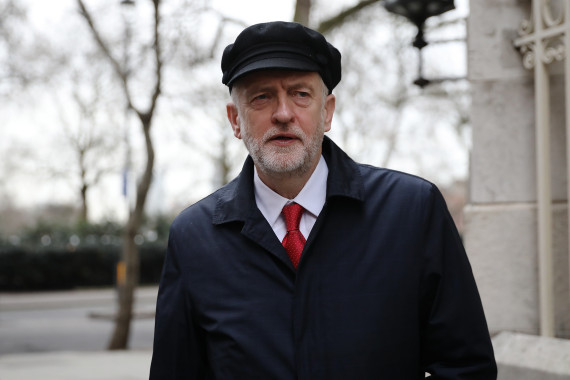 1) NORTHERN JEZ-ERENDUM
Back in the 1990s before Blair, Labour used to worry about its 'southern discomfort'. But these days of course it's the north that worries many of its MPs too. With UKIP taking chunks of the Labour Leave vote, the Tories and Lib Dems are targeting seats where they think they are the main challenger.
As a counterpoint to the national polls, Jeremy Corbyn famously likes to use local council by-election - and Westminster by-election - results to point to progress. But last night didn't bring good news. In Sunderland's rock solid Sandhill ward, where Labour hasn't lost since 1982, the Lib Dems won with a massive 41% increase in their vote. (More predictably but still impressively the Lib Dems also won back a Tory seat in Hertfordshire with a 24% increase). Former Ed Miliband polling adviser Ian Warren says Sandhill is "the most shocking local by-election result I have seen in a long time".
With every northern contest viewed as a Jez-erendum, how will Corbynism fare in the coming Copeland by-election? Well, as I report HERE, the Cumbria seat now looks as if it will see the first real 'Corbyn candidate' in a Westminster by-election. (In neither Oldham nor Tooting could the candidate reasonably be described as 'Corbynistas').
Local campaigner Rachel Holliday, who was herself once homeless, is widely admired for setting up a hostel for homeless ex-servicemen. She has campaigned for three years to save the West Cumberland Hospital maternity unit. She backs Sellafield (and her husband works there) and she is exactly the kind of energetic, down-to-earth 'real person' any party would want. On top of all that, she voted twice for Corbyn in the Labour leadership elections. No wonder Corbyn's allies are backing her, and Momentum has piled in resources, ahead of the selection meeting next week.
It's not all plain sailing. The Tories are flooding the seat with leaflets about Corbyn's nuclear views. Defence minister Mike Penning yesterday seized on suggestions that Corbyn wanted UK troops to pull out of Baltic states. And I'm told even Labour's phonebankers this week got replies from Copeland residents saying 'I'm not voting for you until you've got rid of him'. Some MPs mutter that the Private Eye cartoon strip 'It's Grim Up North London' is even more of a playbook than it was under Ed Miliband.
But many Labour MPs, including 'moderates', think the bookies are daft to make the Tories favourites in Copeland. There's even talk now of a possible March date for the by-election. And the leader's allies think a resounding victory would be a prize to prove that his clear anti-austerity, pro-NHS agenda, has a strong northern accent.
2) BRRR-EXIT
It's been freezing overnight across much of the UK, but just how chilly will life be outside the EU? The hot news yesterday was that Theresa May has decided to deliver her Big Speech on Brexit next Tuesday. Er, that was it. It's what we in the journo trade call a 'one-fact story'. No.10 didn't even attempt to add any more detail other than the usual mantras about wanting an open, confident trading Britain.
Still, Tory MPs as much as everyone else will be hoping for clues next week. They took her to a speech on Tuesday, but will they be making Eurosceptic love on Wednesday? It's unclear if the PM will publish her 'plan' alongside the speech, a plan that is not expected to be anything like a 'White Paper' but instead a short summary of her position. The bar is so low that I suspect May could surprise some with a little more clarity on her objectives. Having won the battle to get some more detail, Shadow Brexit Secretary Keir Starmer is shrewdly talking about what Labour 'expects' the Government to do.
Dom Raab has hit out at 'peacock diplomacy' after Joseph Muscat, the prime minister of Malta – which currently holds the EU presidency – said the UK will have to abide by new European Court of Justice rulings during any transitional period after Brexit (maybe for a further five years). The Express has reported that Tory MPs fear Philip Hammond is leading a rearguard action to keep the UK in the EU customs union. But David Davis is keeping his options open, telling a private meeting with the Legatum Institute thinktank that "nothing has been ruled out".
May is still basking in a polling honeymoon. The Sun picks up on a Press Association survey showing that her 14 point lead is the best of any Tory PM in the past 60 years exactly six months into the term of a new prime minister. Only Tony Blair's Government beat May's current rating with a huge 29-point lead in the polls after he took office in 1997.
The PM meets new New Zealand premier Bill English today. Sadly, it's for lunch not breakfast, so she won't be getting the Full English. (Alright, I'll get my coat now).
3) STEELE YOURSELF
The Trump/Russia spies row has prompted lots of new angles about former MI6 agent Christopher Steele. My favourite yesterday was the line in the Telegraph that the spook had not just gone to ground and fled his Surrey home, he had also left his cat with his neighbours.
Today the BBC reports Steele helped the Football Association with its 2018 World Cup bid scrutiny of Russia, Reuters says he helped the FBI with evidence on alleged FIFA corruption. The Russian embassy in London blames Britain for fuelling the whole Trump row and tweeted that it thinks Steele is still working for MI6 and "briefing both ways" against Trump. Which sounds like the kind of things spies are paid to do.
There's a lot of knights in the story today. The Sun splashes that our new man in Brussels, Sir Tim Barrow, once worked with Steele. The Times says former British ambassador to Moscow Sir Andrew Wood played a crucial role in bringing the dossier of sex allegations against Trump to the attention of US intelligence services, after meeting Senator John McCain.
The Guardian has an interesting line that Parliament's Intelligence and Security Committee could now look at the dossier claims. Chairman Dominic Grieve says it is "clearly is a matter which could fall within the remit of the committee". The ISC said it "will hold such inquiries and discussions as it considers to be necessary as a result of this news item".
BECAUSE YOU'VE READ THIS FAR…
Watch this outtake of an Aussie TV presenter haranguing her colleague for wearing the same outfit. The final shot is all smiles.
4) BUTTERFLY BRAIN
Momentum is hoping that the Copeland by-election gives it a chance to finally prove it can translate its 'Call Corbyn' campaign in Labour's leadership election into similar success at the ballot box in a Westminster seat.
But back in London, controversy is not far away. Leftwinger Christine Shawcroft was installed as Momentum's new director yesterday, replacing Jon Lansman. Labour MP Neil Coyle wasn't too happy, given Shawcroft's role on the NEC panel that shortlisted for Copeland.
And the saga of the group's internal fights still looks extraordinary. The Guardian has some hilarious emails, with the treasurer of Momentum trying to fight off Lansman's reforms by urging "everyone to be friends and eat cupcakes and think about butterflies".
Meanwhile, former Labour general secretary Lord Triesman has told The House magazine that he thinks Labour is heading for a big defeat at the next general election. The result will leave it with a "small parliamentary party". "I think the position for the party is genuinely very grim and I don't see any real point in trying to hide from the reality".
5) POLLUTION DODGE
The FT has splashed its front page on yet more claims that carmakers have been trying to cover up the emissions from their vehicles. First it was VW, now it's Fiat Chrysler. The car giant has been accused of not telling authorities about software that regulates emissions in thousands of its diesel vehicles. The US Environmental Protection Agency (EPA) said the company broke the law by installing, but failing to disclose, the technology in more than 100,000 Dodge and Jeep vehicles.
The agency said the software caused higher nitrogen oxide levels. Fiat Chrysler boss Sergio Marchionne said the firm had done nothing illegal, but the EPA (its very existence under threat from a Trump administration) is coming out fighting.
On Wednesday, Volkswagen pleaded guilty to three criminal charges to settle charges over its emissions-rigging scandal. The Department of Justice said VW had a long-running scheme to sell about 590,000 diesel vehicles in the US fitted with a defeat device to cheat on emissions tests. The firm will pay $2.8bn in criminal fines and $1.5bn in civil penalties.
COMMONS PEOPLE
Owen Bennett is back in the chair on our first CommonsPeople podcast of 2017. Listen to us chinwag about Simon Stevens' debating skills, Corbyn's 'day of chaos', our new 'Farron or Farage?' Brexit litmus test, and the usual quiz. Oh and I misspeak a new MP into existence: 'Boris Gove'. Listen HERE.
If you're reading this on the web, sign-up HERE to get the WaughZone delivered to your inbox.
Got something you want to share? Please send any stories/tips/quotes/pix/plugs/gossip to Paul Waugh (paul.waugh@huffingtonpost.com), Ned Simons (ned.simons@huffingtonpost.com), Martha Gill (martha.gill@huffingtonpost.com) and Owen Bennett (owen.bennett@huffingtonpost.com)