The five things you need to know about Theresa May's Brexit Speech…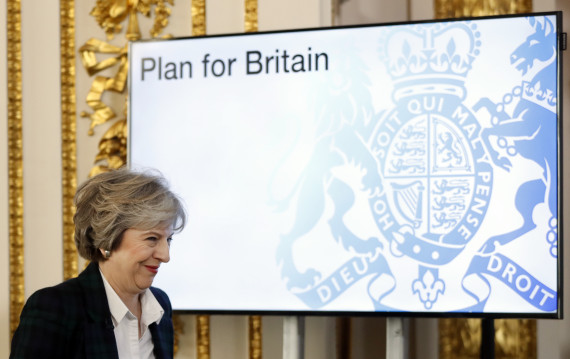 1) MAGGIE MAY
It was fitting that a huge portrait of George III gazed down on Theresa May on Tuesday as she delivered what was effectively the UK's Declaration of Independence from the European Union. Amid the palatial splendour of Lancaster House, the Monarch who had overseen America's breakaway from Britain had a bemused look on his face as the Prime Minister finally told us what Brexit really means.
May was not so much Thomas Jefferson as Nigel Farage, whose battle cry last year was that the 23rd June EU referendum was "our independence day". Early on in her speech, she pointedly sought to blame the EU for the Brexit vote, declaring the other 27 states had not shown enough "flexibility" on migration and other matters to persuade us to stay.
Having herself famously campaigned to stay in the EU, May has displayed all the zealotry of a convert to the Brexit cause since. Her critics claim that she is playing hardball, over-reaching herself precisely because she needs to prove her mettle to her MPs and the 52% Leavers. The real explanation may be the one confided by a senior Cabinet minister: "Theresa wouldn't be Prime Minister at all without Brexit". Not for nothing did May wear her tartan trouser suit today, the same one she wore when announcing her Tory leadership bid.
Lancaster House is used as an ersatz Buckingham Palace in the Netflix TV series The Crown, and there was a regal air to May's address. Many Brexiteers long for the romance of our first Elizabethan age, when Britain's navy and its buccanneers had a global reach. In fact, Remainer Tory MP Anna Soubry later referred to "Her Majesty's speech", before quickly correcting herself.
But it was the Queen of Conservative Party politics, Margaret Thatcher, whom May most resembled as she handbagged Brussels with her plan for Brexit. More self-assured and poised than ever before, she sounded as if she had finally hit her stride as Prime Minister. Over in the Commons, Labour MP Stephen Doughty echoed Thatcher as he complained that May had opted not to make her speech to the House of Commons: "this lady is not for turning up".
Back in the Long Gallery of Lancaster House, the PM channelled Mrs T to the max as she warned Brussels that a failure to agree a decent trade deal would be "an act of calamitous self-harm for the countries of Europe". She added with a Thatcherite glower: "And it would not be the act of a friend."
Of course it's not exactly friendly to walk out of a club, but May was undeterred as she delivered the hardest of hardball negotiating stances: "no deal for Britain is better than a bad deal for Britain". This is precisely the song of the Three Brexiteers, David Davis, Liam Fox and Boris Johnson, but few expected she'd lead the chorus so lustily. And this was the nicer bit of the speech, a plea to the 27 to avoid mutually-assured destruction.
Lancaster House drips with history, some kind, some not so. It was where European central bank chief Mario Draghi rescued the Eurozone with his 'whatever it takes' speech in 2012. But it was also the place where Zimbabwe won its independence, a fresh start that curdled pretty soon after. And it was where Thatcher herself gave her "Europe open for business" speech in 1988, a generous tribute to the shiny new single market. This would be a market "without barriers—visible or invisible—giving you direct and unhindered access to the purchasing power of over 300 million of the world's wealthiest and most prosperous people," Mrs T cooed. How times have changed.
In one carefully-crafted passage today, Theresa May said that "after all the division and discord, the country is coming together". Yet it was Thatcher who arrived on the steps of No10 in 1979, with her "where there is discord, may we bring harmony" speech. Britain didn't quite end up harmonious in the 1980s, as a young Theresa May was acutely aware. What the EU does next will tell us whether her Thatcher-style gamble pays off.
2) CRÈME BRULEE? NAY
With Thatcher, what you saw is what you got. And May's Brexit speech certainly made life difficult for those 'what she said, what she meant' comment pieces. What she said, she really meant. Her call for Cabinet "discipline" in the face of "every stray word and every hyped up media report" was telling. There are key parts of the plan that lack detail, but at least the broad brush strokes are clearer than ever.
Some critics suspected that May would cook up a 'Crème Brulee Brexit' – hard on top, but soft underneath. There was nothing that tasty for Remainers today, only the hint of a mild fudge in some areas. Pulling out of the single market is no mere bluff. Withdrawing from the customs union to instead take part in a 'customs agreement' is not mere semantics.
There remain huge questions of practicability on the customs agreement and whether we can replicate the regulatory regimes that could cost billions for our aerospace and drugs industries. Only the glib would dismiss such major challenges and Labour's Keir Starmer was right to highlight them. Starmer, who seemed to give May the benefit of the doubt today, had a stab at claiming the customs idea was itself a 'half-in, half-out' solution. He was more effective when warning that the economic 'self harm' would be ours as much as the EU's if we can't agree a deal.
There is certainly a brutal logic to May's position, which in fact is the same as the hardballers in Brussels: you can't really quit the EU and take control of immigration without quitting the single market. She is gambling that European self-interest is as powerful as European unity: "I do not believe that the EU's leaders will seriously tell German exporters, French farmers, Spanish fishermen, the young unemployed of the Eurozone, and millions of others, that they want to make them poorer, just to punish Britain and make a political point."
This is a still a roll of the dice, however. Threatening to revert to WTO-rules would harm EU states but it could harm us much more. The imposition of tariffs would be small beer compared to the huge bureaucratic and legal disruption to our service sector, which relies on smooth access to Europe. The two-year deadline for a trade deal is highly ambitious if not ridiculously optimistic and may instead result in deals for big sectors, while leaving others stranded.
3) BREXIT BOUNCE
As May revealed her 'in for a penny, in for an Imperial pound' approach, sterling bounced back on the currency markets. After months of plunging on the whiff of a hard Brexit, why did the pound rise when the reality of one loomed even larger? The key is business's most sought-after commodity: certainty.
Companies may not like the prospect of losing the single market, but at least they now know where they stand. And they can as a result plan ahead better. Some may weigh up all the risks and decide to quit the UK, though some Tory MPs believe that only a few will and warn we should be careful not to focus on the 'big names' who may not have big numbers of staff here. The fundamentals of the UK economy look strong to many firms, not least our skills base, low inflation, relaxed labour market and low regulatory burden.
The pound also seemed to score its highest rise (2% in one day) for some time because of May's words about not wanting a 'cliff-edge'. While stressing she didn't want "unlimited transitional status" for her new trading arrangements, the PM hinted to the City and others they would get a cushion of time to sort themselves out. The key phrase was a "phased process of implementation". Or as one senior Government insider put it to me: "'Implementation process' is the new black."
Sterling also seemed to bounce off the back of May's hint at immigration flexibility (see below) and her suggestion that we would keep paying to access some EU markets and rules, if "it is reasonable that we should make an appropriate contribution". Of course, previous sterling rallies have faded, and this may too turn into a dead-cat bounce. The real test is not the currency but jobs. Let's see how many EU-wide firms now want to stick with the UK, ride out what David Davis today called "bumps in the road" and 'make Brexit a success' for themselves as much as May.
4) OVERPAID, OVERBREXED AND OVER HERE
In case we missed it, May put immigration control at the heart of the rationale for this entire speech. What does Brexit mean? "Brexit must mean control of the number of people coming to Britain from Europe, and that is what we will deliver," she said. Some Remainers had held out a distant hope that May wouldn't put immigration control ahead of trade, that 'soft Brexit' Philip Hammond would win the day. Yet May's firm stance today reminds me of Tony Blair's line to sceptics about his New Labour project: "It's worse than you think. I really do believe in it".
Although economists query her claims that immigration puts downward pressure on wages, she repeated that it did. EU migrants, many of whom owed their influx to Blair's decision not to impose transitional controls, also "put pressure on public services, like schools, stretched our infrastructure, especially housing", May said.
There was no change either in May's refusal to unilaterally grant citizenship rights to EU nationals already in the UK, and she again sought to blame the EU for failing to do a reciprocal deal "as soon as possible". The real glimmer of hope for business came in her admission that immigration could be subject to one of those 'phased implementation' deals, with different sectors treated favourably. That may not please those Leave voters who want to see a cut in numbers on Day One of Brexit in 2019. But it gave invaluable wriggle room.
Perhaps what was most surprising was the lack of detail on immigration policy overall. If there was a hole in the speech it was this. But that suggested that the precise nature of visa systems or points-based systems is fiendishly complex – and could set too many hares running in either direction. Home Secretary Amber Rudd suggested we may see more detail in due course. May sounded like she was ready to pull up the drawbridge, or at least seize its levers.
5) LABOUR PAINS
After May's pledge to give Parliament a vote on the eventual Brexit deal, the grim face of one northern Labour MP I encountered today said it all. "What do we do now?" he asked. Shadow Brexit Secretary Keir Starmer had succeeded in getting the commitment of a vote from the PM, but others in his party are saying they should be careful what they wish for.
If Labour votes against the eventual deal that May hammers out by 2019, it risks a revolt by all those voters in its heartlands who backed Brexit. It's often claimed that the 'betrayal narrative' on the EU would be Tory Eurosceptics furious with the PM for soft-pedalling on our exit. After today, the cries of betrayal are more likely to come from Labour voters, not Tory MPs.
Jeremy Corbyn's party is truly caught between the rock of its Remainer roots and the hard place of its hard Brexit core vote. As he enters the valley of Brexit, Corbyn has cannon the left of him, in the form of the pro-EU Lib Dems, and cannon to the right of him in the shape of UKIP and the Tories. The Labour leader's own tactic is to warn of the damage to the UK of a 'tax haven', 'bargain basement' Britain. But thanks to the PM's framing of the debate today, many voters may blame Brussels and not the Tories if that's the road we go down.
There's one other factor that strikes terror into the hearts of many Labour MPs. Imagine May starts Article 50 on March 31, and then immediately pulls the trigger on something else: a snap general election. Yes, critics could claim it would be a huge distraction. Yes, they could claim it was playing politics rather than focusing on the national interest. But May could argue she is getting a mandate for the very plan she set out today, and could win a big enough majority to both kill off Labour for another term. She could also claim it was in the national interest because a further endorsement would strengthen her own negotiating position with Brussels.
And don't forget those who dubbed her 'Theresa Maybe' are looking a little out of step with the PM's Thatcherite boldness of today. She may be instinctively cautious, but her Big Brexit speech proved beyond doubt that Theresa May is also ready to take highly calculated risks.
The worst thing for Labour is that even if May doesn't call an election, the PM may get a further popularity bounce in its own heartlands. It may take a huge downturn, plus an NHS collapse, to shift the polls. But banking on an an economic disaster is never a good look for an Opposition.
If you're reading this on the web, sign-up HERE to get the WaughZone delivered to your inbox.
HUFFPOST BREXIT BRIEFING
My colleague Owen Bennett has started a weekly Brexit Briefing, sent out every Thursday. To get a round-up of all the best Brexit news, subscribe HERE.
Got something you want to share? Please send any stories/tips/quotes/pix/plugs/gossip to Paul Waugh (paul.waugh@huffingtonpost.com), Ned Simons (ned.simons@huffingtonpost.com), Martha Gill (martha.gill@huffingtonpost.com) and Owen Bennett (owen.bennett@huffingtonpost.com)