The five things you need to know on Friday, January 20…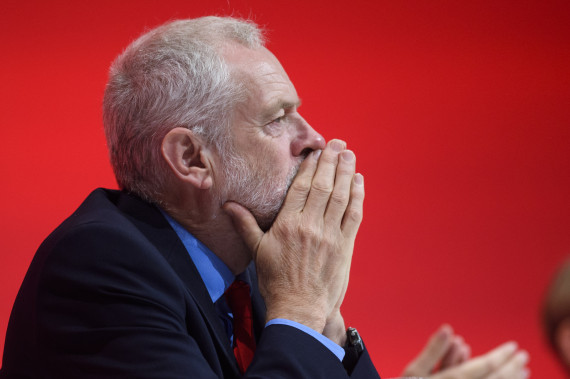 1) ARTICLE 50 SHADES OF GREYBEARD
An unexploded bomb caused chaos last night in Westminster, and it was the perfect metaphor for Labour's problems on Brexit. With the Supreme Court ruling on Article 50 due next week, Jeremy Corbyn's party is deeply divided on just how to react when Theresa May triggers the timer on the biggest political ordnance the UK has seen in years. It's like a Bond film without the suspense: the ticking bomb will have a countdown clock lasting two years, and no one in Labour knows how to defuse it.
For years, the Tories were famously split on Europe, but now - thanks to the mass of Leave voters in their heartlands - it's Labour's turn. Corbyn was asked yesterday if he would use a three-line whip to force his MPs to vote to trigger Article 50. He replied: "all Labour MPs will be asked to vote in that direction". Note that he said they'd be 'asked', not 'told'. And later aides clarified that no decision had been made on whipping arrangements yet. Will Labour have a strong whip, a weak whip, no whip? It sounded like 50 shades of greybeard.
With around 60 Labour MPs in pro-Remain seats threatening not to vote to trigger Brexit, plus some members of the Shadow Cabinet, you can see why this is a nightmare for the party. Shadow Business Secretary Clive Lewis had told his local paper the Eastern Daily Press that "I don't think….signing Article 50 under these conditions is in the best interests of people in Norwich or the country". Again, note the wriggle room though: he didn't say he'd vote against, but just said he wasn't keen.
HuffPost reports today that Yvette Cooper has said that colleagues who defy the referendum result risk behaving "like Donald Trump". That's yet more proof that this is a long-running sore, unhealed since the party failed to reprimand Remainer frontbenchers who defied the party line in the last Commons vote on Brexit (see HERE).
The Tories are not having it all their own way, with Dutch PM Mark Rutte (previously a UK ally in the EU) warning Britain would pay a "huge price" for leaving "the biggest market in the world". Boris hasn't yet called him a Nazi, or cited A Bridge Too Far. The Sun reveals David Cameron told a Davos meeting he's "available for weddings and bar mitzvahs", while Osborne too had a lucrative speaking engagement that defied May's attack on the global elite.
The fact is that Labour can no more magically heal its divisions on Brexit as the country can itself. In The New European newspaper, Shadow Brexit Secretary Keir Starmer at least has a neat new line on May: "that was a speech, not a plan". More importantly, he has picked up on one thing that can unite the party: vowing to "oppose it all the way" the 'low tax, Singapore model' threat May made this week.
And the NHS could even be a theme that Labour can harness here too. Former Treasury Permanent Secretary Sir Nick Macpherson has warned that "if you want to be a tax haven, you would have to have some fairly big discussions with the public about how you are going to fund areas like health and the NHS". Tim Farron tells the Guardian that Corbyn is both "lame" and "toxic". But a punchy, effective Opposition could say to Leavers: 'you voted to give the NHS more cash, only we will deliver it, because we won't turn the UK into a global Poundland'. Well, it would be a start.
2) BY-ELECTION BLUES
The latest chatter is that Labour could hold both the Copeland and Stoke-on-Trent Central by-elections on February 23. With the Tories and UKIP a real threat, the hope may be that a quick campaign will deprive opponents of a chance to build momentum.
In Copeland last night, 'moderate' candidate Gill Troughton beat off a strong challenge by Rachel Holliday, whom many in Momentum had hoped would win. One Cumbrian exile in London even did an 800-mile round trip just to vote for Troughton, a councillor, devout Christian and long-standing party activist who was a junior doctor in her youth. She swiftly made a new nuclear power plant in Moorside her priority, as well as protecting the local hospital from cuts.
The result was an indication of two factors: the continuing power of trade unions and the limits in some seats of pro-Corbyn support. The GMB (the biggest union at Sellafield) was furious that its own favoured candidates Tim Knowles and ex-MP Thomas Docherty had not been shortlisted by the unashamedly left-wing NEC selection panel. But also not enough Momentum activists turned out on a chilly night in Egremont either.
In Stoke, Paul Nuttall has yet to confirm publicly he'll take the gamble. He's nowhere near as popular as Farage and UKIP locally could split the anti-Labour vote with the Tories once more. Labour's candidate selection will need to be spot on. But whatever the upsets ahead, Team Corbyn are digging in. Comms and strategy chief Seumas Milne has finally cut ties with the Guardian and will work permanently for Corbyn. He's not going away, you know.
3) TRUMP AROUND
The eyes of the world will be on Washington later today as Donald J Trump finally takes over as the 45th President of the United States. Ahead of his inauguration, he gave a glimpse of his themes last night with a speech in which he vowed to speak up for "the forgotten man and forgotten woman".
He also pointed out that most pundits had ignored the polls during his rise in the Republican primaries and the general election. Trump's right, the polls were bang on about him beating his challengers, and the polls got it right about Hillary being narrowly ahead in the popular vote. His real triumph was in knowing where to target his vote best, in the key swing seats and states.
Trump let slip last night that his new ambassador to London was going to be Woody Johnson, the wealthy owner of the New York Jets football team and big campaign donor. And as much as metropolitan liberals loved outgoing ambassador Matthew Barzun's record collection, don't forget he too was a donor for Obama. Sadly, it's an American tradition for both parties to allow rich men with little diplomatic experience to effectively buy their way into the job.
Reams will be written about the inauguration (and I'd recommend our sister site in the US for a fresh take) but ahead of it, the Times has a nice piece on Stephen Miller, 31, who helped craft the big speech today. The right-wing prodigy has helped Trump 'find his voice' while respecting his freewheeling style, it seems. Another titbit: Sean Spicer, the transition spokesman, predicted that the speech would be under 20 minutes, because Trump "doesn't want people standing out in the cold".
Nigel Farage and donor Arron Banks hosted a party in Washington last night, hoping that Trump would pop in. Funnily enough, the President Elect was a bit too busy for that.
BECAUSE YOU'VE READ THIS FAR…
Watch Piers Morgan compare Brexit negotiations to buying a Moroccan carpet, on BBC1's Question Time last night.
4) THE DEVOLUTION WILL NOT BE TELEVISED
Jeremy Corbyn's speechwriters deserve praise for coming up with one of his best ever lines this week, declaring that Theresa May is "devolving austerity". The most significant thing about council cuts is that they get little national attention, and it takes a cry of pain to get the issue on the 24 hour news channels.
The Tory leader of Surrey County Council did just that yesterday with his threat of a 15% council tax rise in protest at six years of cuts by his own government. Hardline ministers say this is town halls crying wolf yet again (and the public may not back the plan in a referendum) but with Philip Hammond and Jeremy Hunt's seats in Surrey, it symbolises the problem they both face. The Tory leader of Windsor and Maidenhead, in the PM's own backyard, also vowed on the Today programme to put up taxes 'to protect the most vulnerable'.
Labour faces total wipeout in the Scottish council elections this year but Corbyn is today adapting his message to claim the SNP is helping May to "devolve austerity". In England, the new raft of Metro Mayors offers a way for Labour to prove to the public that it can still effect real change, as well as offer a route-map back to Westminster. It's possible Labour could run not just London but Manchester, Liverpool and the West Midlands after May 4. Today, ex-MP Sion Simon launches his campaign for West Mids, with a demand for English residents to get as much cash as Scots - by calling for an end to the Barnett formula. Does this mean Labour will finally stop feeling embarrassed about talking about English identity? You never know.
Another topic that has tended to be a cinderella policy because of its lack of telegenic appeal is of course housing. We still await the White Paper, but Sajid Javid's department was scrambling in a panic yesterday after the NAO the Government had shelved a Tory target to build a million homes this Parliament. Labour's John Healey has now written to both housing minister Gavin Barwell and to statistics chief Andrew Dilnot to get some answers.
5) CLIM-HATE CHANGE
He's been a figure of fun for years, but could Prince Charles be the saviour of Planet Earth? Donald Trump has been talking about meeting the heir to our throne "in coming weeks" (a reference probably to an early State visit to the UK), raising the mouth-watering prospect that Charles could deliver the new US President some home truths about the biggest issue of all: climate change.
In yet another 2017-style touch, Charles has underlined his worries about the issue not in a lecture or article in a learned publication, but in the introduction to a new Ladybird book for kids. He describes climate change as "the wolf at the door" and warns politicians that efforts to combat it "must be urgently scaled up, and scaled up now".
It may take more than Royal entreaty to make Trump change his view that "the concept of global warming was created by and for the Chinese in order to make US manufacturing non-competitive". But maybe Sadiq Khan will also ram home the message when he's in London. Yesterday the capital was put on 'red alert' for air pollution. And the FT has a front-page story that City Hall is being urged to replace the congestion charge with bill-by-mile road pricing system to cut traffic.
COMMONS PEOPLE
Our latest CommonsPeople podcast is out. Click HERE to listen to us burble about May's Brexit gamble, the Opposition's response, the state of Labour ahead of Copeland and Stoke, and schools funding. Interviews with Nick Clegg and Angela Rayner feature. Oh, and there's a tasty 'Who Said It? Boris Or Trump?' quiz.
If you're reading this on the web, sign-up HERE to get the WaughZone delivered to your inbox.
Got something you want to share? Please send any stories/tips/quotes/pix/plugs/gossip to Paul Waugh (paul.waugh@huffingtonpost.com), Ned Simons (ned.simons@huffingtonpost.com), Martha Gill (martha.gill@huffingtonpost.com) and Owen Bennett (owen.bennett@huffingtonpost.com)