The five things you need to know on Tuesday, January 24…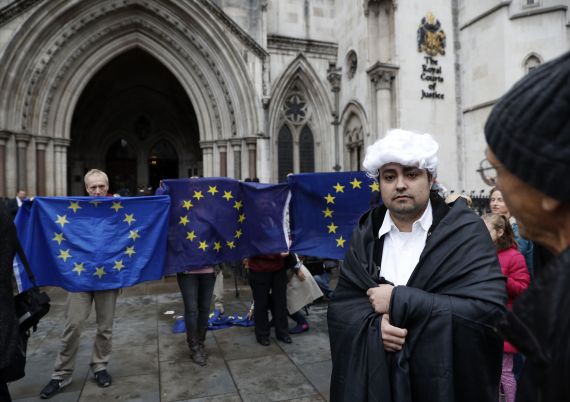 1) SUPREME CONFIDENCE
The Supreme Court will at 9.30am deliver its judgement on whether the Government needs Parliament to approve legislation to trigger Article 50 and start Brexit proper. Lawyers for both sides were expecting to get the ruling privately at 8am. David Davis is set to make a Commons statement at lunchtime, with legislation following later this week. There is a sense of momentum, that after months of talk, things are about to get real.
DD and his team seem pretty confident that Labour, and the Lords, are politically so boxed in that this process is a formality. The Guardian reports one wrinkle, however, saying that Government lawyers have warned Theresa May that drawing up a very short piece of legislation could store up legal difficulties further down the line. A one-line bill is politically attractive but DD is nothing if not a pragmatist. It sounds like it will be short, to avoid excess amendment, but not perfunctory.
Shadow Brexit Secretary Keir Starmer told the PLP last night Labour would respect the referendum vote. Just how the party whips the legislation remains unclear however and a decision will only come once the bill appears it seems. Starmer admitted to MPs that the party's line last week after May's speech was not 'well put' at all times.
As I said yesterday, the more interesting legal case may come this Friday when an Irish court case may start on the reversibility of Article 50. And Starmer's gearing up for a bigger fight on the Parliamentary vote on the actual Brexit deal itself. Most significantly, he told the PLP he wanted a "meaningful vote" and several votes along the way, not a fait accomplit at the end of the two-year process. Labour wants to shape the shape of Brexit. But will May allow that?
2) EXECUTIVE RELIEF CHIEF
Donald Trump got to work in earnest yesterday and used his executive powers to sign three Presidential memoranda (slightly different from executive orders) pulling the US out of a pacific trade deal, a hiring freeze for public bodies and a ban on US aid being used to fund abortion advice overseas.
Add in the executive order he signed on Friday to freeze bits of Obamacare and you can see why the team around him were grinning. The whole American system is meant to starkly underline a fresh start with a new President and Oval Office photos of instant action, signed with his own pen, certainly are valuable PR.
Of course, the fact that six white men surrounded Trump, as he signed the anti-abortion move that will impact on women of all colours, was swiftly picked up on social media. But don't forget this is a real political football in the US: Reagan signed a similar order, Bill Clinton rescinded it two days into office, George W Bush resurrected it, Obama unpicked it.
Perhaps more telling was that Trump had a meeting with trade union leaders straight after his withdrawal from the Trans-Pacific Partnership. Proof that his support is a coalition of populist protectionism, as well as 'religious conservativism', and more besides. Just before he signed the memo pulling out of the TTP, Trump said: "Everybody knows what I'm about to do". But the real worry about Trump is not so much him fulfilling campaign pledges. It's the fact that in many areas of foreign policy we just don't know what he's 'about to do'.
3) TRADING PLACES
The TTP involved 11 countries, took 8 years and 32 summits to negotiate and it's been struck down with a simple Presidential signature. But with even Hillary Clinton backing off it, Trump knew he had the political advantage. If he know goes ahead with plans to renegotiate the NAFTA deal with Canada and Mexico, the real impact will be felt.
Trump was firm yesterday on his belief in bilateral rather than multi-lateral trade. "We're going to have trade but we're going to have it one-on-one, and if somebody misbehaves, we're going to send them a letter of termination, 30 days, and they'll either straighten it out or we're gone," he said. "Not one of these deals where we can't get out of them. It's a disaster."
That sounds very much like Liam Fox's approach to UK trade deals post-Brexit. But it also suggests that any UK-US trade deal could be tricky too if US interests aren't best served. Trade will be a key feature of Trump's talks with May on Friday in Washington (his spokesman referred to her as 'head of state', which will come as a surprise to Her Majesty).
On Britain's Brexit-readiness, the industrial strategy wins 'faint praise' from industry, the FT says. Labour says the stuff on skills comes after years of damage to further education and night classes. And the Times reports on a Cabinet Office study showing half a billion quid is wasted in Whitehall every year as ministers resurrect policies previously deemed unworkable by their predecessors.
BECAUSE YOU'VE READ THIS FAR…
Watch Trump press secretary Sean Spicer say we can 'disagree with the facts'.
4) TRIDENT TESTED
The row over the Trident missile test certainly, ahem, exploded into life yesterday. First No10 revealed Theresa May had indeed been aware of the incident, but failed to mention it, when she addressed MPs in the renewal debate weeks later. Then as Michael Fallon was on his feet refusing to give any more details in the Commons, US Pentagon sources told CNN that the test had indeed 'failed' with an auto-destruct procedure after an anomaly was detected.
The hot news today is the Times front page that the Obama administration advised Cameron to keep details of the botched test secret, amid fears that it would undermine faith in the deterrent system. Never forget that Trident is built by US firm Lockheed Martin and British and American D5 missiles come from the same stockpile. The US had its own successful test in August, two months after the British incident.
Defence sources told the Guardian that the failure was not with the missile itself but with the data that launched it. Given how sanguine No10 is, that may hint at human error rather than a systemic issue. And if an individual was responsible for misfiring a £17m rocket (yep the cost is why we do few of these tests), you can bet the MoD will never go public on that. Still, Fallon's apparent refusal to give evidence in private to the Defence Select Committee was enough for John Bercow to call him 'stupid'.
On defence more widely, Trump spokesman Sean Spicer said the US would intervene on China's 'islands' in international waters. But on Russia, new Defense Secretary Gen Mattis has reassured Fallon of his "unshakeable commitment to Nato", despite his boss calling it "obsolete". The Sun has an exclusive of a US Lt Gen Ben Hodges warning at a London event that Putin is ready to "exploit" any Nato weakness.
5) STOKEING UP TROUBLE?
Labour's weekly Parliamentary Labour Party had updates on the Copeland and Stoke-on-Trent Central by-elections, both formally triggered yesterday. With campaigns chief Andrew Gwynne now based in the Cumbria seat, it was nearby MP John Woodcock who offered the latest sit-rep, with some evidence that 'undecideds' were switching to Labour over the threats to West Cumberland Hospital.
The NEC interviews and shortlists candidates for Stoke-on-Trent today, with the selection tomorrow night. Meanwhile, Tory MPs and insiders have told HuffPost that the party has largely written off Stoke in order to focus on Copeland. Though it sounds unusual for a major party to claim it can't fight strongly in two Parliamentary seats at the same time, it looks like they are giving UKIP leader Paul Nuttall are clear run at the seat. That is a highly risky move, as it could gift Nuttall a Parliamentary platform but maybe the calculation is that UKIP will do Labour more damage over the long-run.
Perhaps underlining the Tory big push on Copeland, party chairman Patrick McLoughlin is due in the seat today. And the Sun reports that green energy firm Ecotricity is donating £50 to Labour for every party member who signs up with the company. Why's that a potential problem in a seat with thousands relying on nuclear power jobs? Ecotricity has a declared aim of making the UK nuclear-power free within a decade.
If you're reading this on the web, sign-up HERE to get the WaughZone delivered to your inbox.
Got something you want to share? Please send any stories/tips/quotes/pix/plugs/gossip to Paul Waugh (paul.waugh@huffingtonpost.com), Ned Simons (ned.simons@huffingtonpost.com), Martha Gill (martha.gill@huffingtonpost.com) and Owen Bennett (owen.bennett@huffingtonpost.com)