The five things you need to know on Wednesday, February 1…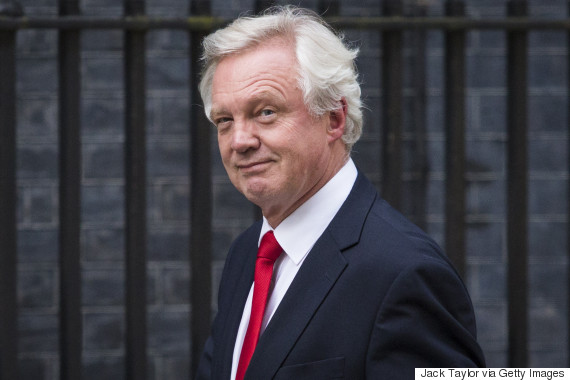 1) 50 WAYS TO LEAVE A BROTHER
The historic The EU (Notification of Withdrawal) Bill is set to get its second reading tonight and the vote is a foregone conclusion. Ken Clarke, plus a tranche of Labour MPs from Remain constituencies, will vote against.
MPs staged 11 hours of debate on the bill last night, ending four minutes to midnight. With the bars still open until the House rose at 12.26am, it's unclear whether MPs on 'dry January' ended their abstinence with a few swift jars to see in February.
But while Tory MPs had plenty of reason to raise a glass, splits in Labour meant they were more likely to simply want to drown their sorrows in a pint of warm bitter or a G&T. Shadow Brexit Secretary Keir Starmer's funereal tone yesterday spoke volumes.
The HuffPost blog by fellow shadow minister Matthew Pennycook certainly took off, with the Mail and Sun seizing on his line that there could be 'civil unrest' if Labour defied the result of the EU referendum. Labour's Ruth Smeeth, who is working hard on the Stoke by-election, tells us that it would be 'unacceptable' to vote down the bill. (She also thinks Stoke voters won't like UKIP's backing for Trump's travel ban - but I wouldn't be as sure myself.)
And the vote tonight will see Labour frontbenchers forced to quit or be sacked for defying the party's three-line whip to back the bill triggering Article 50. Whips like Thangam Debbonaire and Jeff Smith could quit, and frontbenchers like Rupa Huq also look set to part company with brother Jeremy.
A new poll of MPs conducted for The UK in a Changing Europe and Queen Mary University of London has found Leave MPs are united in what they want from Brexit: immigration control and no EU budget payments are more important than the single marke. But Remain MPs are deeply split: under half prioritise the single market over immigration, the rest are all over the shop.
The Tory Remainers look like they want to keep their powder dry for the bigger battle over the shape of the Brexit deal May comes up with. Although Anna Soubry and Dominic Grieve hinted at backing Labour's amendment on this, the main action will not be on this bill. As for the White Paper, it could come today or tomorrow. It has certainly been worked on for some time in Whitehall, I'm told. The insider joke is that it will have a Union Flag on the front and coloured pages to open each of three sections: one red, one white and one blue.
2) DON ROAMIN'
It's PMQs today and it will be fascinating to see just how Jeremy Corbyn tries to tackle the Donald Trump travel ban. After an opener about the general issue, will Corbyn use his remaining questions to hone in on the key point of what Theresa May knew, and when? 'Were you told in the White House that there would be an executive order on travel to the US, and what was your response?" The PM would duck it (as No.10 did yesterday), but if Corbyn asked exactly the same question three more times, her refusal to answer could be a PR win.
Another Trump bruise that Corbyn can press on is the nature of his visit to the UK. The idea of May rescinding her invite for a State Visit is for the birds, but there is real mileage in the unease on her own side at the idea of granting Trump the honour of addressing both Houses of Parliament. The Early Day Motion barring the US President from speaking in Parliament now has 115 signatures this morning, up from 73 yesterday. Tory ministers and MPs chat off the record that it's too soon to let Trump have such an honour - not least as it risks an embarrassing protest from several MPs (can you imagine a clutch of Labour, Lib Dem and SNP backbechers unfurling a banner, or donning sombreros?)
When asked if the PM wanted to allow Trump to speak to Parliament, her spokeswoman was careful to say: "That will all need to be worked out in due course, the elements of that, and to look at it all, it is months away." Note Boris's quote from Monday too: "I am sure that the mood of the Chamber of the House of Commons will be reflected in all discussions about how the visit is to go ahead".
As for Amber Rudd's line to the Home Affairs Committee, that the US travel ban "is a propaganda opportunity" for ISIL, No10 had a strange line that any policy can be used by ISIL for propaganda. But it wasn't any policy Rudd was referring to, it was the executive order.
3) DADDY DACRE
Would the EU referendum result have been any different if the Daily Mail had "cut some slack" to David Cameron over the downsides of Brexit? As influential as the paper is, I'm pretty sure the answer to that is No. Which makes it all the more bizarre that the former PM is alleged to have asked fellow Remainer and Daily Mail owner Lord Rothermere to sack the paper's long-standing editor, Paul Dacre.
BBC's Newsnight reported last night that Dacre was 'incandescent' when told about the plot last March, and 'stiffened' his resolve to make the Mail even more pro-Brexit. Politicians trying to get rid of editors has a long and tawdry history (I remember a certain Peter Mandelson dangling threats about journalists he didn't like to their bosses). What's notable is the non-denial denial from Cameron's spokesman: "It is wrong to suggest that David Cameron believed he could determine who edits the Daily Mail." Why not simply deny he'd asked Rothermere to can Dacre?
Alastair Campbell has long argued the Daily Mail is a malign influence on public life (and unlike the Sun, it failed to be wooed by his Fleet St charm offensive). But speculation is mounting that the Mail's political editor James Slack is set to become Theresa May's very own Alastair Campbell. PoliticoEurope's Tom McTague reports that the hugely respected Slack is the front runner to take over as the PM's official spokesman (a civil servant, not a special adviser), following the departure of Helen Bower to the Foreign Office. His predecessor at the Mail and another highly regarded Dacre protege, James Chapman, went on to run George Osborne's comms and is now chief of staff to David Davis.
BECAUSE YOU'VE READ THIS FAR…
Watch a grandma make a snow angel for the first time.
4) AT POINT OF DELIVERY
Last week, Jeremy Hunt quietly broke the news to the Health Select Committee that a planned bill to tackle 'health tourism' was being shelved, despite having been in the Queen's Speech. Fast-forward to today and the Public Accounts Committee is pretty scathing about the "chaotic" attempts by the NHS to tackle the issue.
Out of the 154 hospitals for which there is data, just ten accounted for half of the charges to visitors not entitled to free NHS care. British patients were losing out because other parts of the health service were not doing enough to recoup costs, the PAC said. Still, the committee is not too keen on a pilot scheme in which patients are asked to show two forms of identification before receiving NHS treatment, saying it could compromise access to care.
The Sun splashes on an exclusive about a Nigerian woman who flew into the UK while pregnant with quads. Two of her babies died after she went into labour prematurely, but the paper says her care will cost £500,000 and she's told a BBC documentary she has no way of settling the bill.
5) CARBON COPY
The FT reports that a member of Trump's transition team, Myron Ebell, met Theresa May's advisers in Downing Street yesterday. Ebell is controversial because he says fears about global warming have been exaggerated by a "climate-industrial complex", and he has pushed hard for the President to carry out his pledge not to sign the Paris climate change deal.
Climate change was not discussed, No10 says, though it declines to say what was talked about. Trump said on the campaign stump that climate change was a Chinese 'hoax' but he has softened slightly since, saying he believes there is "some connectivity" between human actions and climate change. That hasn't stopped him removing all reference to the issue on the White House website.
But thinkers on the right as well as the left are trying to address the issue. Warwick Lightfoot and Jonathan Dupont, of the Policy Exchange think tank, have blogged for us today on why a carbon tax could be a key part of a new UK-US trade deal. And they point out that Trump's new Secretary of State and former oil man Rex Tillerson is keen on the idea.
If you're reading this on the web, sign-up HERE to get the WaughZone delivered to your inbox.
Got something you want to share? Please send any stories/tips/quotes/pix/plugs/gossip to Paul Waugh (paul.waugh@huffingtonpost.com), Ned Simons (ned.simons@huffingtonpost.com), Martha Gill (martha.gill@huffingtonpost.com) and Owen Bennett (owen.bennett@huffingtonpost.com)