The five things you need to know on Monday, February 20…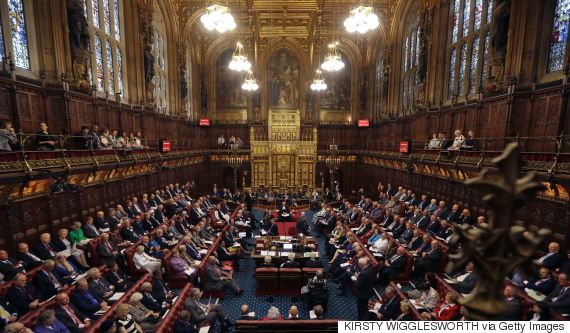 1) OH, LORDY
Brexit is back folks. Or rather the Brexit Bill - aka the EU (Notification of Withdrawal) Bill - is. Yep the historic legislation to trigger the Article 50 exit process is in the House of Lords for its second reading. Forget all the chatter about votes against second reading, they're very rare in the Lords and only when an issue has not featured in a manifesto.
Over today and tomorrow, some 190 peers are lined up to speak. It will be worth seeing which former ministers and distinguished diplomats (Lords Hannay and Kerr are on the list, Peter Mandelson isn't) make the most powerful points. The real business will come at Report Stage next on month, with votes on the two big Labour amendments on EU citizens' rights (cannily including EEA citizens too) and on a 'meaningful' vote on the final Brexit deal.
And with around a dozen Tory peers expected to abstain on both, we could see the Government defeated and the amendments sent to the Commons on Monday March 13. That will delay Theresa May by about a week but will still be in time for her end-of-March deadline. Labour's leader in the Lords, Baroness Smith, confirmed to the Today programme that "we're not going to" block the bill. And it looks like just one round of ping-pong, no more. "I don't see any extended ping pong on this at all," she added. Key phrase, that.
There is also zero hope of a second referendum amendment getting a Lords majority. But the Lords could do a Lords-type thing and get ministers to commit to reports back to Parliament, not on the floor of the House but to various committees via written statement. Ministers may well insist on not writing anything onto the face of the bill. I still think the real Lords trouble will come not on this bill but on the Great Repeal Bill and its myriad statutory instruments later this year.
Meanwhile, we carry a blog from Labour's Lisa Nandy on how the EU referendum result laid bare the big divide not between Labour and the Tories, but between cities and towns. In what reads like a riposte to both Blair and Corbyn, she adds points out that "with five times more members in Islington than a town like Wigan, there is a risk that Labour's perspective will be skewed away from the needs and aspirations of people in towns across the country."
2) REFUGE, SCOUNDREL
One would have thought that Donald Trump would have some fellow feeling with refugees across the globe. After all, they're both shunned around the world by critics who believe that they pose a threat to national security and to women's safety.
Today MPs will line up in Westminster Hall (not the magnificent 11th century space from which Trump has been barred, but a nondescript committee room) to debate the public petiitons seeking to block, or support, his State Visit to the UK. All this amid fresh reports of links between Trump allies and pro-Russian forces in Ukraine.
Trump didn't do himself many favours at the weekend by appearing to suggest refugees in Sweden were responsible for a new terror attack on Friday night. And he hasn't done himself any favours by tweeting overnight that he was in fact referring to a (discredited) FoxNews report claiming Sweden was the 'rape capital of Europe'.
Meanwhile, in what looks like a classic Sunday night drop, it turns out that the Government is to review asylum applications from child refugees in France. Less than a fortnight after announcing it would close the Dubs programme, the Home Office says it will reconsider cases of children "normally resident in the Calais camp" - because up to 400 unaccompanied minors had made their way back to the so-called Jungle in recent weeks. This looks like a review not of Dubs, but of a separate plan to end the arrival of kids with direct family links to Britain under the Dublin convention.
3) POLLING IN THE DEEP
The Leader of the Opposition Communications (LOTOComms) twitter account cranked into action again last night to dismiss as "entirely untrue" a report in the Daily Mirror. The offending story said Jeremy Corbyn had commissioned a secret mega-poll of 10,000 voters to canvass their views on his leadership.
The results of the survey by BMG research will only be seen by Corbyn, his Shadow Chancellor John McDonnell and his inner circle, not Labour MPs or Labour HQ, the paper said. Initially Corbyn's office 'declined to comment'. Now LOTO says 'no such questions about Jeremy Corbyn have been commissioned in any such poll'. An Observer/Opinion poll yesterday put the Tories on 40%, Labour 27%.
With Copeland and Stoke Central by-elections looming on Thursday, many Labour and Tory MPs will not be in Westminster this week but knocking on doors. It could be very tight indeed and Diane Abbott on Sky's Ridge prog yesterday appeared to be softening up the party for a possible defeat. "If we lost one or we lose both, the party will go forward - it has to go forward". As she also said Jezza should not face fresh questions about his leadership after any such losses, it seems she meant the PLP has no choice but to 'go forward'.
Don't forget that Nigel Farage last week put pressure on successor Paul Nuttall, saying Stoke Central was "fundamental" to the future of UKIP and Labour. MEP Patrick O'Flynn tried to play that down on Westminster Hour last night.
BECAUSE YOU'VE READ THIS FAR…
Watch Donald Trump tell a crowd 'you look at what's happening last night in Sweden, SWEDEN!'
4) BIZ PHIL
Few people would have thought you could make business rates a sexy story but the Lobby has done itself proud in recess week with various front pages that have raised expectations that the Chancellor has to 'do something' to show he cares.
At 5pm tonight, Philip Hammond is set to address the traditional pre-Budget meeting of the 1922 committee meeting of backbench Tory MPs and it looks like he may have something to calm them down. Party vice-chairman Mark Field told Radio 4's Westminster Hour that "I'm very confident that the chancellor is in listening mode". He suggests Hammond will 'tweak' the rates changes, possibly with some transitional cash to cushion to rises for some areas, as well as a smoother (longer?) phasing period and even a cap on rises.
The Times splashes its front page with a leaked private letter from Cabinet ministers Sajid Javid and David Gauke to Conservative MPs. The letter says the whole row is being fuelled by "distortions and half truths". It also has a handy attachment of councils that will jack up rates (including the PM's and Hammond's). But the Telegraph has an unnamed Cabinet minister saying: "The last thing you want to do is whack the confidence of small businesses."
5) BREAKING BAD
The NHS continues to be Labour's best hope of hanging on in Copeland (though there's quite a few MPs and party figures worried about a Tory victory). And the NHS continues to be Labour's strongest card nationally, with fresh warnings from the British Medical Association today that the system is at "breaking point" as the number of overnight hospital beds in English hospitals has dropped by a fifth over the last ten years.
The Daily Mail has made the report its front-page lead, a move that is always sure to make No.10 sit up. Still, ministers dispute the BMA claims and NHS England tells the paper that modern treatment advances mean patients need to spend less time in hospital.
Of course, the big NHS pressure is on a lack of local care for old people. And it's not just the Chancellor who sets a budget at this time of year, councils do too. The Local Government Association has a fresh warning that councils are now "perilously close to the financial edge" - a message Tory council chief Izzi Seccombe rammed home on the Today prog. Its survey finds that 147 out of 151 town halls are considering or have agreed to use new freedoms to increase council tax to cover the rising cost of social care of the elderly. But despite the rises of up to 4.99%, they will still have to make 'deep cuts' in other services. That Sajid Javid sticking plaster looks like peeling off.
SUNDAY SHOWS ROUNDUP
Had a Sunday morning lie-in? Just had a normal life? Our Owen Bennett has his weekly round-up of all the political shows from yesterday, complete with bite-sized video clips of Mandelson, Abbott, Truss and more, HERE. Enjoy.
If you're reading this on the web, sign-up HERE to get the WaughZone delivered to your inbox.
Got something you want to share? Please send any stories/tips/quotes/pix/plugs/gossip to Paul Waugh (paul.waugh@huffingtonpost.com), Ned Simons (ned.simons@huffingtonpost.com), Martha Gill (martha.gill@huffingtonpost.com) and Owen Bennett (owen.bennett@huffingtonpost.com)