The five things you need to know on Wednesday, February 22…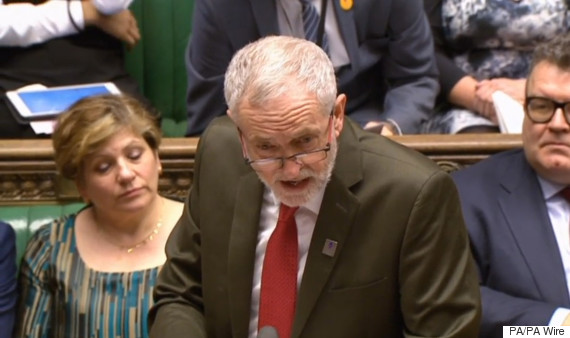 1) STORM WARNING
It's the first PMQs since MPs returned from the half-term break. But after a positively balmy few days, is the political weather about to change? Storm Doris is forecast to bring wintry gales and 'multi-hazards' to the midlands and north tomorrow. And an equally squally outlook looms in the two by-elections in Labour's heartlands.
I'd be amazed if Theresa May and Jeremy Corbyn failed to hammer home their respective campaign themes for Copeland and Stoke-on-Trent Central: nuclear power/Brexit for May, and the NHS/cuts for Corbyn.
All the parties are saying it's incredibly close in the Cumbria seat, while the Tories have put in a powerful late surge in Stoke. The Labour leader can point today to the NAO report on the huge cost of the Free Schools experiment (see below). He will also have more than enough ammo on the NHS, from record deficits this week to ward closure threats and Tory council chiefs again warning about the social care crisis (especially after a no-change local government settlement was smuggled out on Monday night).
But I would also expect May to hit hard at Labour's 'scaremongering' on the NHS. And Tory MP Will Quince has blogged for HuffPost today on the party's "disgusting" leaflets in Copeland, claiming babies will die if West Cumberland Hospital maternity unit is downgraded. Remember Cameron's attack on Miliband for 'weaponising the NHS'? It was followed by a general election victory.
I wonder if the PM will also raise the issue of the former Guantanamo inmate Ronald Fiddler, who this week blew himself up in an ISIS suicide car bomb attack in Iraq. Tony Blair's government oversaw the £1m compensation payment for his 'mistreatment' in Gitmo. Some will argue that alleged torture radicalised him even further, others will say he was clearly already a security threat. May could exploit the case to attack Corbyn's emphasis on human rights and unease about British policy in Iraq and Syria. Would that be a lower blow than leaflets about dead babies?
The Sun reports that officials working on the Budget have been told by No.10 to ban the phrase 'Jams' ('just about managing' classes) and instead to use the acronym 'OWFs' ('ordinary working families'). Whatever Whitehall calls them, they will make their feelings known in tomorrow's by-elections. And PMQs will be May and Corbyn's last chance to tailor mini-party political broadcasts for each.
2) GALLIC HUG
Emmanuel Macron got a helping hand from Theresa May yesterday with an invite to No.10. But he swiftly used the trip to urge banks to quit London for Paris after Brexit (an exodus encouraged by HSBC boss Douglas Flint) and to later warn that the UK would have to start paying France more to police refugees in Calais.
Macron's big rally at Westminster Central Hall heard its biggest cheer when he declared "our country cannot succeed without Europe." I'm told at one point, the French Presidential contender was lined up for a House of Commons committee room speech too (by a Corbynsceptic Labour MP and a former Tory minister), but his schedule was too tight.
All those French expats (300k work in London) may be pleased that it looks like the drawbridge won't be pulled up all that quickly. David Davis's pragmatic approach to Brexit is highlighted in the Times, with him saying that in hotels, restaurants, social care and agriculture "it will be years and years before we get British citizens to do those jobs". Add in Jean-Claude Juncker's line that it will take 'years' before an EU-UK trade deal is sorted and you can see that 2019 is far from the end of this whole process.
At least the Lords finished its two-day Brexit bill debate last night. Lord Kerr, the author of Article 50, ridiculed Government claims that it could not be reversed, and attacked the 'Bullingdon Boys' "who got us into this fix". In impressive wind-up speeches Labour's Diane Hayter and Brexit minister (and former Remainer) Lord Bridges traded blows. Bridges told peers that in the past two days there had been 1,000 words spoken by peers for every word in the short Article 50 bill (all 136 of them).
3) RATES FATE
Are you bored of the business rates controversy yet? Well, MPs aren't. The Telegraph splashes its front page with a report that 'hundreds of millions of pounds' are expected to be spent compensating firms worst hit by the hikes. It also says friends of Sajid Javid think he's been made 'the fall guy' in a policy driven by the Treasury. Labour has finally joined the row, demanding a business rates review in an amendment to the Local Government Finance bill. Javid speaks in the Commons later.
But the FT's own lead story strikes a different note, pointing out that Philip Hammond has told Tory MPs that 'there is no pot of money under my desk'. Any cash for rate relief, or schools or social care will have to come from tax rises or spending cuts, the Chancellor said. Plenty of backbenchers would probably welcome deeper cuts, but just where they come from is another matter. Hammond is refusing to spend the £27bn "room for manoeuvre" etched into his fiscal plans because of the uncertainty posed by Brexit.
The pre-Budget gossip is certainly febrile. A meeting between Theresa May's new health adviser James Kent and a cross-party group of MPs on social care funding was cancelled yesterday and put back until after March 8, leading some of them to think an extra injection was on its way. Meanwhile, I'd be surprised if Hammond didn't offer a review of the schools formula that has upset his own side.
BECAUSE YOU'VE READ THIS FAR…
In case you missed it, watch this extraordinary Space X rocket landing. They said it couldn't be done.
4) JEZ CAN, OR JEZ CANT?
Sadiq Khan had a few jokes at his City Hall media reception last night, not least that he was worried his comms chief Paddy Hennessy would be stolen by "a crap politician in need of a good spin doctor…no, I'm not talking about Jeremy Corbyn and Seumas …I mean someone who plays golf [Donald Trump]".
Corbyn made his bi-annual trip to the Women's PLP yesterday for around an hour. After Monday's full PLP (described to me by one MP as 'a new low', and another as 'the worst ever'), the Labour leader may have expected things could only get better. But things rapidly got worse with heavy hints that his commitment to women's rights was so much cant. Corbyn was confronted with testimony of several female Labour MPs who said they had been targeted by Momentum activists online and in person, often with threats of deselection. Some MPs were close to tears. WPLP chair Jess Phillips asked Corbyn if he would now distance himself from Momentum, to which he replied: "No". But he stressed he had always believed in 'positive campaigning'.
Corbyn pointed to two women candidates selected for the Tees Valley and West of England mayoral races. But that sparked an angry response from Luciana Berger, the only woman to contest one of the big Metro Mayor selections, in Liverpool. She complained that NEC rules to force CLPs and affiliates to nominate a man and a woman were axed mid-campaign. Having been selected as an MP on an all-women shortlist, she felt the party's support for women in mayoral selections had gone back into the last century. Corbyn said he was unaware of the switch.
5) NOT-SO FREE SCHOOLS
Every government has its pet projects, often fuelled by a friendly think tank, that try to inject a streak of 'radicalism' into public policy. Often civil servants and others will warn such projects are no more than dangerous follies, warnings that only serve to embolden some ministers further. Today's National Audit Office report into spending on Free Schools suggests they're a perfect example of what happens when 'radical' plans skew Government priorities.
The NAO has found that billions are being spent on building new Free Schools - while existing school buildings are crumbling into disrepair. Given Michael Gove recently admitted his main mistake as Education Secretary was the hasty scrapping of Labour's Building Schools For Future scheme, it's ironic that his flagship policy let rip spending on new schools which create excess capacity in areas that don't always need it.
The spending watchdog found that on average, individual Free Schools cost £4.9m to build, but 24 sites have cost more than £10m, including four that have cost more than £30m each. The bill will be a cool £2.5bn by 2020, but meanwhile £6.7bn is needed to bring existing schools up to a satisfactory standard. The NAO are spending 'experts', however, and we all know Gove has had enough of them.
If you're reading this on the web, sign-up HERE to get the WaughZone delivered to your inbox.
Got something you want to share? Please send any stories/tips/quotes/pix/plugs/gossip to Paul Waugh (paul.waugh@huffingtonpost.com), Ned Simons (ned.simons@huffingtonpost.com), Martha Gill (martha.gill@huffingtonpost.com) and Owen Bennett (owen.bennett@huffingtonpost.com)