The five things you need to know on Thursday, March 2…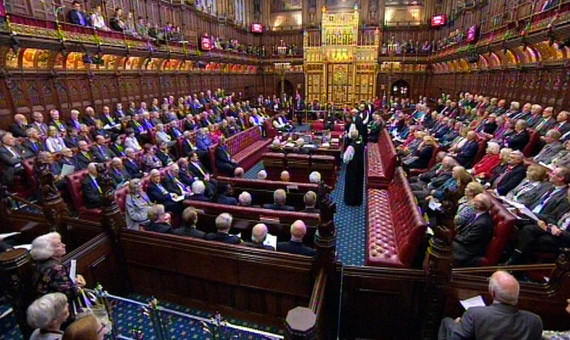 1) BREXIT RIGHTS AND WRONGS
Within minutes of the House of Lords defeat on 'unilateral' rights to EU citizens post-Brexit last night, Government sources made clear they would seek to overturn it in the Commons. No surprise there, but it was the scale of the majority - 102 - that could embolden some Tory rebel MPs. The ping-pong ball is now not so much in the Government's side of the table, as the Remainers' like Nicky Morgan and others.
There is likely to be another, possibly bigger, Lords defeat next week on giving Parliament a 'meaningful' vote on the final Brexit deal. Yet on that, as on EU citizens, there is "zero chance" of it being written into the face of the EU (Notification of Withdrawal) Bill, I'm told. As former Treasury perm sec Lord Macpherson put it last night: "A pleasure to vote with Viscount Hailsham [the former Tory MP who backed the EU nationals amendment] tonight. But to use his dad's term, the 'elective dictatorship' gives me few grounds for optimism."
Shadow Lords leader Baroness Smith was on the Good Morning Britain sofa defending the Lords' constitutional role to make the Commons think again. But she makes clear peers won't block the Brexit bill and ministers know her most significant statement in recent weeks was that she would not support "extended ping pong". So we get a week's delay and Wednesday March 15 is pencilled in as the date for triggering Article 50 and the formal start of the Brexit process. Perfect for PMQs that day.
There were some fine speeches in the Lords yesterday, from Hailsham's (for) to Michael Howard's and John Sentamu's (against). Norman Tebbit dropped the f-bomb (he called EU citizens in the UK 'foreigners') But here's one footnote: Jeffrey Archer rocked up to vote with the Government.
Meanwhile, Theresa May could be forgiven for wondering why Sir John Major and David Cameron had lunch together on Tuesday, the day after his withering Brexit speech attack on her. The Sun reports that Dave will take up an unpaid role at Oxford University's Blavatnik School of Government, chairing a commission on war-torn states. So far, he has no plans to oversee an academic commission on a Brexit-torn country.
2) LOOK LEFT
Speaking after PMQs yesterday, a Labour source conceded the blindingly obvious point that if the polls stay as they are, the party is not going to win a general election. He swiftly predicted the polls would indeed turn around. Shadow Lords leader Angela Smith told 5 Live that Jez allies such as Diane Abbott have given him a year to do so, but added: "If not, (let's) look at what's going to happen next."
One senior Labour MP told me yesterday that if the polls hadn't turned by 2019, then backbenchers facing the loss of safe seats would "have nothing to lose" from trying another leadership challenge. It's no wonder John McDonnell's talk of a 'soft coup', although accompanied by some outlandish social media action, resonates with many of Corbyn's supporters.
There was bad news for the Corbynsceptics yesterday as Len McCluskey won a huge number of Unite branch nominations compared to challenger Gerard Coyne (though there is a health warning, that nominations don't always mean votes, and some suggest some new branches were holding their first ever meetings). McCluskey famously told the Press Gallery in 2014 that if Ed Miliband couldn't turn Labour into a proper anti-cuts party, he could back 'a new Workers' Party' under PR. We report today that Jon Cruddas suggests John McDonnell may share that thinking.
And some audio clips have emerged of McDonnell telling a Marxism conference in 2011: "I've no fetish about the Labour party, but at the moment there is still that connection with the working class, and they still keep voting for it. If we can reclaim the Labour Party, fine. If we can't, well then we need to look at a new organisational form that comes out of struggle, not just intellectual debate." McDonnell also said Labour MPs should be targeted by anti-cuts protestors as much as Tories: "I want to be in a situation where Tory MPs or Labour MPs, wherever they go, it's fucking kicking off."
Things kicked off after PMQs, when Corbyn held his weekly meeting with the Parliamentary Committee, and they repeatedly asked him why he'd not attended the PLP on Monday. Halifax MP Holly Lynch showed him a cutting from the Observer predicting her seat could fall to the Tories, and said: "That's you, isn't it?" I'm told he side-stepped the question.
3) INDY DEEP END
Theresa May yesterday infuriated the SNP's Angus Robertson in PMQs when she refused to commit to handing over all EU powers over fishing and agriculture to the Scottish Parliament after Brexit. Far, from offering more devolution, she appears to be set on a "power grab" for London, the SNP says. In the Times Scotland edition, Ruth Davidson fuelled the speculation by saying there should be a 'mature debate' over who hands out the cash. The mantra 'take back control' looks to some Scots like 'take back control to London'.
It could be that May is simply reflecting the Tory grassroots view that devolution has gone too far. Today, ahead of the Scottish Conservatives conference tomorrow, HuffPost UK and ConservativeHome have published the results of a new poll on just how Tory activists think about Scots independence, and it makes interesting reading indeed.
The most striking finding in the study - by Winchester University's Centre for English Identity and Politics - is that 29% of Conservative grassroots members would actually welcome Scots independence because it would end "unreasonable demands on England to provide ever greater financial and political concessions".
Fewer than a third think independence would cause serious damage to the rest of the UK, two thirds seem more sanguine. It seems the overall view is: no more 'Vows', and if Scots want a break-away, so be it. Winchester Uni's John Denham tells me the 'Conservative and Unionist' party seems to be morphing into an 'English National Conservative Party'. ConHome's Paul Goodman is less gloomy, but think the results should make May sit up and take notice.
BECAUSE YOU'VE READ THIS FAR…
Watch the exchange that could force the resignation and perjury charges against Trump's new Attorney General Jeff Sessions. It now turns out he met the Russian ambassador twice.
4) COPS AND BOTHERS
When Theresa May was Home Secretary she would constantly argue that she'd shown that public services could do more for less. Sceptics (including fellow Cabinet ministers) felt she was simply exploiting the fall in crime that normally accompanies a full-employment economy, to make risky cuts.
Today's report from Her Majesty's Inspectorate of Constabulary gives both May and her critics food for thought. It says police forces are putting the public at an unacceptable risk by rationing their response as they struggle with cutbacks. Neighbourhood policing is being eroded 'by stealth' and domestic violence downgraded in some areas. Lead inspector Zoe Billingham says: "I'm raising a red flag to warn forces of the consequences of what is, to all intents and purposes, an unconscious form of rationing."
Billingham said the failings were "not simply about money" because there was a huge variation in results across different forces. That will please the PM. But on the other hand the National Police Chiefs' Council said budgets had fallen by 22% in five years - leading to a loss of 32,000 officers and staff - and "it's a simple reality that we are required to prioritise more".
5) WELFARE IN A STATE
Jeremy Corbyn got his 'nasty party' jibe in at May during PMQs over the personal independence payments row. No10 then appeared to garble its line afterwards, suggesting Shadow Work and Pensions Secretary had been rung on her mobile last Thursday by Damian Green.
In fact, Green didn't have her mobile and got her voicemail on Monday. Abrahams hit back that he tried to call her "Four days after he sneaked out the statement" - and a day after George Freeman's "pills/anxiety" blunder. I'm still baffled why May tried to make it look like the DWP hadn't tried to sneak out the statement - it was a written statement, not an oral one, and made late on the day of the double by-election.
But there's more ammunition for Labour around today, with the IFS saying that welfare cuts will drive nearly a million more children into poverty by 2022. Meanwhile, the NHS care watchdog saying the health service "stands on a burning platform", with four out of five NHS trusts needing to improve on patient safety.
If you're reading this on the web, sign-up HERE to get the WaughZone delivered to your inbox.
Got something you want to share? Please send any stories/tips/quotes/pix/plugs/gossip to Paul Waugh (paul.waugh@huffingtonpost.com), Ned Simons (ned.simons@huffingtonpost.com), and Owen Bennett (owen.bennett@huffingtonpost.com)