The five things you need to know on Wednesday, March 15…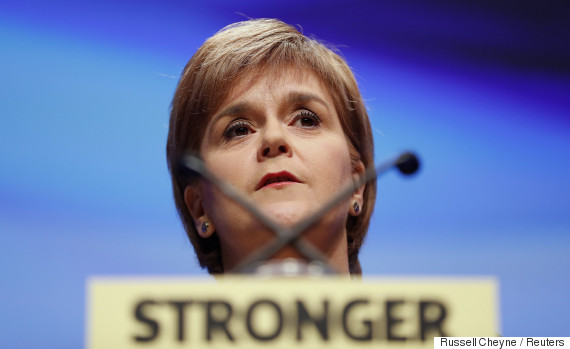 1) SCOTCH CORNER
Another week, another PMQs. Jeremy Corbyn and Theresa May have plenty to spar over, from schools and NHS funding to Brexit. But will the SNP's Angus Robertson, who often has the most pointed questions, be the main 'leader of the Opposition' in today's session?
Nicola Sturgeon's gamble on Monday in signalling a fresh independence referendum certainly caught some ministers by surprise. And the inevitable backlash began in earnest yesterday. The Times splashes a YouGov poll suggesting opposition to independence is its highest in two years (57%). Against that, a ScotCen social attitudes survey in the Scotsman said backing for independence was at its highest ever (46%).
As I said yesterday, Sturgeon's leadership is one of the big differences since the 2014 poll. But another key difference is how even less Scotland can rely on any oil dividend and any new Yes campaign still faces big questions on what will happen to the pound and the economy. To underline the point, Holyrood magazine reveals that the SNP's own economic adviser Andrew Wilson has warned it will take 10 years to get back to full economic health after a breakaway. There are fresh doubts about whether the SNP would seek EU membership swiftly too.
Corbyn is also under fire for saying at the weekend that he would be 'absolutely fine' with a second referendum if the Scots Parliament wanted one. Will Theresa May pick up on Wes Streeting's tweet that his leader's remark was 'the height of idiocy'? Or on Corbyn's claim that he had been 'mischievously' quoted? Then again, the PM may want to stay away from answering just whether she would approve an #indyref2 - or whether she'd block one until after Brexit in 2019. Let's see if Robertson lets her get away with a non-answer to that particular PMQ.
2) D-DAY
Polls have opened in the Dutch election and all European eyes (including No.10's) are on PM Mark Rutte and far-right leader Geert Wilders. Rutte's party seemed to get a poll bounce in recent days as he clashed live on TV with his rival.
But our very own A-Day, when Article 50 is triggered, won't take place until the end of the month. Many ministers had expected Royal Assent to be granted to the EU Withdrawal Bill yesterday, but in her Commons statement Theresa May surprised us by saying it would be granted 'in coming days'. Surely No.10 didn't gently influence the Palace/Crown Office to delay, so the PM could avoid fuelling the SNP's independence drive? In the Times, one minister says: "There are things in the diary we are keen to avoid — SNP conference, St Patrick's Day and the Ides of March to name a few".
And could there be yet more delay? Bloomberg reports EU officials saying they are considering forcing the UK to wait until June to start proper Brexit talks. Brussels wants timetabling talks before then, but could this be part of a ruse to reduce the time available to sort a deal?
The Remainers think the Parliamentary battle has barely started and new laws on agriculture, customs, immigration and fisheries alongside the Great Repeal Bill could prove tricky indeed. Cabinet was told yesterday by the PM that the Queen's Speech would feature new bills too on education, health, policing, national security, new technology and infrastructure. She wants to widen the "Plan For Britain' title of her Lancaster House speech into a prospectus for her premiership and No10 hinted a document on domestic policy could be forthcoming.
3) THE IDS OF MARCH
Yes, it really is the 15th of the month and 'the Ides of March' are upon us. Corbyn-sceptic Labour MPs are showing remarkable self-discipline in keeping their knives sheathed for now, but Lib Dem leader Tim Farron is rather keen to exploit discontent about the Labour leader.
In an interview with HuffPost ahead of his spring conference this weekend, Farron tells me that Corbyn is such an ineffective Opposition leader that 'he makes IDS look like JFK'. "He is the most ineffective, poor quality opposition leader probably in the history of British politics" Farron even compares the Lib Dems now to Keir Hardie's early Labour party, saying it overtook the Liberals as the second largest party within just a few years.
Labour sources have hit back, pointing to Farron's admission in our interview that he won't rule out a coalition with the Tories in government. It all sets up a tasty clash between the two parties in the Manchester Gorton by-election. Intriguingly, Labour finally appointed a lead MP to run its campaign yesterday and it is Wigan's Lisa Nandy, not Lucy Powell in neighbouring Manchester Central. Nandy is not on the shadow frontbench and has been critical of Corbyn. But she has been impressing the grassroots lately with her 'towns not just cities' pitch. We have more on the Labour battle for Gorton later.
BECAUSE YOU'VE READ THIS FAR…
Watch the moment this baby wears glasses for the first time.
4) PUDDING LAME
UKIP are still regularly polling in double figures (and ahead of the Lib Dems) despite the circus that seems to often surround them. The latest fun tale is that key donor and Nigel Farage pal Arron Banks claims he has been suspended for saying that Paul Nuttall "couldn't knock the skin off a rice pudding". Douglas Carswell tweeted he's 'on top of the world'. HuffPost has been told Banks is now '100%' certain to start his own party, a kind of UKIP 2.0.
Meanwhile, there's fresh controversy in the seat that Farage lost. Tory MP for South Thanet Craig Mackinlay has been quizzed under caution by the police for six hours as part of a probe into the party's expenses in the 2015 election, the Sun reports. This all follows Channel 4 News' reports that the Conservatives breached spending limits by using national money on local campaigns.
SkyNews published an angry email to party chairman Patrick McLoughlin from Karl McCartney, another Tory MP under investigation: "At what stage do you think you might inform us that another media shitstorm is coming? We didn't create this mess, the clever dicks at CCHQ [Conservative Campaign Headquarters] did.." On Newsnight last night, Nick Watt said senior sources told him that MPs were now likely not to face criminal charges as there was no evidence of 'intent' to break the rules.
5) SCHOOL'S OUT
One headache the PM can do without is the proposed new schools funding formula, which has upset nearly everyone from Tory backbenchers to inner city and London head teachers. Consultation closes a week today and No.10 was still keeping a straight bat yesterday that all views were being considered.
Nicky Morgan has popped up in the Guardian to try to defend the plans she drafted as Education Secretary, saying "this is a historic opportunity to right some wrongs" in imbalances between rural and coastal towns and big cities. Yet London heads are marching on Downing St and one Enfield school is the latest to send a letter to all parents warning the funding changes will lead to cuts in staff. One primary in south London says seven teachers could go.
Add in May's controversial cash splurge on Free Schools/new grammars in the Budget and you can see the PR problem. As it happens, the Sun also reports today that kids at private school are disproportionately likely to visit the new Commons education centre (Speaker Bercow's pride and joy).
If you're reading this on the web, sign-up HERE to get the WaughZone delivered to your inbox.
Got something you want to share? Please send any stories/tips/quotes/pix/plugs/gossip to Paul Waugh (paul.waugh@huffingtonpost.com), Ned Simons (ned.simons@huffingtonpost.com), and Owen Bennett (owen.bennett@huffingtonpost.com)