The five things you need to know on Thursday, March 16…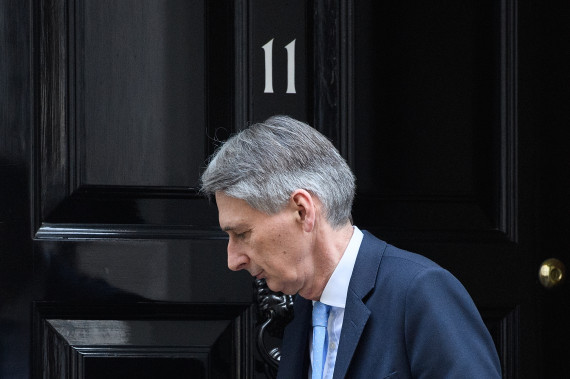 1) ASH WEDNESDAY
One week on from his Budget jokes, it was an ashen-faced Philip Hammond who was forced to deliver his U-turn on the 'White Van Man tax' yesterday. But as he crashed through the central reservation, it was obvious that it was Theresa May, the newspapers and Tory backbenchers who were yanking on his steering wheel.
The Chancellor has written a piece for the Sun, which led the charge against him, admitting "trust in politics matters". The article is not quite an apology, but felt like the equivalent of Hammond being forced to sit a detention and write out 'I will never again breach a manifesto promise' 50 times on the Commons blackboard.
I've written an analysis HERE of how yesterday's extraordinary events unfolded - complete with a Budget-style 'winners and losers' verdict. In a nutshell, Hammond was warned by the whips that not only was he in danger of not getting the NI rise through the Commons, but the Lords was almost certain to 'do a tax credits' and effectively kill it. As the hike was not in the manifesto (and explicitly ruled out by it), the Salisbury convention would not apply and peers could be free to make hay. The tax rise was doomed.
The Times has some lovely detail today that Hammond was still holding out on Monday and Tuesday, robustly defending his plan and leaving one cabinet colleague to "tear his hair out". Talk of the Chancellor being fired is too fevered right now but the paper cites one ministerial source: "He's done for a long time. He's lost his mojo".
May's exceptionally long honeymoon was finally over yesterday. Wobbly Wednesday looked in danger of turning into Black Wednesday as Hammond's U-turn coincided with not just a car-crash but a multiple motorway pile-up of Tory blunders: DD on Brexit preparations, Fox on student migration, the PIP disability benefit changes, Justine Greening getting a kicking over the schools formula. And of course the news that the cops had passed prosecutors the files on 12 Tory MPs investigated for election expenses. That dirty dozen is a figure that matters when your Commons majority is just 17. This morning the Tory party has been fined £70k by the Electoral Commission over campaign expenses.
It was May's worst day, and worst week, yet since taking over at No.10. And yet despite all that, Jeremy Corbyn forgot to ask four of his allotted questions at PMQs. One senior Labour source put it to me afterwards: "Jeremy is his own kind of leader. And he's demonstrated a new kind of political leadership". Both his critics and his enemies would say that statement is indisputable.
The Tories are still a record-breaking 19 points ahead of Labour on some polls. If that gap doesn't come down dramatically after yesterday, maybe even those close to Corbyn will think again. But the decision may be taken out of their hands: talk of a snap election is picking up once more. With the U-turn out of the way, and the long journey on the A50 road started, Mrs May may want to stop at the electoral service station to refuel her Government with a bigger majority. Before any Brexit wheels come off later.
2) DD DAY
It wasn't just Yvette Cooper who emerged with some credit yesterday on a dark day for Labour. David Davis's remarks to the Brexit Select Committee, prized out of him by chairman Hilary Benn and others, exposed just how little real work has yet been done on the UK's preparations for quitting the EU.
DD stunned MPs when he admitted that no economic assessment had been made of a 'no deal' Brexit scenario. The real political problem here was that the PM herself - who prides herself on 'looking at the evidence' - had told us in her Lancaster House speech that she was "clear that no deal for Britain is better than a bad deal for Britain". How could she possibly say that with no evidence?
No.10 said there was "rigorous work ongoing across government on all implications of the potential of Brexit" but it couldn't deny DD's candid view that a real assessment would only be ready in "about a year's time". Labour's Pat McFadden was brutal: "Without an assessment, you have mortgaged the country's economic future to a soundbite." Alistair Carmichael, a Liberal Democrat MP, said: "It is the equivalent of driving towards a cliff-edge with a blindfold on."
There was a sub-plot too with DD swiping at Boris for saying no deal would be 'perfectly OK'. "I do my job on the basis of facts and data and research and analysis and operational planning, and off the back of that I will give answers that are accurate and that are factual — not throwaway lines in interviews," he said. Burn baby, burn.
3) START OF THE PEER SHOW
The EU Withdrawal Bill is set to get the Royal Assent at 11am today. But here's a new development that could temper the celebrations among Tory MPs. I can reveal that Labour in the Lords have tabled two motions overnight. Both deliver on Labour's promise that it would use 'other methods' to hold the Government to account.
The first is to force ministers to update the Lords on EU citizens' status 'by the end of this session' of Parliament. I'm told the Queen's Speech is pencilled in for Wednesday May 17th so that means a deadline of probably May 11. This will be after Article 50 has been triggered but may be early enough to get some answers from No.10 and Brussels alike on what will happen to reciprocal rights of expats.
The second motion by Shadow Lords leader Baroness Smith (who has blogged on this for HuffPost today) calls for the creation of a Joint Committee of Lords and Commons "to consider and report on the terms and options for any votes in Parliament on the outcome of the negotiations on the UK's withdrawal from the European Union". It should report by October 31 this year.
Both motions are likely to pass with big majorities, which means the ball will be back in the Government's court. With new bills due on a range of Brexit detail, as well as the Great Repeal Bill, you can see why there is a long road ahead. And why Theresa May's small Commons majority is still a problem.
BECAUSE YOU'VE READ THIS FAR…
Watch the glorious moment when Sir Des Swayne tell MPs that his 'slavish' article backing the NI rise was already with the printers of his local paper.
4) FOXY MUSIC
Another reason that some Tories feel an early election could be needed is simply to alllow May to strengthen her authority over her Cabinet. And yesterday's row over including students in the net migration target showed just how unruly her ministers can be.
Liam Fox's evidence to the Lords International Relations Committee came just before the NICs U-turn and was unnoticed until PoliticsHome cannily kept its eye on proceedings. On a normal day, as with the DD story, this would have been front-page news. "It is an ongoing argument inside government and I've made my views on that clear in private to the home secretary," Fox revealed. "There is a value for those who come stay in the UK."
No.10's slapdown was particularly blunt, with the PM's spokesman stressing "she was clear as Home Secretary, she is clear as Prime Minister..that students should continue to be included in the official immigration statistics."
5) PAYING FOR IT
Given that the whole NI rise row stemmed from the demand from No10 for more cash for the NHS and social care, it's worth asking again just how serious politicians are about building cross-party consensus for funding the system. Former Treasury Perm Sec Nick Macpherson tweeted yesterday: "Is the UK prepared to pay the taxes to fund public services? If not, spending cuts only answer".
I remember New Labour, at the height of its powers after its second landslide, put a penny on NI (yes a hike in National Insurance that didn't raise a peep from voters) in 2002. But Gordon Brown ensured that little more than half ended up in NHS coffers.
Today, the BBC reports that a health expert panel set up by the Lib Dems - and including ex-GPs chief Clare Gerada and NHS chief exec David Nicholson - is calling for a hypothecated health and social care tax. It also calls for an OBR-style independent body to asses what cash is needed. This is in fact something John McDonnell has called for too. With the latest news that four-hour waits in A&E are up 300% will the public be persuaded?
If you're reading this on the web, sign-up HERE to get the WaughZone delivered to your inbox.
Got something you want to share? Please send any stories/tips/quotes/pix/plugs/gossip to Paul Waugh (paul.waugh@huffingtonpost.com), Ned Simons (ned.simons@huffingtonpost.com), and Owen Bennett (owen.bennett@huffingtonpost.com)