The five things you need to know on Thursday, April 27…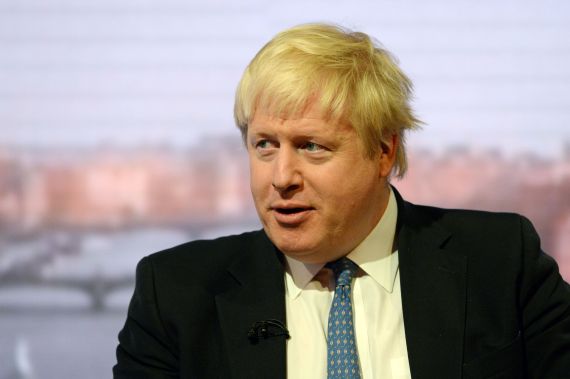 1) BORIS UNLEASHED
Boris Johnson has been deployed as the Tory attack dog of choice today. But given that he looks more like Dulux's old English sheepdog than a rottweiler, will the Foreign Secretary be more bark than bite? Boris used his Sun article to call Jeremy Corbyn a "mutton-headed old mugwump" and a "benign Islingtonian herbivore", before adding that he was really a threat to national security.
Curiously, this all reminds me of the old Demon Eyes/Bambi attack on Blair when the Tories couldn't quite make their minds up whether the Labour leader was a serious danger or a lightweight joke. It didn't work in 1997, but with Corbyn 'miles behind' (Copyright: JMcDonnell) in the polls, the only game in town for the Tories is to keep the focus on leadership. And boy will CCHQ be delighted that his attack line was the lead item on the BBC news this morning.
Labour may want to suggest that it's 'bungling Boris' who is more of a security threat. Nick Watt revealed on Newsnight last night that No.10 had intervened to stop Boris from going to Moscow amid the Syria crisis, and then he signally failed to win backing for a tougher line on Russia at a meeting of fellow foreign ministers. On the Today prog, he had a throwaway line about the PM wanting to help the US on military strikes in Syria, with a hint that the Commons may not decide beforehand.
Bounding onto the breakfast sofas today, Boris denied on ITV that he had been muzzled of late. "I have not been kept under wraps." But he could not answer questions about the whereabouts of his bus's £350m for the NHS. On the Today prog, he was also equivocal and slippery about the Brexit 'divorce bill' and tried to filibuster his way through it all.
And on Today he underlined another reason why he may not be allowed out of his Great Charles Street kennel very much in the election campaign. He refused to endorse May's inclusion of students in migration figures, stressing instead their "enormous practical economic value…I value international students". And on May's flagship pledge to cut migration to under 100,000 ['tens of thousands'], he also refused to commit to it. "It depends how many tens [of thousands] you are talking about…i don't want to get into numbers.." Woof, woof, indeed.
2) MAY POLL DANCE
Theresa May is facing the goldilocks problem with the opinion polls: too hot and big a lead and the voters risk staying at home or voting Labour as they know Corbyn will never be PM; too cold and small and jitters start and the whole snap election thing looks like a monumental waste of time. The Times/YouGov poll today shows that the Tory lead is 'down' to a mere 16 points. Now that's a fall of seven points in a week and some Corbyn fans will hope it's the start of a narrowing pattern. But it's still 16 points, for a Governing party mid-term and would still yield a healthier working majority.
Labour MPs facing the electoral gallows hope they can buck the national trend with hyper-localised campaigns. But Team Corbyn simply don't believe the polls. We reported yesterday how John McDonnell had admitted to a rally that Labour lookked 'miles behind' but he thought the polls were flat wrong. "They got it wrong at the last election, they got it wrong in the referendum and God help us they got it wrong with Trump". Of course, in none of these polls was the 'progressive' vote underestimated, but that's not McDonnell's concern.
And Corbyn's spokesman after PMQs continued the theme, saying that there was a 'technical' issue with polling firms' failures, but also a volatility to the electorate that suggests things could change quickly. But he also had what seemed a hostage to fortune, predicting real votes in the real elections on May 4 would prove a better guide. "Let's see what happens in the local elections. That might be an interesting measure of how things are going more generally and how accurate the polls are." If Labour loses in marginal-packed counties of Lancashire, Notts and Derbyshire, let alone the West Midlands Mayoralty, that quote could return to haunt the party.
The Times polls also finds that for the first time since the EU referendum, more voters think the UK is wrong to leave the EU than those who think it was the right thing to do. Meanwhile Clive Lewis is in trouble with ICM for misquoting them in a Tweet (now deleted) to claim Lib Dem and Green voters will help the Tories beat him.
3) BATTERED FRITTERS
Karl Rove once claimed that it's only when the press are bored of your soundbite that it's just beginning to be heard by the public. So while all that 'strong and stable leadership' stuff may be as much a turn-off as 'long-term economic plan' (now dumped in many senses), it could work on some voters.
PMQs went on for a record 56 minutes yesterday. One MP told the Daily Record that May's ensured the session sounded like a broken record. Which prompts the thought that Labour could yesterday have had its own soundbite: May is a broken record with a record of broken promises (you can have that for free). One of the PM's weakness is sounding robotic, so why not turn that to your advantage?
Still, PMQs was the last live televised debate we will see between May and Corbyn before polling day. May has ruled out a head-to-head, but we got a surprise straight afterwards in the Lobby huddle when Corbyn's spokesman announced Jezza too would not take part in any TV debate without May. That probably makes sense, given Ed Miliband's kicking in the 2015 challengers' debate (sans Cameron). But that didn't stop the cries of 'frit!' from the Lib Dems and SNP.
Farron yesterday used his one PMQ to say the real 'legacy' of this short Parliament has been the failure of Labour to provide 'strong' (there's that word again) opposition. But that's the backdrop to this election: much of the talk is about who could be the best opponent, not the best alternative PM or government.
BECAUSE YOU'VE READ THIS FAR…
Watch this guy tease a lion by following it in his car, and then realise why big cats are kinda scary.
4) THE CANDIDATE
With so many safe seats made available by retiring MPs (there was a fresh crop of plum Tory seats yesterday), it's no wonder wannabes are licking their lips at the prospect. In the tale of the retreads, Esther McVey in Tatton has a much better chance of a comeback than Zac Goldsmith in Richmond Park.
The Lib Dems are putting flesh on the 'progressive alliance' idea by not standing against Caroline Lucas in Brighton Pavillion. The real action will be just how lightly they campaign against each other too in other key seats.
For Labour, there are fewer safer seats which makes the selections more intense. I've already reported on The Deal between Corbyn's office and the unions to carve up the best constituencies, and last night that largely held. Ellie Reeves (very much one to watch for the future) secured Lewisham West, Stephanie Peacock got Barnsley East and Alex Norris won Nottingham North. That's two GMB and one Unison. But the leader's office choice for Hull West, Sam Tarry, was not selected, and councillor Emma Hardy won instead. As Tarry was in theory backed by the GMB, there was a huge inter-union row that The Deal had been broken. Katy Clark, another Corbyn pick, faces the Leigh selection panel today - and I hear the panel isn't looking favourable.
Meanwhile, Corbyn-sceptic Labour MPs are largely maintaining their discipline in not really attacking Corbyn but in choosing to damn with faint praise or to just distance themselves from him. Ben Bradshaw tells his local newspaper: "Supporting me in Exeter will not affect who governs nationally." Michael Dugher told the New Statesman it was "quite a special achievement" to have Labour polling behind the Tories on the NHS.
5) PENSION TENSION
The SNP's Angus Robertson showed Corbyn how to do it yesterday by using his two PMQs in a typically forensic way: make the PM squirm on an issue where she's uncomfortable among her own backbenches, and then get out your own message when she doesn't answer. And here's a fascinating fact. In the past 18 months of asking PMQs, Robertson tells pals that he's not once had to use his just-in-case-Corbyn-says-it substitute question. The Labour leader never went on the topic the SNP knew would be the week's sharpest issue.
And Robertson gave us the best news story of yesterday, with May refusing to guarantee the 'triple lock' on pensions, preferring only the lame line that they would 'increase'. Now this may of course be a holding position until the manifesto, but the robotic answer was not a good look. The Guardian reports that May is looking at a cheaper 'double lock' which allows flexibility for social care funding by ending the pledge of a minimum 2.5% annual rise. The FT reports the OECD saying the state pension should be scrapped altogether for the richest 5-10%.
For many people, their house is effectively their pension. But today Labour's John Healey points out how homeownership is now a distant dream for many young people. In an interview with HuffPost UK, he reveals Labour will set up a new dedicated Housing Ministry to tackle the issue, and take new moves to build more homes for rent.
If you're reading this on the web, sign-up HERE to get the WaughZone delivered to your inbox.
Got something you want to share? Please send any stories/tips/quotes/pix/plugs/gossip to Paul Waugh (paul.waugh@huffingtonpost.com), Ned Simons (ned.simons@huffingtonpost.com), Kate Forrester (kate.forrester@huffingtonpost.com) and Owen Bennett (owen.bennett@huffingtonpost.com)