The five things you need to know on Friday, April 28…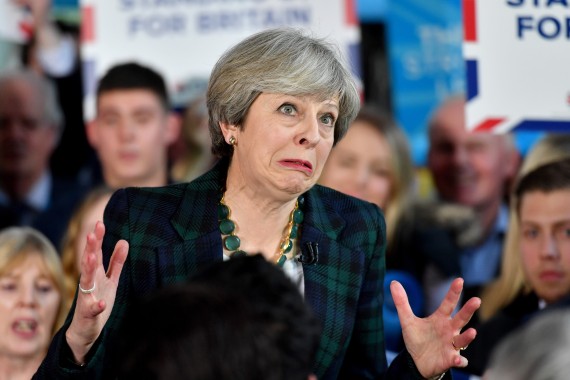 1) REPETITIVE MAY INJURY
Asked on Radio Derby yesterday if she knew what a 'mugwump' was, Theresa May replied with the immortal words: "What I recognise is that what we need in this country is strong and stable leadership". No wonder this bloke on BBC's Question Time last night railed against the Tories' "repetitive cliche virus".
But in No.10 and Tory HQ they don't mind any of these jibes as long as the message gets across time and again. And so far, May has largely stuck to stage-managed rallies in front of Conservative supporters rather than adopting Cameron's PM Direct model of risking questions or interaction with actual members of the public. Last night, May was in a business centre in Leeds but one employee says the party waited until all the staff went home and the event was invite-only.
Just as we will have a stripped-down State Opening of Parliament (the snap election timetable clashes with Trooping the Colour, so Her Maj will arrive by car not carriage), so too we have a stripped-down Tory election campaign. All the usual flash is being shunned in favour of surgical strikes by the PM, with exactly the same format each time, and exactly the same soundbites. Let's see if the manifesto launch makes a difference after the local elections.
Last night May told the Leeds event of her intention to take her fight to every Labour heartland: "Here – and in every constituency across the country – it may say Labour on the ballot, but it's Jeremy Corbyn that gets the vote." Which is the reverse of the message from Tony Blair (he said again yesterday May would still be PM on June 9) that many Labour MPs are using on the doorstep: you can safely vote for us because there's no way JC can be PM.
One thing May has avoided is questions about junking Osborne's tax lock. In a rare interview, ex-Treasury chief Nick Macpherson warns that the ageing population pressures are such that even if the lock is dumped more cash will be needed. He warns that if it is not dumped, the budget deficit will have to rise. On Newsnight, Nick Watt said the Treasury is looking at using fiscal drag to raise key cash by getting more people to pay higher rate tax.
As for Corbyn, he was in Harlow yesterday. To some this was a baffling choice given the 8,000 Tory majority Rob Halfon now has in a former Labour seat. But one insider tells me Harlow has a very high number of new Labour party members and says the visit was proof Corbyn is using the general election to boost support not among the public but among the faithful, in advance of a possible third leadership campaign.
2) MUMMY V MUTTI
Angela Merkel yesterday delivered some home truths about British claims (from both David Davis and Keir Starmer) that somehow Brexit could allow the UK to keep virtually all the benefits of being in the EU (eg the single market) without actually being in the club. "You may think that all this is self-evident," she told the German Parliament. "But I have to put this so clearly because I get the impression that some in Great Britain still have illusions about this, and that is a waste of time"
Theresa May, who has been Christened 'mummy' by several Tory MPs of late just as Merkel has been tagged 'Mutti' by her admirers, didn't see the funny side. She told her rally last night that the German Chancellor's words were proof that the EU 27 were "lining up to oppose us". No sugar, Sherlock. Note that the 'clean Brexiteers' have been arguing too that it is a delusion to think we can have a 'soft Brexit'. That's why they talk of pulling out on WTO terms.
The FT reports one other real problem though, with the EU considering inserting the phrase 'united Ireland' in its negotiating text tomorrow. There's a plan to confirm that Northern Ireland would be allowed seamless transition back into the EU if its people ever voted to unite with the Republic. The plan is based on German unification in the 1990s. But the Spanish are uneasy.
In other Brexit news, the Wellcome Trust has written to the Times to urge party leaders to continue to invest £800m a year in science after Brexit. And the Health Select Committee warns England will not be self-sufficient in its supply of doctors "until the end of the next decade at the very earliest". The Guardian reports that NHS Providers, which represents hospital trusts, says an emergency cash injection of £25bn is needed before 2020 or ministers risk a decline in the quality of care for patients and lengthening delays for treatment. That works out as even more than the £350m a week on Boris's bus.
3) WOMEN TO WIN
Some more of the dozen Labour seats vacated by MPs have chosen their candidates. I'm told that Preet Kaur Gill has got the Birmingham Edgbaston selection in the bag, a move that would mean that eight of the nine candidates chosen so far are women. The Birmingham seat, whose retiring MP was Gisela Stuart, has the distinction of being continuously represented by female MPs (from both main parties) since 1953. The Tories choose their contender tonight and if it's 2015 runner Luke Evans, and if Gill can't fend of the May surge, that record could broken.
In other selections, unions have carved up the seats between them and so far Corbyn's office appear to have been outmanoeuvred. Councillor Liz Twist beat Unison pick Mark Ferguson in Blaydon, Unite-backed Laura Pidcock won North West Durham, MEP Anneliese Dodds won Oxford East and Unison organiser Alex Norris won Nottingham North. Add those already selected earlier, Ellie Reeves, Steph Peacock and Emma Hardy, and the party is delighted so many talented young women have been picked.
But some crucial contests remain. Corbyn's political secretary Katy Clark is up for Leigh today against Burnham-backed local Jo Platt. And there's a real row going on down in Slough (as the Jam would say), where retiring MP Fiona Mactaggart could be replaced by a man. This matters because the convention is that a retiring female MP is automatically replaced by a woman, but the NEC is looking at installing a black and minority ethnic shortlist instead. Some argue that with so many women already selected, it makes sense in a seat with around 50% of the population from minority ethnic communities. But I'm told Mactaggart is making her views known.
Speaking of Slough, I was in the seat last night talking to voters as part of a new joint project between HuffPostUK and Edelman to stage focus groups across the country in coming weeks. Our 'Beyond Brexit' series (the issues beyond Brexit as well as life after 2019) will form the backbone of our election coverage. My first report on Slough will be up tonight and tomorrow.
BECAUSE YOU'VE READ THIS FAR…
Watch Jeremy Corbyn spun round, right round (unlike a record baby) as he meets the troops in Harlow.
4) JOHNSON AND JOHNSON
Blood is thicker than water in the Johnson clan, but it is being spilled over Brexit. Yes, Boris's sister Rachel has actually gone and joined the Lib Dems. The Guardian had the scoop that Rachel - who "sat down and wept" when the EU referendum result came in - had become part of the Yellow Peril, as her brother has often described Farron's party. It may be too late for her to be the candidate in Bath or another Lib-Con battleground but that won't stop the fun.
Here's Johnson's column in the Mail on Sunday from last year: "What an astonishing, upsetting, stunning week it has been, a stinging reminder that no politician should ever ask the public a question he doesn't know the answer to. Now the snow globe is not just shaken but lying broken on the floor."
Bojo is the black sheep of the family on the EU. Brother Jo (the minister for higher education) and father Stanley (a former MEP) were also Remainers. And their other brother Leo has been described by Rachel as 'sickeningly liberal'. Will Boris now describe his sister as 'sickeningly Liberal Democrat'…? Meanwhile, the MP signally refused four times last night to back Boris's claim that "it would be very difficult for us to say no" to a Trump request to join airstrikes on Syria.
5) GREEN DAY
The 'progressive alliance' between the Greens and Lib Dems is yielding some fruit in various seats, not least in Brighton (and possibly Richmond Park again). But the environmentalists' party isn't going to roll over on everything and today is proving just that.
In a deliberate troll of Tim Farron, the party is launching its LGBT+ manifesto in a church, putting 'clear distance' between the two parties on the issue of gay rights. Co-leader Jonathan Bartley will announce plans to make all LGBT+ refugees welcome in the UK, ensure HIV prevention drug PrEp is available on the NHS and put trans and intersex recognition and rights into law.
Meanwhile, UKIP leader Paul Nuttall has finally come out of his locked room and announced he will after all stand as a candidate in the general election. He will officially launch his party's general election campaign today and may even let us in on the secret of which seat he wants to contest. Some thought he'd go for Leigh, but he's campaigning in Hartlepool on Saturday, an area where the Kippers have some support.
COMMONS PEOPLE
Our latest CommonsPeople podcast is out, complete with our new ElectionSection quiz, and new recruit Kate Forrester. Hear us chinwag about the first week of the campaign, strong and stable soundbites and much more HERE.
If you're reading this on the web, sign-up HERE to get the WaughZone delivered to your inbox.
Got something you want to share? Please send any stories/tips/quotes/pix/plugs/gossip to Paul Waugh (paul.waugh@huffingtonpost.com), Ned Simons (ned.simons@huffingtonpost.com), Kate Forrester (kate.forrester@huffingtonpost.com) and Owen Bennett (owen.bennett@huffingtonpost.com)