The five things you need to know on Thursday, May 4…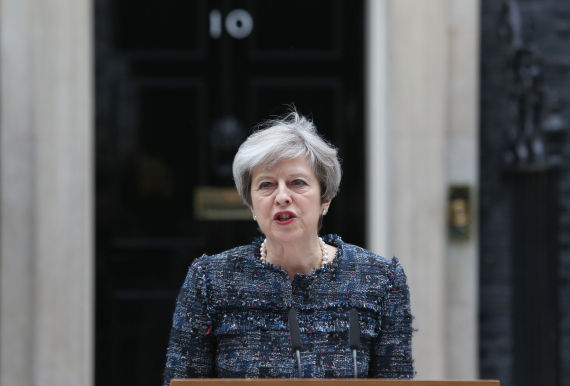 1) ME, MAYSELF AND I
Marine Le Pen and Emmanuel Macron sparred with each other last night, but the real issue here in Blighty is whether we are in the middle of our very own British Presidential election. That's certainly how it felt yesterday as Theresa May appeared in Downing Street to effectively declare war on 'Brussels'.
The PM's broadside at the EU was obviously aimed at Leave voters of all parties, but cannily also targeted those 'soft Remainers' who are now thinking that if Europe is going to make Brexit bloody difficult, that proves just why we need to get out quickly. Until now, some politicians have hoped that Leavers will feel 'buyer's remorse' as time goes on and the exit road gets bumpy. But it may well be that it's some Remainers who regret not having stuck two fingers up earlier. We're getting a second referendum alright, and it's not the one the Lib Dems hoped for.
And it was May's personal pitch that was even more striking than her pops at Johnny Foreigner. She said "every vote for me and my local candidates…every vote for me and my local team…every vote for me…" would strengthen her hand. For good measure, she said no fewer than four times "give me your backing".
Me, myself, I got the message. She's trying to put herself firmly on every ballot paper, not just to contrast with Jeremy Corbyn's leadership but to distance herself from the Tory brand she knows is still too toxic for many Labour voters. The strategy may be to play hardball on Brexit for Labour leavers, while using the manifesto to reassure everyone she's a centrist really.
And it may work. Our focus group in Slough last week showed Labour supporters flirting with their first ever switch, but only for 'Theresa May'. Anecdotally, that's confirmed elsewhere. One non-Tory London voter said yesterday that they wished they could vote for May "for President". Tim Farron's close encounter with a Leave voter Malcolm Baker in Oxfordshire yesterday ended with him declaring "I tell you what, I've always voted Labour, but I'll be voting for Theresa May!"
Way back in the Ealing Southall by-election in 2007, the Tory candidate's party was listed as 'David Cameron's Conservatives'. But his brand was nowhere near as strong as May's is today. And as PoliticsHome reported this week, some Tory candidates in this election have been given garden billboards that read "Standing with Theresa May" in big letters and 'Conservatives' in smaller print.
One northern Labour MP whose seat is being targeted as never before told me that so far their vote was holding up. Yet they had this key proviso: "People wont vote for the Tories, but they may vote for 'Mrs May's Conservatives'. It's that simple."
2) EU WANT SOME?
The news frenzy this morning has been over the 'emergency' meeting of Buckingham Palace household staff. The Daily Mail got the ball rolling with a classic 'mystery surrounds' story about the urgent nature of the development. We will find out later just how significant it is.
But mystery doesn't surround Theresa May's extraordinary Downing Street speech taking on 'Brussels'. Her lines that "threats against Britain have been issued by European politicians and officials" and that there are "some in Brussels who do not want these talks to succeed..who do not want Britain to prosper" managed to electrify the news cycle. It was all the more effective because most had expected more 'strong and stable' Mogadon tablets after the trip to the Palace.
May's speech was changed late but was a clear attempt to 'put back in their box' the briefers who wanted to undermine her Brexit negotiation lines. Of course no serious talks can take place in public, but some will be suspicious that the real reason No.10 wants it all carried out behind closed doors is because some difficult compromises will be reached that Leave voters may baulk at. And we have the curious role reversal where it is Britain that wants things kept secret and the EU which wants everything in the open.
The Sun reveals that May is drawing up a new "nuclear option" of immediately ending Britain's £18bn annual Budget payments if Brexit talks breakdown. We also learn that Britain will leave the EU an hour early, as Brussels bosses set the precise time for Brexit at 00.00 Central European Time rather than GMT on March 30, 2019.
Jeremy Corbyn yesterday said May's latest speech showed she wanted to 'wrap' herself in the Union Jack, which may not be the best attack line given lots of Labour voters would like him to do the same. Yvette Cooper, in what is being seen as yet another leadership warm-up, blogs for HuffPost on why May's speech showed she's neither strong nor stable.
3) GOING DOWN THE LOCAL
On the No.10/ToryHQ 'grid', yesterday's trip to Buckingham Palace was always a setpiece that would not only frame the general election but also today's local elections. And with broadcasters banned from airing the usual knockabout from politicians, May's anti-Brussels message was left to just seep a little longer into voters' minds.
Polls have opened and for the next 36 hours we will see the game of expectations management play out. Labour has been forecast to lose around 100 council seats across the country, with many falling in Scotland. In England, the county elections to watch will be Derbyshire, Lancashire and Nottinghamshire, where the Tories taking control or becoming biggest party would be a major coup.
Shadow Cabinet minister Barry Gardiner told BBC's Daily Politics yesterday "One would expect we will see a decline in our numbers." But it's worth remembering how unusual that is for an Opposition. A recent analysis by by Professor John Curtice (everyone's favourite Professor Brainstorm) declared: "Taken overall, Labour looks certain to be the first opposition party to lose grounds at local elections for three years in succession".
And yet Corbyn allies will want to seize on the positives. Last year, the spin was that the party's share of the vote had improved from the 2015 general election. This year, I'm told the line will be that the share of the vote is better than some recent polls, especially if Labour beats a strong Tory challenge on the West Midlands Metro Mayoralty and fends off talk of a Tory upset in the Tees Valley mayoralty. Turnout could be low given the looming bigger election and that could throw up some surprises.
Labour's problem could be who it has on the airwaves making the case that the party was 'listening' to the voters. If it can only get John McDonnell, Emily Thornberry, Gardiner and Diane Abbott on, all of them are London MPs with no local elections, so they would find it hard to say they have heard any message on many doorsteps.
Timing wise, few counts take place overnight (it's more expensive and we live in an age of austerity folks), and we will get the bulk of the results tomorrow afternoon. In fact the big West Midlands and Greater Manchester Metro mayor results aren't due until 6pm Friday. But overnight we could get the first glimmers of any Welsh Tory surge.
BECAUSE YOU'VE READ THIS FAR…
A WaughZone reader has sent me this lovely clip from 2010 general election night when Peter Mandelson talks about a 'strong and stable' government, and a certain Theresa May is asked to reply…
4) SCHOOLS 'N' HOSPITALS
The bread and butter issues of health and education have received remarkably little attention in the election campaign so far. Labour's big announcement yesterday to halt plans to close A&Es and other units sounded very much like Cameron's 'moratorium' on hospital closures from 2010. But it was overshadowed by the Tory tax bombshell attack, and faced criticism from some health chiefs that it missed the wider need to plan services better.
Still, everyday pressures on the NHS are very real concerns of many voters and the Health Service Journal has a startling leak of a document that hospital waiting lists will rise above five million. The number of people in England forced to wait more than 18 weeks for a non-urgent operation could more than double as a result of the NHS's decision to relax targets, the presentation to 'NHS Improvement' regulator showed.
Meanwhile, senior Tories have fired off their own new warning to May to ditch her school funding formula that is threatening cuts across the country. Graham Brady, chairman of the Tory backbench 1922 committee is just one of many who used the London Evening Standard to urge May to use the manifesto to be bold on the issue. Editor George Osborne's front page looked like yet another pop at the PM. In other news, the new MPs' register of interests showed the ex-Chancellor raked in £1m for speeches since his sacking.
5) GETTING SYRIAS
You know something is up when the defence correspondents get briefings on possible military strikes rather than political reporters. And that's exactly what we have today as the Sun, the Mirror and Guardian have sources saying the Government is considering a vote to expand military action in Syria if the Tories increase their majority in the election.
Boris Johnson suggested last month that he wanted to do more to help the US and despite being gently chided by No10, it now looks like pressure for a Commons vote is gathering pace. The Sun says our intelligence agencies have new evidence that two rogue Syrian generals were linked o to April's sarin gas attack which left over 80 innocents dead. A Whitehall source tells the paper they were now "99.9%" certain Assad's forces were behinnd the strike, which prompted a US cruise missile response.
The politics are obvious as the Tories want to press on the bruise of Labour's splits over Syria and Corbyn's record on the issue in particular. Even though Labour is committed to the 2% defence spending target, the Conservatives will continue to question Corbyn's personal views.
If you're reading this on the web, sign-up HERE to get the WaughZone delivered to your inbox.
Got something you want to share? Please send any stories/tips/quotes/pix/plugs/gossip to Paul Waugh (paul.waugh@huffingtonpost.com), Ned Simons (ned.simons@huffingtonpost.com), Kate Forrester (kate.forrester@huffingtonpost.com) and Owen Bennett (owen.bennett@huffingtonpost.com)