The five things you need to know on Friday, May 5…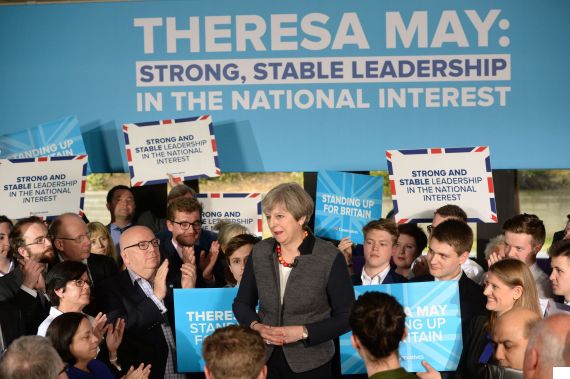 1) BLUE FRIDAY?
It's just five weeks until the general election and we have the extraordinary spectacle of a governing party making local council gains that in normal times would be made by the Opposition. These are not normal times, of course, with the backwash from the Brexit referendum last year still flooding over the landscape.
Labour's splits on the EU are more apparent than ever, while Tory unity has snapped back like a piece of knicker elastic. UKIP looks like it will cease to exist as President Theresa May mops up the Leaver vote. For the first time since Thatcher's fall, the Conservatives are at peace over Europe. Professor John Curtice, the polling expert who is so beloved he has his own memes, told Radio 5 Live: "It's early days, but it could be the best set of local election results for the Tories for 25 years or so."
So here are the scores on the doors so far after 23 English and Welsh counties declared results: the Tories have a net gain of 150 seats, Labour a net loss of 119, Lib Dems are down 29, UKIP down 41 (and have still not won a single seat yet). The Greens have picked up five.
The Kippers' demise is truly striking. UKIP have been wiped out in Lincolnshire losing all 13 seats, as well as nine in Essex. With its MEPs disappearing soon, no MPs and few councillors, the party is in danger of complete extinction. Ex-leadership contender Lisa Duffy said the results were "disappointing" but she would "not call it a disaster". Yep, that sounded like the Iraqi information minister in 2003 denying the tanks were in Baghdad.
But some Corbyn supporters are also trying to claim this morning that the Tory tanks are not on Labour lawns and that everyone should stop panicking. Shadow Chancellor John McDonnell told SkyNews "it hasn't been the wipeout that the polls were predicting". He's right that in Wales the party held on in some areas and lost out to independents in others.
Yet in England things look less healthy. The big worry for Labour is that many UKIP voters were ex-Labour supporters, not just ex-Tories. In Harlow, where Corbyn visited a week ago, the UKIP vote was gobbled up by the Tories to take a seat from Labour. In Warwickshire, where Tony Blair's landslide secured key seats, the Tories piled up the votes, gaining 10 seats from Labour. Phil Johnson, Labour's general election candidate for Nuneaton, lost his council seat and told the BBC: "People have been saying to us that Jeremy Corbyn's style has been putting them off voting Labour.
McDonnell conceded on Today that his leader's "image" was an issue with voters, but countered on Sky "as Jeremy gets more air time I think people begin to see the real Jeremy Corbyn's character emerge and be more supportive". He also predicted that once the Labour manifesto was published, "you'll see this whole campaign begin to turn the tide".
In Scotland later the Tories will be hoping for gains from the SNP, while Labour is braced for some historic losses. The big test in England for Labour comes in the West Midlands Metro Mayoralty result, due around 6pm.
McDonnell added on SkyNews that the Metro Mayoralty races in "Manchester and Liverpool will balance things out", an odd claim given that the party was never going to lose either. Andy Burnham and Steve Rotheram will win. And as I reported yesterday, Rotheram is expected to announce he will step aside in the Westminster seat of Liverpool Walton, with Unite man Dan Carden the favourite to replace him. Many in Labour are gearing up for a third leadership race, so such small changes could have big impacts. (Meanwhile, there are rumours that Laura Pidcock, the leftwinger selected for the safe Durham North West constituency, has overnight lost her seat on Northumberland council).
Yet the big picture nationally is what matters. Normally council elections allow a major protest vote against a Government. When they look like a protest vote against the Opposition, and its leader, something really seismic may be happening. And with just those five weeks to go to a general election, there's little time to stop it getting worse.
2) MANIFEST TEST
The Tory manifesto has been expected to appear next Monday, though there may be some slippage. But the behind-the-scenes battles for what is and isn't included continue. The FT's veteran political editor George Parker reports that senior Tories are worried that the manifesto will signal a shift away from free-market policies, not least with an energy price cap plan.
But there is also worry that May is not allowing enough input from Tory MPs. This was famously a criticism of the Cameroon regime and some backbenchers grumble there's no point swapping one clique for another, with the PM's inner circle getting smaller. One minister said "many people are concerned" about the power over party policy concentrated in the hands of Nick Timothy, Theresa May's co-chief of staff, and Ben Gummer, a loyal but low-profile Cabinet Office minister.
Sir Lynton Crosby also doesn't want any contentious policies to get in the way of his 'Theresa For President' campaign. I wrote yesterday about the 'My, Mayself, I' approach and there was fresh evidence of that with yet another local paper wrap-around advert promoting the PM in banner headlines, while putting the word 'Conservative' in small print. These ads are targeting not just marginals but Labour heartlands, more proof of May's 'lend me your vote' strategy. We have another of our weekly HuffPost-Edelman focus groups out tomorrow, this time from Birmingham. Stay tuned for that.
Meanwhile, the Indy reports May is under pressure from another direction, with the Bright Blue think tank urging her to dump the net migration target of less than 100,000 people a year. The group, whose advisory board includes Cabinet minister Damian Green, says the pledge is "arbitrary, indiscriminate and unachievable". Some Tories hope the target could be amended to reflect gross numbers and refined to show work visas, students, spouses and others.
3) EMOTIONAL RESCUE
The fallout from the No10/EU 'Come Dine With Me From Hell' continues. EU Council President Donald Tusk tried to do his honest broker bit saying "he stakes are too high to let our emotions get out of hand". Some in No10 saw his remarks as a rebuke to the European Commission for leaking details of the May-Juncker dinner, and an attempt to rescue the Brexit talks from further acrimony.
But given that Tusk has to represent the interests of the EU27, and not London, it's no surprise his words were not greeted with universal approval. And Tory MPs felt he had been patronising May with a 'calm down dear' message that suggested she was being too 'emotional'. Speaking of tired and emotional, the Sun has a story that Juncker was visibly drunk during a UN peace summit on Cyprus, with one diplomatic source saying he was "very well refreshed".
Back in the world of hard business, Goldman Sachs chief Lloyd Blankfein has told the BBC that the City of London will "stall" and may "backtrack a bit" unless a very good trade deal is sorted between the UK and EU after Brexit. His bank, which has 6,500 staff in Britain, has contingency plans to move to Frankfurt and Dublin, he revealed.
BECAUSE YOU READ THIS FAR…
Speaking of swing seats, watch Jeremy Corbyn joke to some toddlers on the campaign trail that 'we never had swings when I was a kid..'
4) DAMASCENE AVERSION
Yesterday, at 7.01pm an email headed NEWS FROM LABOUR landed in political journalists' inboxes. As is so often these days, it was an hours-late response to something in the morning's newspapers. Three papers had reported that the Government wanted to use a bigger majority after the election to stage a fresh Commons vote on military action against President Assad. Now, Shadow Foreign Secretary Emily Thornberry had finally reacted: "a vote for the Tories is a vote to escalate the war in Syria". There was no statement from the Shadow Defence Secretary Nia Griffith.
The press release was of course far too late for most newspaper print deadlines (though it still managed to appear online in the Guardian). Don't forget that the Mirror's original splash that 'Whitehall sources' wanted a fresh vote first appeared at 10.20pm on Wednesday. It had taken a full 21 hours for an official Labour response. So why the delay?
Well, of course in a general election, the official Opposition can't be seen to just rattle off any old quick-fire response on a matter of war and peace. There's also the difficulty that Labour was bitterly split on further military action in Syria. But nonetheless I understand Thornberry had drafted her quote hours before its release. It went into a vacuum, and had been assumed to have been dumped because of reluctance to reignite internal party wounds. And then last night Corbyn's strategy and comms chief Seumas Milne personally intervened and the words went out.
5) OPPORTUNITY NOX
After a long legal battle by environmental campaigners, the Government is set at midday to finally reveal its air quality strategy. A compensation scheme is expected for drivers of older diesel cars, though the more controversial element may be enabling powers for councils to hit polluting drivers with some kind of charge.
'Active intervention' could take the form of retrofitting buses and changing traffic light timings at certain junctions to cut emissions. Manchester, Doncaster and even the New Forest could be listed in the plan, the Guardian reports.
Yet the best story today is the paper's excellent exclusive that lawyers are taking a class action against ministers on behalf of asthma sufferers who have had to put up with seven years of failures to produce a proper air action plan. Some 2,000 schools and nurseries across the country are within 150 metres of a road where nitrogen dioxide levels exceeded the legal limit.
COMMONS PEOPLE
Our latest CommonsPeople podcast is out. Hear us chinwag about the state of the general election race, with clips from our Slough focus group, from Corbyn supporter Chris Williamson and Corbyn-sceptic Richard Angell. Not forgetting our usual ace quiz. Click HERE.
If you're reading this on the web, sign-up HERE to get the WaughZone delivered to your inbox.
Got something you want to share? Please send any stories/tips/quotes/pix/plugs/gossip to Paul Waugh (paul.waugh@huffingtonpost.com), Ned Simons (ned.simons@huffingtonpost.com), Kate Forrester (kate.forrester@huffingtonpost.com) and Owen Bennett (owen.bennett@huffingtonpost.com)