The five things you need to know on Monday, May 8…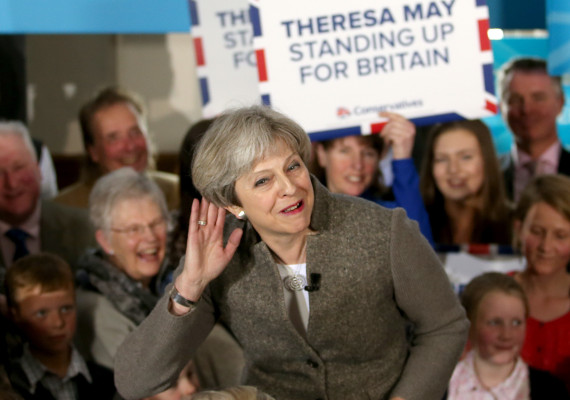 1) IM-MAY-GRATION PLEDGE
One of the many advantages of running a Presidential campaign is that Theresa May will be able to shape her government around 'Mayism' rather than just Tory policy. And there's no more May-ist policy than the flagship pledge from 2010 to cut net migration to under 100,000 a year.
Despite successive attempts by George Osborne, Vince Cable, Boris Johnson and others to say the target is arbitrary and impossible to achieve, the PM has stuck firmly by it. There has been strong pressure from some ministers recently to amend the wording of the pledge, to try to square the post Brexit vote circle of business needs for migrants with voters' demands for cuts in numbers.
Yesterday, on Pienaar's Politics on BBC Radio5Live, I pushed Home Secretary Amber Rudd on whether she wanted the coming manifesto to repeat 'the exact same wording' on the net migration pledge. She replied that the manifesto overall was 'not going to be identical to the last one', that she wanted immigration down but "the situation from that time [2015],..has changed because we're leaving the European Union, so it's right that we look at it again." Curiously, she was very definitive in ruling out taking student numbers out of the target, but not definitive about the wording of the overall net migration pledge itself.
Senior Tory sources have now made clear that the 100k pledge will indeed be in the 2017 manifesto. Insisting that there is no split between the PM and her Home Sec, one source tells me: "There will be no change in words or target". Perhaps just as interesting was Rudd's line that while she couldn't 'guarantee' business the same level of EU migrant labour, she would consult with industry 'this summer' to "find out what is really necessary and what is 'a nice to have'.".
The former Welsh Secretary Stephen Crabb summed up the debate going on in the party when he told Radio 4's Westminster Hour that it may be worth keeping the pledge, even if only as a signal to voters of the direction of travel: "My own concern is that we've known for quite some time that reaching that target with immigration is extremely difficult if not impossible. Nevertheless, holding that out there, showing the electorate that that is the destination we want to get to is in line with what they want on the doorsteps.."
I wonder how many voters actually know of the 'tens of thousands' 2010 pledge. As long as immigration is steadily reduced rather than going up, Leavers may be happy. But clearly May thinks the risk of looking ridiculous in breaking her target is outweighed by the damage caused by tweaking it.
2) KAPITAL HILL
Labour is pushing its latest manifesto pledge, to curb childhood obesity, in part by banning junk food ads from primetime TV shows such as the X Factor, Hollyoaks and Britain's Got Talent. It's part of the 'Labour's Got Talent' attempt to show the voters it has radical plans for the country, and follows the pledge to hike income tax for those on £80k or more to fund public services.
Yet the problem may be the 'the talent'. Our focus groups (see below) back up the polling evidence that while some Labour policies may be popular (and making the rich pay a fairer share is very popular), it's the messenger who is unpopular. Corbyn's personal poll ratings are as dire among the general public as they are sky-high among many Labour members.
Shadow Chancellor John McDonnell said yesterday we can 'learn a lot' from Marx's Das Kapital (though the Lib Dems quickly said he was 'more Groucho than Karl'). But as talk of the impending Third Annual Labour Leadership race grows, McDonnell refused to repeat his line that it was 'inevitable' Corbyn would have to quit if he lost a general election. Corbyn himself has told me his future is a matter for party members.
And that seemed precisely why Sion Simon on Friday hit out not at Corbyn directly for Labour's awful local election results, but instead at the leadership's "values". Warning that the core vote felt disconnected from Labour on patriotism, defence, law and order, immigration and Brexit, he was trying to say that it's the core beliefs of the Shadow Cabinet's Left that is the real issue, and an issue that won't be changed by a slicker, tougher version of Corbyn.
As I pointed out last week, some around Corbyn say his benchmark for success is to get a higher share of the vote than Miliband's 30.4% in 2015, rather than any particular seat figure. Asked on 5Live yesterday if seats or vote share was the real test, Andy Burnham said "I would say both". Shadow Lords Leader Angela Smith told Westminster Hour: "The priority has to be to win seats".
And the number of Corbyn-supporting MPs in the PLP after the election could prove crucial in any leadership race. That's why the scramble has started Liverpool Walton, where Steve Rotheram has finally announced he's standing down, and in Rochdale.
3) CARRY ON EMMANUEL
Emmanuel Macron's decision to walk to the stage to the strains of the EU anthem Ode to Joy, rather than the French national anthem, said it all. Naturally enough, Whitehall is wondering what it means for Brexit and it already looks like he'll drive a hard bargain both for the EU and France.
In possibly one of the ugliest words ever to be coined in politics, Macron warned in 2016 that Brexit would lead to the 'Guernseyfication' of the UK (ie as relevant and offshore as Guernsey). "It would isolate itself and become a trading post and arbitration place at Europe's border." I wonder why he didn't say Jersey? Was he worried about 'Stick It Up Your Jumper!' headlines? Anyway, the few French Prez has also said Brexit is "a serious mistake..[it's] not 'taking back control', it's servitude".
Macron's immediate problem is that he soon faces the Parliamentary elections and his new party, drawing candidates 'from civic society', may not match his success. Back here, the reaction to his victory saw some unsavoury Nigel Farage and Arron Banks tweets about surrender to the Germans. But note that ex Vote Leave chief Dom Cummings said he was 'very pleased' that Macron had won. Jeremy Corbyn praised Le Pen's defeat but signally refused to endorse Macron.
BECAUSE YOU'VE READ THIS FAR…
It was a long walk for a short man (and I should know), but watch Emmanuel Macron take his time to get the stage.
4) MAGGIE MIX
Thursday's local election results gave a reminder that for all their punch-above-your-weight media presence, the Lib Dem 'fightback' may be much trickier on the ground than on the airwaves. Tim Farron tried to recapture some of the initiative by focusing on just how bad Labour's results had been, but that only sought to highlight the fact his party too had gone backwards.
And it is Farron who has been one of the reasons for the Lib Dems' high profile, his Duracell bunny-like campaigning and ready quotes maximising the freedom of being a leader of just nine MPs. Ironically, he has been forced to run a campaign that's almost as Presidential as Theresa May's. But as the 'gay sex' row proved, there are downsides to a constant focus on your party's leader.
And today Farron has to deal with his biggest, most awful secret of all: he once had a photo of Margaret Thatcher on his bedroom wall. On ITV's Tonight programme tonight, Farron will deny claims from a childhood friend that he was 'a bit of a young Tory' or had 'I Love Maggie' stickers on a textbook. Yet he does say he had a Thatcher 'picture' on his wall, along with JFK, Jo Grimond and 'all kinds of weird icons'.
5) SHARP FOCUS
Our latest HuffPostUK-Edelman focus group in Birmingham underlined once again just why the PM is doing so well right now. We spoke to 'soft Leavers' and 'soft Remainers', many of them usually Labour voters. And it's clear that those who backed Brexit are now even stronger in their belief it has to be delivered, and by Theresa May.
Graham, 42, who works for a rail company, said: "As much as I have voted Labour all my life I probably won't be able to vote Labour this time...Anybody who has voted leave and believes in democracy currently must vote Conservative." And here's the kicker. Graham said he knew May wasn't perfect as she "has gone back on a couple of things already", then added "But she seems like a Tory politician with some Labour values."
A Tory politician with Labour values, that may be why we see more things like the mental health changes and moves to tackle 'the privileged few' in the Tory manifesto. Here's another Labour supporter, Derek: "I am Labour through and through, but I just cannot vote Labour. I don't like to admit it but I quite like Theresa May."
Of course Tony Blair was seen by some as a Labour politician with Tory values. But one thing our focus group did pick up was that a pre-Iraq Blair figure could win over people again. As one of our group said: "The last time there was a no-brainer for someone to vote for was the first time Blair came along. It was a no-brainer." Focus group expert James Morris blogs that if Labour could find a communicator like Blair, its recovery could be quicker than some think.
If you're reading this on the web, sign-up HERE to get the WaughZone delivered to your inbox.
Got something you want to share? Please send any stories/tips/quotes/pix/plugs/gossip to Paul Waugh (paul.waugh@huffingtonpost.com), Ned Simons (ned.simons@huffingtonpost.com), Kate Forrester (kate.forrester@huffingtonpost.com) and Owen Bennett (owen.bennett@huffingtonpost.com)