The five things you need to know on Wednesday, May 10…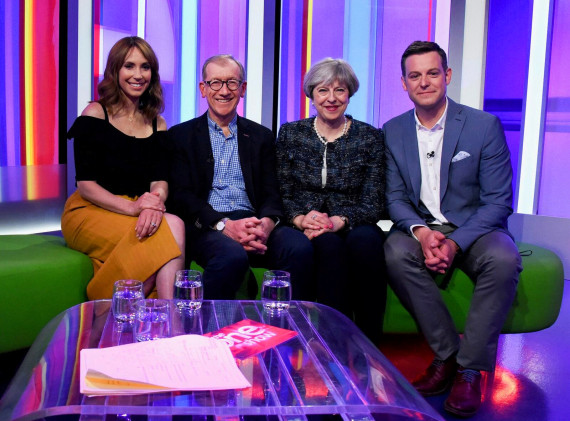 1) THE WON SHOW
Prime Minister's Questions come in many forms these days. Last night we saw the softer sofa version on BBC's The One Show, as Theresa and Philip May talked about bins, 'boys' jobs and girls' jobs', fake pregnancy reports, her long-standing leadership ambition and Red Boxes banned from the No.10 bedroom. The real takeaway: Philip has been a member of 'Theresa May's Team' long before it was a new name for Tory candidates. And like those candidates, he takes his orders well.
But the grittier questions came during the PM's campaign event in Leeds as the party allowed a proper grilling from factory workers. May handled it well, being candid about what she can deliver and giving blunt answers on issues like overseas aid and benefit cuts. But the Yorkshire workers get full marks for forcing the PM to admit she can't wave a wand to stop all energy bill rises and for her refusal to say NI wouldn't go up. One bloke even dismissed her childcare plans and said only Corbyn was promising him real cash with a £10/hour minimum wage.
And there will be questions of a different sort at 11am today when the Crown Prosecution Service finally rules on whether there will be charges over the 2015 Tory election expenses saga. May could argue those are queries for a previous PM named Dave, but let's see how she responds on the stump in Nottinghamshire. Team May are getting increasingly irritated at claims her campaign is too tightly stage-managed. They claim she has taken 47 questions from journalists after speeches in a Q and A format – more than seven times the amount taken by Jeremy Corbyn.
For his part, Corbyn may see the Tory election expense row as proof of his claim that Britain is run by a 'rigged system' where big money buys politics (we saw that too in Labour claims that £1m of Tory spending secured the wafer-thin West Midlands Metro Mayoral victory). But Labour has 'rigging' issues of its own, with a defeated candidate in the Liverpool Walton race claiming the selection of Len McCluskey's aide Dan Carden showed the party was 'not always a meritocracy'. I also revealed last night that on Monday Unite agreed a big new donation to Labour for key seats. Unite points out the cash was approved more than 24 hours before Carden's selection.
2) MR INCREDIBLE
Jeremy Corbyn this morning gets both barrels from a Guardian leader article: "Barely a month from polling day, it seems there is no platform Labour could adopt that would address the doubt in many voters' minds about Mr Corbyn's credibility as a potential prime minister." Tory HQ could barely hide their glee.
When you're a leader behind in the polls, elections are all about suspending disbelief that you can actually become PM to carry out your manifesto plans. I predicted yesterday that Gentle Jezza would become Angry Jeremy on the Manchester launch platform and he duly did so (though he was back to Cardigan Corbyn mode soon after, singing Stand By Me with this busker).
Corbyn has learned how to control his irritation with difficult interviews, but he couldn't resist having a dig at Laura Kuenssberg yesterday after she pressed him seven times to say he would definitely lead the UK out of the EU (aides later confirmed he would). It wasn't aired in prime time, but he added at the end: "The next four weeks you're going to hear plenty about our policies. And I can't ask you what your own opinions are, but I'm sure in your heart of hearts you'll like some of them."
Was that a passive-aggressive dog whistle to all those Corbyn supporters who pile vile abuse on the BBC's political editor online? Or was it just 'banter' with no undertone? Given the bizarre decision by aides to ban BuzzFeed yesterday for reporting fairly his words on the leadership, who knows?
3) SPLITTING HEADACHE
Will Labour split if Jeremy Corbyn refuses to go, even after a huge general election defeat? Yesterday, Peter Mandelson told the Times' Rachel Sylvester that Emmanuel Macron's win showed how you could quit one party and start another and win. The "simple truth of Macron's victory is that he won by leaving his party, not despite doing so," the Dark Lord said, adding with mischievous glee: "We have to understand just how fed up people are with traditional party structures."
That 'splitter not a fighter' talk only fuelled the rumours that Blair's new anti-Brexit grouping plus Open Britain plus the Lib Dems could merge into some SDP Mark II for the 2010s. Chris Hope in the Telegraph picks up on chatter that up to 100 'moderate' Labour MPs could remove themselves from the party whip if Corbyn doesn't go, forming a new independent Labour grouping in the Commons with a pledge to rejoin the PLP after he's gone. Given that this may instantly lead to them being expelled, and remove any nomination rights in any leadership race, it may not be a runner of an idea.
But the FT has an altogether more intriguing alliance, revealing that former Miliband aide Lord Glasman had No.10 talks with May's policy chief Nick Timothy. "It was two thinkers getting together over a cup of tea," said one insider. Glasman has long been out of the Miliband circle but his 'blue Labour' politics is not far from the 'red Tory' instincts of Timothy.
Thatcherite ministers aren't amused by May's energy price cap. But senior Tory sources moved swiftly to deny Energy Secretary Greg Clark had expressed dissent in Cabinet (Clark's reasoned questions may have been misinterpreted by colleagues). May herself summed up her philosophy yesterday quite well: "Sometimes people say to me that doing something like that doesn't sound very Conservative. My response to that is when it comes to looking at supporting working people what matters is not an ideology, what matters is doing what you believe to be right."
BECAUSE YOU'VE READ THIS FAR…
Watch Theresa May use her favourite s-words to sum up her childhood.
4) DILATED PUPILS
Labour and the Lib Dems are both rolling out their education policies for the general election today. Jeremy Corbyn has vowed to halt Tory cuts to school budgets and reduce currently dilated class sizes for under-8s in a radical £20bn education plan. Shadow Education Secretary Angela Rayner has blogged for us that "when in 2017 headteachers are sending letters to parents begging for cash, you know that something is wrong". And she's right, with the IFS saying there's a real terms spending cut.
Corbyn has revived his 'National Education Service' plan that was a plank of his leadership campaign but has been little seen since. The wish list could prove popular, but the exact funding of some of its seems hazy. Yes, there's a full costing for the first time of reversing £20bn in corporation tax cuts, but is the overall spending figure £30bn (there's a pledge for £6bn/year for five years)? A mystery sum for capital spending on buildings will come from 'borrowing'. LBC's Nick Ferrari wasn't happy that Rayner didn't know exactly how many children under-8 were in classes large than 30 pupils (He cited his own figure of 520,000 kids in primaries had classes of 30 or more, but Rayner said she was not going to play the numbers game).
The Lib Dems also have plans to use corporation tax hikes to protect schools from real terms cuts, pledging £7bn. Both are ways to keep up pressure on one of the Tories' true weak points in the election and the real battle is the one that has gone on behind the scenes over getting extra money for education in the manifesto. Raising the floor, rather than dumping the vexed new funding formula, was being pushed by Tory MPs.
5) COMEY ISLAND
President Donald Trump has fired the FBI chief who was overseeing an investigation into his links with the Russians. That's a sentence you have to really pinch yourself when writing (or reading) it, as a reminder that this is real, not fake news. Director James Comey found out about his sacking from TV and initiallly thought it was a joke. He's not laughing now.
Now Comey has few friends on either side of the political divide in the US, not least as Democrats were furious with his conduct in publicising claims about Hillary Clinton's emails in the key run-up to polling day last year (while keeping quiet about his Russia probe). And his defence of his actions to Congress had to be 'clarified' earlier yesteray by the FBI. Read our HuffPost US story for a quick catch-up.
But with Russian foreign minister Sergei Lavrov in Washington to meet Trump today, the sacking has caused an outcry and prompted claims the President used the Hillary issue as an excuse to remove him. Lots of people reached for the comparison with Richard Nixon, who ordered the firing of a Watergate investigator (via his attorney general). Yet the Nixon Library tweeted that even tricky Dicky never fired his FBI director.
Politico has some superb detail: "[Trump] repeatedly asked aides why the Russia investigation wouldn't disappear and demanded they speak out for him. He would sometimes scream at television clips about the probe, one adviser said." Yes, the most powerful man on the planet really is Mr Angry who loses it when watching telly. That makes Jeremy Corbyn look pretty mild.
If you're reading this on the web, sign-up HERE to get the WaughZone delivered to your inbox.
Got something you want to share? Please send any stories/tips/quotes/pix/plugs/gossip to Paul Waugh (paul.waugh@huffingtonpost.com), Ned Simons (ned.simons@huffingtonpost.com), Kate Forrester (kate.forrester@huffingtonpost.com) and Owen Bennett (owen.bennett@huffingtonpost.com)