The five things you need to know on Thursday, May 11…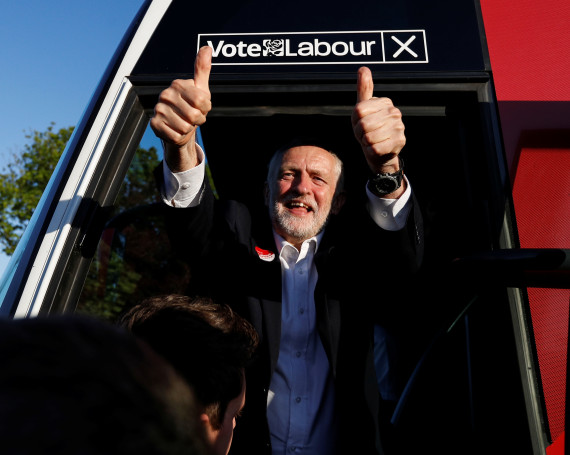 1) MANIFEST DESTINY
Labour's 'Clause V' meeting to approve its 2017 general election manifesto takes place at noon today. Normally these meetings are a final policy rubber-stamp by the leader and Shadow Cabinet plus a host of acronyms that the party loves so much: the National Executive Committee (NEC), Joint Policy Committee (JPC) of the National Policy Forum (NPF), the Parliamentary Committee of the Parliamentary Labour Party (PLP) and the Trade Union and Labour Party Liaison Organisation (TULO).
Of course the leak of the draft manifesto (and full marks to the Mirror and Telegraph for getting it first) has ensured the meeting has even more attention, so much so that Jeremy Corbyn had to abandon a morning launch of a new poster showing the Tories 'Holding Britain Back'. Ex-JC spinman Matt Zarb-Cousin is blaming 'Labour HQ' for the leak and 'undermining' the leadership, but he should know that the Clause V meeting has so many members it's a veritable colander.
One source who has shared the draft tells me that the biggest bone of contention today will be unions' worries that the wording on immigration is far too weak, leaving the party without a doorstep-ready message on a key issue for many Labour supporters. The text simply promises Labour won't 'make false promises' on immigration. I am told there are plans for 1,000 extra border guards, but no mention of what they will do, for example.
It's also worth noting other things that are not in the 20,000 word, 46-page document. One is any concrete pledge to reverse welfare cuts (or legal aid cuts), with a 'review' promised instead. One wag describes the draft as 'Miliband without the Balls', though what counts as ballsy or economically credible is in the eye of the beholder. There is no detail on how much income tax those on £80k would have to pay, for example.
Lots of the ideas are reheated from the Miliband 2015 manifesto (like axeing the bedroom tax), with some (like hospital car park charges and free school meals) dumped in 2013. Others are typically Corbynite flourishes like protecting bees by curbing pesticides, and the line about being 'cautious' about using nuclear weapons. But the Tories know that some of the big stuff like nationalising the Royal Mail, big injections of cash for the NHS and social care, abolishing tuition fees and new public rail and energy companies could prove popular.
Still, it may all come down to the messenger not the message. And with even usually loyal Labour voters complaining to the BBC that Corbyn is 'too idle to shave', his leadership is for many the top item on their own political manifesto list.
2) SITTING ON DEFENCE
Theresa May is unafraid of doing the obvious, but doing it brutally. And the overnight announcement pledging extra spending cash on defence is a perfect case in point. Not only will defence spending go up by 2% to meet Nato targets, it will go up by 0.5% above inflation every year to 2022. George Osborne's plans will be extended for a further two years, and it would mean the defence budget will increase by nearly £5bn to £39.7bn by 2020-21.
That's an iron ring fence to make economists' eyes water, but the whole point is to highlight Jeremy Corbyn's perceived weakness on the issue. In a rare overnight policy statement from the PM herself, she said she would "ensure that the brave men and women of our armed forces have the equipment and resources they need". Sir Michael Fallon (who I remember once bounced Cameron at a party conference into agreeing the 2% Nato target by inserting it in his speech without telling No.10) was on the airwaves this morning, ducking a warning by ex chief Gen Sir Richard Barrons that our forces were not fit for purpose.
The Sun yesterday had an open letter to the PM signed by 25 ex-service chiefs and academics warning of a £10bn black hole in the MoD budget. Today, it highlights a new 2011 video of Corbyn saying he wanted to "end this nonsense of Nato's right to intervene anywhere around the world".
Fallon on Today seized on Labour's draft plan to halt weapons sales to Saudi Arabia to widen his attack: "Jeremy Corbyn…he's essentially a pacificist and would be a very dangerous leader if ever put in charge of our country' Meanwhile, Jeremy admits his favourite poem is Imagine by John Lennon. Theresa May is on LBC at 7pm. It's claimed her original plan was for the station to read out listeners' questions but after a kerfuffle her team agreed she should take questions live on air directly from the public. What poem will she choose?
3) PHIL, YOU'RE NICKED
Tensions between No.10 and No.11 have spilled over today as the Times lifts the lid on a string of clashes between Theresa May's team and Chancellor Philip Hammond. Political Editor Francis Elliott reports that relations between Hammond and May's policy chief Nick Timonthy have become particularly strained.
Key flash points include the Chancellor's remarks, three days after the snap election was called, about the Tories dumping the Cameron-Osborne 'lock' preventing rises in VAT, NI and income tax. "There was a lot of swearing and angry phone calls," one source tells the paper. Both sides have also been forced to deny that Hammond was opposed to the energy price cap plan (Tory sources said any such suggestion was 'ridiculous'), and Timothy and the Chancellor do agree about dumping the pensions 'triple lock'. Fallon called the story 'tittle tattle'.
Still, another sign that Team May want to break with their predecessors' legacy is on the issue of big business writing letters of support for the Tories in the election campaign. The Times quotes one source saying: "Fiona [Hill, May's co-chief of staff] hates letters", adding even Sir Lynton Crosby agrees Labour voters will be attracted if May is less close to the corporate world. Sounds like No10 agree with Chuka Umunna, who in 2015 said business letters were so yesterday.
Speaking of business though, Bank of England governor has a tricky Inflation Report at noon and he's expected to downgrade the growth outlook slightly and increase inflation forecasts. It is likely to be thin pickings for any political party, but they will all surely try.
BECAUSE YOU'VE READ THIS FAR…
Watch this baby elephant show the right way to get in a bath. Classic.
4) STRESS TESTS
Angela Rayner and Jeremy Corbyn appeared together to announce Labour's National Education Service plan yesterday and the emphasis was on lifelong skills and FE colleges similiar to the ones that had given the Shadow Education Secretary herself a second chance in life.
Earlier, what was notable was Rayner's reluctance to talk about mooted plans to abolish tuition fees, with her saying repeatedly 'watch this space' and getting visibly irritated at the focus on university policy (not least as her priority has been early years funding). Her irritation must have been furthered when PoliticsHome revealed a video of John McDonnell committing the party two weeks ago to "scrapping tuition fees once and for all so we don't burden our kids with debt for the future."
With many pupils due to sit the new-style GCSEs in the next few weeks, Rayner and Corbyn picked up on worries that the system of grading (1-9 not A*-G) will leave youngsters feeling 'devalued' or 'failures'. And they particularly pointed out that many pupils are getting stressed out by having to remember 15 poems in the Eng Lit GCSE. "It's going to put them off poetry for the rest of their lives," Corbyn said, while Rayner added the 'memory tests' were choking 'a love of learning'. Schools minister Nick Gibb hit back that Rayner and Corbyn were "talking down" the new exams, and a Labour govermennt "risks a return to the bad old days of grade inflation, with too many children leaving school without basic skills".
Rayner had a tricky LBC interview in which Nick Ferrari had to tell her how many pupils were in classes of 30 or more. I understand her hesitation was down to the fact that Labour's policy was about the under-8s in oversized classes (95k), and she later corrected Ferrari's own figure for all primary oversized classes to 538,000. More tricky for Labour is the IFS warning that the corporation tax hike to pay for the education plan could hit the economy. The FT also reports the £10 minimum wage hike threatens jobs.
5) INTEGRATION NATION?
Throughout the election campaign, HuffPost is running a 'Beyond Brexit' series which aims to look at the political horizon beyond June 8 and ask voters across the country what kind of Britain they want as we head out of the EU.
Yesterday, Owen Bennett had a telling case study on the state of our housing crisis, with the Dian Walker, a mother with an eight-month old baby forced to live in bed and breakfast accommodation because she fell behind with her rent.
Today, we tackle the theme of immigration and integration. Several experts point out that few politicians want to define 'integration'. But our Aubrey Allegretti reports on a table tennis club in Brighton that helps child and adult refugees integrate into their local community via the magic of ping pong. Britain's first 'Club of Sanctuary', it is supporting refugees and vulnerable migrants, as well as native-born kids born into poverty, and bringing them together. I particularly loved our clip of a refugee being taught the alphabet via table tennis strokes.
If you're reading this on the web, sign-up HERE to get the WaughZone delivered to your inbox.
Got something you want to share? Please send any stories/tips/quotes/pix/plugs/gossip to Paul Waugh (paul.waugh@huffingtonpost.com), Ned Simons (ned.simons@huffingtonpost.com), Kate Forrester (kate.forrester@huffingtonpost.com) and Owen Bennett (owen.bennett@huffingtonpost.com)