The five things you need to know about Labour's manifesto…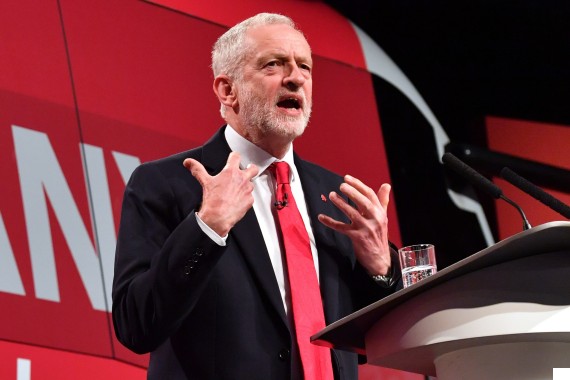 1) BACK TO THE FUTURE?
Labour's manifesto launch in Bradford was in many ways the archetypal Jeremy Corbyn event. Activists wearing T-shirts declaring 'Proud To Be A Socialist', students cramming every vantage point, chants of 'Corbyn! Corbyn! Corbyn!'. The policy platform was undeniably radical, moving us back to a tax-take in the economy not seen since 1949. Oh, and the Labour leader got involved in a media squall about him mis-speaking on benefits policy, correcting then uncorrecting himself as the day went on.
I've written HERE on the atmosphere in the hall at Bradford University, but the bigger picture is what impact this manifesto will have, if any, on the outcome of the 2017 general election. And both supporters and critics of Corbyn inevitably refer to the 1983 manifesto. At 22,500 words, this year's policy programme is nearly as long as "the longest suicide note in history", Gerald Kaufman's indelible description of Michael Foot's manifesto (which clocked in at 23,000 words). And because it has been shrunk to A5 size, Corbyn's Little Red Book has 123 pages, compared to Foot's mere 39.
In some ways, the 2017 manifesto is not as left-wing as its predecessor all those decades ago. Foot wanted import controls (genuine protectionism on non-British goods), capital controls, an end to nuclear power and weapons, the repeal of secret ballots for strikes, and so on. But Corbyn does propose jacking up taxes and borrowing and spending, an excessive pay levy on 'fat cats', a possible land value tax, as well as renationalisation of water, rail, mail and energy. This is a 21st century leftism, rolling back some Thatcherite policy while acting on modern problems like the 'gig' economy.
With several opinion surveys showing that some of the policies are popular, Corbyn supporters are suddenly showing a new-found faith in the very pollsters they previously dismissed as Tory lackeys. One can argue that at least we have a proper debate now, and a clear choice, between an unashamedly socialist tax-and-spend-and-borrow plan and the Tories' programme.
In 1983, the Tories were so delighted by the Labour manifesto that they bought up hundreds of copies and handed them out to voters. Today, many Tories seem slightly more bamboozled by the way Labour is going all-in. Philip Hammond on the Today programme couldn't really land his punches, save for a mantra about Labour's sums not adding up (Jonathan Portes points out the £60bn+ privatisations don't add to the deficit; though the IFS says Labour's over-estimating its fat cat tax take by £2bn).
In a few weeks' time, we will see if Tony Blair's own mantra proves correct: when a traditional left-wing party competes with a traditional right-wing party, you get "the traditional result".
2) DEFEAT OF CLAY
The most telling line in Jeremy Corbyn's interview with Laura Kuenssberg yesterday was when she asked him if in his private moments he really thought he was going to be Prime Minister next month. "We're doing very well in this campaign," he replied. "Look for June the 9th".
And June 9 is the real date in the diary for many in Labour, particularly those MPs who want to straight away nail the expected defeat onto not just Corbyn but Corbynism itself. Yet the leader's critics must fear that the narrative is changing and that with all these polls appearing to support tax-and-spend policies, the path is being cleared for a left-wing successor to Jezza.
And this morning we get Len McCluskey's latest bit of expectation management, suggesting to Politico that it will be a "successful campaign" if Labour will lose the election but only with a loss of about 30 seats. With the wagons already circling around Corbyn, the Unite leader says that any loss will be down to 'media bias' against him. Expect much, much more of that after the election. The aim is to buy time to line up a successor and fend off the seemingly inevitable swift leadership challenge from someone like Yvette Cooper, Chuka Umunna or Rachel Reeves.
Note that Dave Prentis, boss of Unison (which is now even bigger than Unite on some measures), tweeted a riposte to McCluskey last night, stating: "Success = a Labour government. That's what care workers, nurses and teaching assistants need." Some MPs hope he'll call unambiguously for Corbyn to quit after the election.
The centrists' main hope is to highlight Corbynism's feet of clay. They want to echo Sion Simon and say the real reason Labour is bleeding support in its heartlands is not just because voters think Corbyn is either dangerous or weak; it's because he and the Left don't share working class values on things like defence, crime, immigration, patriotism. The real problem is that many new party members don't share those values either.
Corbynsceptic Labour candidates hope too that the scales will fall from the eyes of Corbyn supporters once the results come in on June 8 showing the worst Labour defeat for decades, with seat after seat lost. Corbyn's suggestion that he is "doing very well in this campaign" is itself an echo of Neil Kinnock getting plaudits in 1987 and 1992 for his own campaigns. But older hands remember too the telling line by Labour's ad agency boss Chris Powell after Kinnock's shattering loss to John Major: "We've had enough brilliant defeats". He went on to help Tony Blair get elected.
3) DOWN THE BREXIT HOLE
Brexit gets almost a passing mention in Labour's manifesto. You'd hardly think that this enormous change to Britain's economic, social and cultural future was actually happening in 2019. Of course, part of the problem is that Labour hasn't had time to draft its own detailed plans (lacking a civil service to do the detail), but that's still no excuse in the view of many MPs who wanted a better doorstep message.
In some ways, Corbyn could have played to his strengths as a lifelong Eurosceptic. He could have declared this manifesto would 'take back control' of water, rail, mail, fat cat pay, using the state nationally and locally to intervene in a way that gives power to those whose perceived impotence led to the Leave vote.
His allies could argue that it was the Labour coup in the immediate wake of the EU referendum that distracted the party from selling a clearer message to the public. June 24 (a bit like June 9 could turn out) was the pre-planned date when his enemies went over the top to take him down.
But here's perhaps the real reason that Corbyn hasn't tried to 'own' Brexit in the way that Theresa May (another reluctant Remainer) has: most Labour party members are pro-EU. One insider tells me the split is about 70-30 Remain to Leave among Labour voters but much, much higher among members (union affiliates are more 50-50 but they don't vote). And while Blair tried to define himself in opposition to his party, Corbyn's whole leadership is about defining himself as being of the party.
Back in the real election, rather than the next Labour leadership election, the Lib Dems are finding that being pro-Remain is not actually the electoral elixir they assumed it to be. Bumping back down to single figures, with reports of their voters liking President Theresa, their manifesto launch risks being even more of sideshow. Meanwhile, the deep split among Labour voters on Brexit - possibly the defining driver of this entire election - shows no sign of healing. And while we're talking about 1983, Brexit is May's 'Falklands', an issue that is shifting the dial in the working class vote.
BECAUSE YOU'VE READ THIS FAR…
Just for the sheer awks of it, watch the BBC's Ben Brown make a boob of himself.
4) MISTER UNIVERSE
As well as a revival of tax-and-spend politics, the other big hallmark of the Corbyn manifesto is universalism. Freed of the shackles of tight finances, his government would sing the praises of giving everyone, regardless of income, some of the same benefits. Older people of all incomes would get the same TV licence/bus pass/winter fuel perks, as well as a guaranteed 2.5% rise in their pension.
All children in primary school would get a free school meal. Tuition fee abolition is the other area where everyone would benefit, with the manifesto revealing for the first time the whopping £11.2bn cost of the policy. Add in the new pledge on childcare - 30 hours of free nursery care for everyone, even those not in work - and in many ways all this removal of means testing adds up to middle class tax breaks on a major scale.
Some in Labour mutter that the tuition fees pledge is a monumental waste of money. Its cost dwarfs any other item of spending on the wishlist, including childcare (£5.3bn), health (£5bn), benefits help (£4bn) and schools cash (£6.3bn). They'd rather see the current system turned into a proper graduate tax (which is what it is in all but name), with lower interest rates. And they think tuition fees abolition is a classic Corbynista obsession, when the money could be spent helping working class mothers and children's lifechances through an even bigger childcare offer.
And SureStarts were the one bit of Blairite universalism that went often unnoticed. Parents of all backgrounds could attend the free children's centres, many of which have since been closed or reduced by cuts into an effectively means-tested service.
Still, Team Corbyn think they are onto something, pointing out that - as with the NHS - if everyone benefits from a public service, everyone is more likely to defend it. That was part of the logic of Gordon Brown's 'progressive universalism' (a phrase actually dreamed up by his Treasury Perm Sec Nick Macpherson), creating tax credits for even those on incomes of more than £50k, tapering help to those in work but struggling. Note that tax credits are the one thing the Tories have yet to dismantle, though critics think it will happen by stealth with Universal Credit changes.
5) CH-CH-CHANGES
There were quite a few changes between the leaks of the draft manifesto and the actual final document, some minor, some significant. There was new language on defence and terrorism - gone is the line about military action only as a 'last resort', so too the line about being 'incredibly cautious' about using nuclear weapons. It still wasn't strong enough for some: the Sun reports Shadow Defence Secretary Nia Griffith refused to attend the manifesto launch.
On immigration, Keir Starmer managed to insert a line that "Freedom of movement will end when we leave the EU. Britain's immigration system will change, but Labour will not scapegoat migrants." There's talk of 'balancing controls and existing arrangements'. But there's also a line suggesting Brexit talks will determine the outcome: "New rules will be equally informed by negotiations with the EU and other partners, including the Commonwealth."
Angela Rayner seems to have won a battle to get her section on childcare beefed up. The original draft said Labour would 'protect SureStart', but the final version says Labour would not just 'halt the closures' but also 'increase the amount of money available for SureStart'.
But there are also some key passages that make the manifesto look like an unfinished symphony. It floats the very radical idea of delivering something experts have long wanted but politicians have shied away from: a land value tax. The manifesto says Labour would "initiate a review into reforming council tax and business rates and consider new options, such as a land value tax, to ensure local government has sustainable funding for the long term".
There's a line too about raising another £3.8bn through an "efficiency review of corporate tax reliefs", with little detail. And the one issue that tripped Corbyn up yesterday, the £2bn on reducing the impact of the Tory benefit freeze, is the complex topic of reforming Universal Credit. Aides made clear that their ideas were incomplete because, to be frank, the snap election had come and the policy wasn't yet ready. Another reason why Tories think calling this poll on June 8 was a masterstroke.
If you're reading this on the web, sign-up HERE to get the WaughZone delivered to your inbox.
Got something you want to share? Please send any stories/tips/quotes/pix/plugs/gossip to Paul Waugh (paul.waugh@huffingtonpost.com), Ned Simons (ned.simons@huffingtonpost.com), Kate Forrester (kate.forrester@huffingtonpost.com) and Owen Bennett (owen.bennett@huffingtonpost.com)