The five things you need to know on Tuesday, May 23…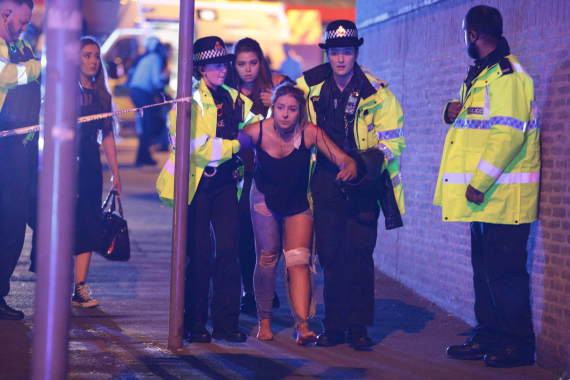 1) MURDER IN MANCHESTER
The full horror of the terrorist attack in Manchester emerged this morning as police confirmed 22 people had been killed and 59 injured at the Ariana Grande concert. It's a fast-moving situation, but it's clear that the murderer deliberately targeted an event packed with teenagers and children.
All political campaigning for the general election has been halted, and it could be days before it resumes. The PM is chairing a Cobra emergency committee to oversee the response, and Jeremy Corbyn revealed just before 6am that he and the PM had agreed that all national campaigning "will be suspended until further notice". The SNP ditched their manifesto launch as First Minister Nicola Sturgeon convenes her own resilience committee.
Yesterday's awful attack came the day after all the parties had had a one-hour break on Sunday from campaigning, in response to Brendan Cox's plea for unity in memory of his late wife Jo, herself the victim of a hate-fuelled murder. Unity is again the theme today as Home Secretary Amber Rudd issued a statement declaring this was "a particular attack on the most vulnerable in our society – its intention was to sow fear – its intention is to divide. But it will not succeed." The flags over No.10 are flying at half mast.
Teenager Abigail Walker, who was at the concert, told the BBC: "I had to make sure I had my sister. I grabbed hold of her and pulled hard. Everyone was running and crying." Desperate parents are still waiting for their children to get in touch, and teenagers are using Twitter's #MissinginManchester hashtag and Facebook to find their loved ones. It was through social media that the first eyewitness reports emerged.
In Manchester itself, local people rallied round offering rooms, cups of tea, free taxi rides. After Fox News's Geraldo Rivera tweeted that Manchester was a 'hotbed of Islamic radicals', one user responded: "Manchester Muslim doctors working through the night, Manchester Muslim taxi drivers taking people home for free. You don't know Manchester."
Yesterday was also a date with significance, as it was the fourth anniversary of the ISIS-inspired killing of Fusilier Lee Rigby, from nearby Middleton. And Greater Manchester is more than aware of the scars of terrorism. As Rudd rightly pointed out: "The great city of Manchester has been affected by terrorism before. Its spirit was not bowed; its community continued".
Those of us who grew up in this area remember when the Manchester Arena opened in 1995, a shiny new venue to regenerate Victoria station. We also all remember the IRA's attack on the city a year later, in 1996. A 3,300lb bomb, the largest ever exploded in the UK mainland, left 200 people injured and obliterated the city centre.
The blast then could be heard 15 miles away, and blew out nearly every window within a half a mile radius. The IRA had telephoned a warning, but it was a miracle no one was killed. Then, as now, the emergency services were superb. Then, as now, we are left thinking what kind of sick mind thinks this kind of attack can ever be justified.
2) MAY'S MANIFESTO
After last night's events, party politics will rightly take a back seat. But there's no question that Theresa May yesterday endured one of her most difficult days as Prime Minister and Tory leader. She looked brittle under political pressure, with her outburst at her morning press conference her tetchiest so far.
"Nothing has changed, nothing has changed" she protested, as she confirmed something had indeed changed - her manifesto would now include an option for a cap on social care costs. In answer to a perfectly straight question from the Guardian's Jess Elgot, she accused journalists of using Labour attack lines in citing a "dementia tax".
And it was the "dementia tax" charge that clearly stung most, as it was reported back to her from doorsteps across the land (as I pointed out yesterday, one voter in Ealing on Saturday told May to her face just how uneasy she was). Damian Green and Jeremy Hunt looked liked chumps after the U-turn, even though Tory aides say Hunt was against an 'unfair' cap in the context of general taxation.
May's day went from bad to worse as Andrew Neil skewered her last night on BBC1 with a string of pointed questions about her record and policy pledges. Read in full HERE our list of 12 times the BBC man made life difficult for the PM. The real news stories to come out of it were these: she is refusing to say which pensioners will lose their winter fuel allowance (surely best to be straight rather than let lots worry needlessly they will get hit?); and confirmation she will commit £10bn to NHS building and IT renewal (though it's unclear how much cash could come from hedge funds, rather than taxpayer funding).
What suggested Tory campaigns HQ was really rattled was the way they responded to Neil's grilling of the PM. First, Boris Johnson and others in the Cabinet tried a bit of live-tweeting and ended up looking ridiculous, putting out cut-and-paste lines like 'strong and stable' (as the 'weak and wobbly' hashtag caught on). Secondly, CCHQ tweeted that Corbyn's plan for the elderly was to put up "the basic rate of income tax to 25p for millions of working people". Which was a flat out lie. New-born 'King of Zing', Ed Miliband, tweeted: "We're in deep doo-doo so let's make something up."
3) CORBYN AND THE IRA
Jeremy Corbyn "would like to speak to" the families of victims killed in the 1982 IRA Hyde Park bombing, the Guardian reports. The Hyde Park Justice Campaign issued a letter yesterday calling on the Labour leader to take a stand against the outgoing government's decision not to fund their civil action against John Downey, the only suspect linked to the attack that killed four soldiers. A spokesman says Corbyn wants to "ensure everyone has access to justice".
And it is his insistence in referring to "everyone" and "all" parties that has itself caused controversy in recent days. On Sunday, Corbyn refused to single out the IRA for condemnation. After a speech in Hull yesterday he said: "I condemn all acts of violence in Northern Ireland from wherever they came." But at a defence debate, asked about her leader's remarks, Shadow Defence Secretary Nia Griffith said: "as somone who….had friends who served in Northern Ireland, I absolutely unequivocally condemn the IRA bombings in Northern Ireland".
Corbyn and his allies fear the Tories are trying to 'smear' him in the election campaign with the charge of being terrorist sympathiser. His critics say he and Shadow Chancellor John McDonnell still have legitimate questions to answer about their past and current stances on violence in Ulster. And yesterday, PoliticsHome published a response from Corbyn's office to five questions put by Northern Ireland Secretary James Brokenshire.
Among them are these. Q: Should the IRA's acts of murder be condemned unequivocally? A "Yes." Q: Mr McDonnell said last week that 'no cause is worth an innocent life'.  Do he and Mr Corbyn include within their definition of innocent life members of the Royal Ulster Constabulary and members of the Armed Forces, for example the 18 soldiers murdered at Warrenpoint in 1979? A: "Yes.  All loss of life is tragic, as John McDonnell has said." Q: Do Mr Corbyn and Mr McDonnell regard members of the Armed Forces and the IRA as 'equivalent' participants during the troubles? A: "No."
BECAUSE YOU'VE READ THIS FAR...
Watch this teenager's phone footage of the sheer terror of being in the Manchester Arena last night.
4) SHE TURNS IF SHE WANTS TO
The whole social care manifesto fiasco underlines the difficulties and opportunities of political 'U-turns'. No.10 will be worried that there is a rash of lists around pointing out 'X times Theresa May changed her mind'. Even the FT has a list of 9 of her U-turns today.
Chief among them are not just the panicky reversal on National Insurance hikes in the Budget, but also the very fact of holding an early election, after saying so many times she would wait until 2020. In one forgotten bit of the EU referendum, she backed leaving the European Convention on Human Rights, but dropped the idea in her leadership campaign. School funding formula cuts have been replaced by a £4bn cash injection.
Others are trickier. She now backs energy price caps, though her supporters say her plan is different from Ed Miliband's and hint she wants a break with the last PM. Hinckley Point was stopped then started again once she'd looked at the figures. Forcing firms to produce lists of foreign workers was floated then dropped, but may still be alive (in unpublished form). On workers on boards, she lost out to lobbying from Hammond and others.
Of course, we all lost count the number of times David Cameron and George Osborne dumped, tacked, amended and - always my favourite - 'clarified' policy in just 7 years. Yesterday, Osborne's Standard produced its second edition with a brutal, even tougher headline: "Strong & Stable? PM's Care U-Turn Turmoil'. That's when a senior Tory source let rip in a text to me: "Pasty tax, tax credit, caravan tax, staying an MP, pension relief. Osborne certainly knows a lot about policy changes."
Still, it's worth remembering that despite their U-turns, Cameron and Osborne won the 2015 election. And remember too some of the things May has not changed her mind on: grammar schools to go ahead, immigration target renewed and 0.7% aid target upheld.
5) BREXIT WOBBLE
It is on the EU that May faces charges of her biggest U-turn of all: from a Remainer to Brexiteer-in-chief. Yet this charge is difficult to lay with any real confidence, given that she won the Tory leadership and saw her personal ratings soar as PM precisely because she was pragmatic enough to say she had no choice but to listen to the result of the referendum. Contrast the way Corbyn (a lifelong Eurosceptic) has struggled to unite Labour voters, with the way May has mopped up not just UKIP votes but also those of Conservative (and ex-Lib Dem) Remainer voters.
Her bigger problem is that the last few days undermines her 'strong and stable' claim that only a big mandate will strengthen her hand in standing up to Brussels for the Brexit talks. Last night on Newsnight, the Daily Mail's Stephen Glover looked acutely uncomfortable trying to defend his paper's failure to stand up for its readers on social care.
But the quote that will make May's critics laugh out loudest came when Evan Davis put to Glover just how bad it looks in Brussels when a PM caves to critics and U-turns on her own manifesto: "She made a mistake…we surely want a leader who is going to be flexible". From Iron Lady to Flexible Friend in just four days? That's quite something.
Michel Barnier, the EU's Brexit negotiator, announced yesterday it was 'ready' for talks. He added this kicker: "'I would advise everyone to explain what the consequences would be of no deal." Michael Roth, Germany's European affairs minister, said the UK would have to wake up to the huge cost of leaving, though it was a 'lose-lose' for both us and them.
The real issue that will worry civil servants in Whitehall and Brussels, let alone politicians, is how good May's inner circle really are on crafting policy. Their two big domestic policy gambles - on grammars and social care - have been a mess. That may not bode well for Brexit, the biggest, most complex policy problem the UK has faced in a generation.
If you're reading this on the web, sign-up HERE to get the WaughZone delivered to your inbox.
Got something you want to share? Please send any stories/tips/quotes/pix/plugs/gossip to Paul Waugh (paul.waugh@huffingtonpost.com), Ned Simons (ned.simons@huffingtonpost.com), Kate Forrester (kate.forrester@huffingtonpost.com) and Owen Bennett (owen.bennett@huffingtonpost.com)