The five things you need to know on Wednesday, May 24…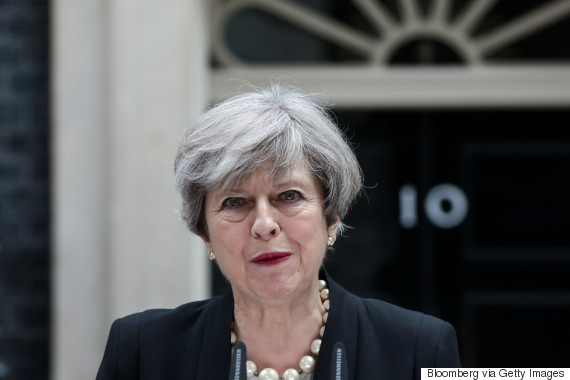 1) MISSION CRITICAL
After Manchester joined the list of cities which no one wants to be on, Britain is now set to have troops deployed on the streets to counter the heightened terror threat. Scotland Yard confirmed this morning that Buckingham Palace, Downing Street, the Palace of Westminster and embassies will all be protected by the military, freeing up the police for other duties. Concerts and sports events may see similar protection in coming weeks.
Security sources say that there will be hundreds of troops deployed rather than the 5,000 figure cited by some, and all will fall under police command. Yet activating 'Operation Temperer' - devised under Cameron but never used by him - is still a major step for Theresa May to take.
Normally the threat level is raised to 'critical' when there is a specific piece of intelligence that an attack is imminent. But it appears that the PM and the independent Joint Terrorism Analysis Centre have acted over fears that the bombmaker or other members of a cell behind the Manchester attack could be on the loose. May's own speech outside No.10 was pitch-perfect in capturing the mood of anger, defiance and compassion, unlike Trump's juvenile 'losers' line.
This morning, Home Secretary Amber Rudd has said she "absolutely" expects the raising of the threat level to critical to be temporary. But she confirmed that the hunt was on for others. "It was more sophisticated than some of the attacks we've seen before, and it seems likely - possible - that he wasn't doing this on his own," she told the BBC. Rudd also told Sky this intriguing line on bomber Salman Abedi: "We do know he was known up to a point to the intelligence services". And she added she was "irritated" by leaks in the US about his identity and the nature of the attack. She may be even more irritated that the French are now leaking further intel.
After the previous most deadly attack on Britain - the 7/7 bus and tube bombings - Tony Blair gave an impassioned response, calling for unity. But within a month he produced his now infamous '12-point-plan' to show "the rules of the game are changing". Some of the items on his list were praised (such as wider control orders and biometric visas) but others came unstuck (90 day detention without charge, powers to close mosques). It was a reminder of the possibilities and limits of politcal reaction to a terrorist outrage. A possible online crackdown (see below) may take place. On Newsnight, Shadow Attorney General Shami Chakrabarti said she didn't want to see "knee jerks that divide and don't unite".
The heightened terror threat means that the suspension of national political campaigning may last longer than expected (see below). Labour is allowing some local campaigning at the discretion of candidates. But right now, as the nation both grieves for those killed and worries about fresh bloodshed, the election is the last thing on many minds.
2) THE LOST AND THE MISSING
More of the 22 dead have been named overnight. The death toll itself may rise further, with many of the 64 injured in a very serious condition. Twelve of the injured are children.
The individual stories are heartbreaking beyond words. The injured mother of eight-year-old Saffie Rose Roussos, the youngest known victim of the Manchester attack, is believed to be still unaware her daughter is dead, a friend has said. Lisa Roussos, 48, was unconscious in intensive care after being hit by shrapnel on Monday. A family friend said that Lisa's husband Andrew "went to pick them up and arrived to find his wife in a critical condition, his elder daughter injured and his younger daughter lost".
15-year-old Olivia Campbell, whose mother Charlotte had yesterday put out a desperate appeal for her, was confirmed as dead. Kelly Brewster, a 32-year-old from Sheffield was also named among those killed. Her uncle Paul Dryhurst said she had shielded her sister and niece from the blast. "The three were walking out in single file, with Claire in front, Hollie behind her, and Kelly behind her."
Phil and Kim Dick, from Bradford, had the most harrowing eyewitness testimony of the horror they saw in the foyer of the Arena. One of them tended to and comforted a 14-year-old victim while the other searched for their own daughter and granddaughter amid the smell of "burning flesh and burning hair".
The very human and humane reactions of those at the event continue to touch many. The homeless man Chris Parker, who held a dying victim in his arms, has this morning received a plea from his estranged mother to get in touch. Jessica Parker wrote on Facebook: "I had no idea he was homeless but he was extremely brave last night".
But there are dischordant noises too. At the end of the vigil in Manchester last night, a voice called out "There is a light and it never goes out". Yet Morrissey, the man behind that Smiths song, wrote on Facebook an angry post attacking Theresa May's 'policies on immigration', the Queen and much more. Meanwhile, students at Chetham's School of Music - in the security cordon - sang an impromptu version of Oasis' 'Don't Look Back In Anger'.
3) THE MAKING OF A MURDERER
The Sun had the first picture of Salman Abedi, the 22-year-old killer who wrought such devastation on Monday night. But it is the Times which has some of the newest details on his background, revealing he recently returned from Libya, where his parents are living. A school friend told The Times: "He went to Libya three weeks ago and came back recently, like days ago." Whether he received any terrorist training while there, or elsewhere, is a key line of the investigation.
The "number one" priority of the security services is to work out who made the device used by Abedi. A picture of his past is being pieced together: one of four children of Libyan immigrants who fled the Gadaffi regime, he was a keen supporter of Manchester United, cricket lover, a user of cannabis, Salford university dropout. Police searched the home of his 23-year-old brother Ismael.
Abedi's father, Abu Ismael, was described in glowing terms at the Didsbury Mosque (a converted redbrick church) where he and the family worshipped. The Independent quotes a friend: "His boys learned the Qur'an by heart…Abu Ismael will be terribly distraught. He was always very confrontational with jihadi ideology."
Abedi's father is said to be in Tripoli, while his mother is in Manchester. "He comes and goes between here and there," a family friend told The Irish Times. "I can't believe he (Salman) would have been radicalised in Tripoli. All those types have been driven out of the city. It must have happened here." Focus is turning to members of an outlawed Libyan Islamic Fighting Group (LIFG), who lived near Abedi in Whalley Range and one of whom claimed he had raised funds at Didsbury mosque.
Mohammed Saeed El-Saeiti, the imam at the Didsbury mosque yesterday branded Abedi an dangerous extremist. "Salman showed me the face of hate after my speech on Isis," he said. "He used to show me the face of hate and I could tell this person does not like me. It's not a surprise to me. He was not happy with me because I did combat Isis in that Friday sermon sometimes." The Mail quotes Lina Ahmed, 21, saying Abedi was "acting strangely". "A couple of months ago he [Salman] was chanting the first kalma [Islamic prayer] really loudly in the street. He was chanting in Arabic."
BECAUSE YOU'VE READ THIS FAR…
The only video to watch today (even if you've seen it already) is Tony Walsh's passionate poem This Is The Place.
4) THE NO CAMPAIGN
None of the political parties wants to be seen thinking about the general election right now, but inevitably they are trying to plan behind the scenes for when campaigning can resume. There was a three-day pause after the murder of Jo Cox, which was just a week before the EU referendum. Some party insiders were expecting a similar timeframe this week, with Friday a possible date for the resumption of activity.
With a Brussels summit tomorrow and then a G7 summit on Friday and Saturday, the PM was always going to be personally off the campaign trail at the end of the week. But the raised threat level, as well as the funerals of the Manchester victims, means it could be the weekend before any national campaign resumes. Sunday's TV programmes will inevitably be dominated by the aftermath of the attack and it could even be that Monday's Sky/Channel 4 interviews with May and Corbyn are the first time they both are fully in action.
The only thing for certain is that today there is no national or local campaigning by the Conservatives, and most likely from the other parties too. Labour sources say nationally all events have been cancelled, though there may be some low key campaigning at the discretion of local candidates.
Some argue that it's 'giving in to terror' to delay the election campaign for long. But with the manifestos now out, others will counter that there is still enough time until June 8 to allow necessary debate, scrutiny and speeches. There was some chat on Twitter last night about postponing the election date, but although that may even be possible through a Privy Council order agreement between leaders, it seems highly unlikely.
In normal times, we would have seen more attention yesterday on the latest donation figures (the Tories got a big injection of cash, more than double Labour's income), the borrowing figures (they hit a three-year high) and leaks of record NHS deficits. The quarterly immigration stats are due tomorrow and if the Tory net target measure has gone up or down that would usually be big news. The FT carries pollster Matt Singh's latest analysis, which says history points to a 'convincing' Tory win despite recent narrowing of May's lead.
5) WHATSAPP, DOCK?
As well as troops on the streets, it looks like the PM may revive attempts to tackle internet giants over encrypted messages on WhatsApp and other platforms. The Sun suggests today that the main legislative reaction after a Tory victory would be to allow the security services and police to get firms to remove all encryption from suspect messages.
Both Houses of Parliament would need to approve the new Technical Capability Notices (TCNs), which under the Investigatory Powers Act can give the Home Secretary and a senior judge the power to demand messages and data be handed over. One minister tells the Sun: "We will do this as soon as we can after the election, as long as we get back in. The level of threat clearly proves there is no more time to waste now. The social media companies have been laughing in our faces for too long."
The attempt is likely to provoke a backlash from civil liberties groups, MPs and ministers (don't forget David Davis was very forthright on this stuff before joining the Cabinet). Westminster murderer Khalid Masood is said to have "accessed" WhatsApp before his attack, but the spooks suggested at the time that had no relevance to his act of terror. Home Secretary Amber Rudd was ridiculed for her lack of technological nous, a point underlined by her infamous line that she wanted those who "understand the necessary hashtags to stop this stuff ever being put up".
We report today on new research showing that 188,000 offensive tweets were sent to MPs in just one three-month period. Brendan Cox has told us that hate speech needs to be "taken much more seriously" online, adding that Twitter allowing "anonymised" accounts was part of the problem. Meanwhile, guess who is leading a possible crackdown on extremist material allowed by Google, Facebook and YouTube? Yes, the EU has a draft directive to bring online publishers into line with broadcasters.
If you're reading this on the web, sign-up HERE to get the WaughZone delivered to your inbox.
Got something you want to share? Please send any stories/tips/quotes/pix/plugs/gossip to Paul Waugh (paul.waugh@huffingtonpost.com), Ned Simons (ned.simons@huffingtonpost.com), Kate Forrester (kate.forrester@huffingtonpost.com) and Owen Bennett (owen.bennett@huffingtonpost.com)