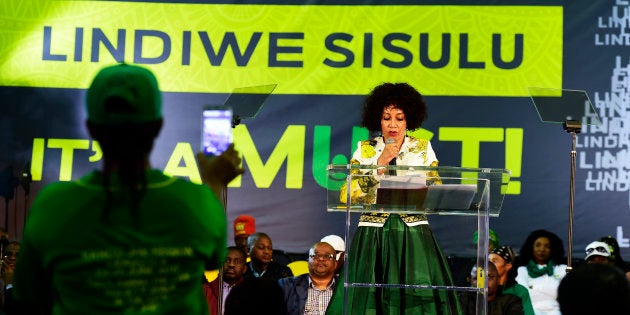 Human settlements Minister Lindiwe Sisulu says she would bring Thabo Mbeki, Julius Malema and Kgalema Motlanthe back into the fold if elected as ANC president in December. In an interview with the Mail & Guardian this week, Sisulu said the ANC was losing moral and intellectual capacity, which its former leaders could contribute towards restoring.
"Comrade Kgalema was badly treated at the ANC conference in 2012. Comrade Thabo Mbeki was very humiliated at the conference in 2007. I value their contribution. Comrade Thabo is an intellectual of note. Comrade Kgalema is a moralist of note. We want those people. I think we owe it to them to extend a hand and say: 'It should not have been like that.'", she reportedly said.
Malema is a vocal critic of the ANC as leader of the Economic Freedom Fighters (EFF), while Motlanthe and Mbeki have grown increasingly critical of the party recently.
In an interview with BBC News Africa recently, Motlanthe said it would be good for the party to be voted out of power in order for the "penny to drop". He reportedly said that only then would it be possible to "salvage whatever is left of it".
"But you know I am dead certain at the rate at which, you know, it is sliding to the bottom, it may actually lose the elections," he said.
Mbeki, in a speech at Wits last week, reportedly said the ANC faced a threat from its own members.
According to News24, he said, "The ANC contains within its ranks people who are absolutely contemptuous of the most fundamental values of the ANC, at whose centre is a commitment selflessly to serve the people. These are people who only see the ANC as a step ladder to enable them to access state power for the express purpose of using that access for self-enrichment."
Sisulu told the Mail & Guardian: "We are losing intellectual capacity. We are losing moral capacity. We are losing ideological capacity. I want those people back because they belong. The ANC does not belong to only one group of people. It belongs to all South Africans."