It's a fact: having children makes Christmas magical again. All of a sudden, Christmas Day goes from an excuse to stuff your face with turkey and get drunk with your granddad during the Queen's Speech to a morning of excitement, smiling faces, shrieks of delight and one or two groggy parents watching their children through bleary eyes.
Many Christmas mornings follow the same pattern: the tree lights were switched on hours before the children awoke in a Santa-induced frenzy; in the hallway, a few crumbs and the stump of a carrot sits on a plate, along with a glass of brandy which you long since downed the night before (or perhaps that morning, if you're really dreading the tsunami of energy which comes your way).
But how about going the extra mile this year, and making Christmas morning even more magical? Try one of these great ideas to make Christmas one to remember - and perhaps start a new family tradition.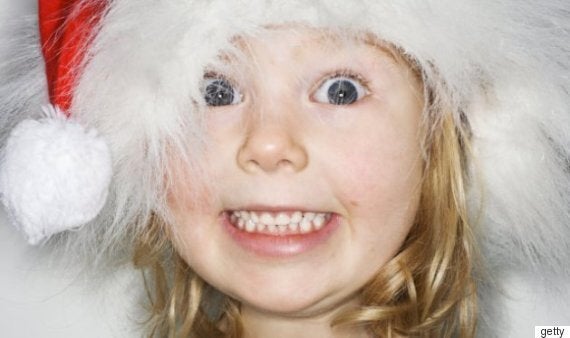 1. Footprints in the hallway.
This is a fairly popular idea, but still effective: take a boot or wellington and place it on the hallway floor. Dust around it with flour or talcum powder, and you'll have the perfect outline. Do a few leading to the tree - your kids will love stepping in Santa's footprints!
2. Take a photo of Father Christmas.
Dress up as Father Christmas and have someone take a photo of you bending down by the tree, delivering presents whilst the children are fast asleep. If you're going for authenticity, you can move the camera quickly to give it the kind of blur usually seen on photos of Bigfoot. (If you don't have a Santa costume, there are websites which will superimpose an image of the man himself onto one of your photos.)
Alternatively, for maximum excitement - and to try out your Blair Witch-style acting - take a video of you slowly opening the living room door to see Santa creeping quietly around the tree, before turning to look at you, at which point you retreat quickly before it's obvious that Father Christmas is Dad dressed up because a) he enjoys it, and b) he was promised a beer if he did. Throw in a few 'ho-ho-ho's for added novelty factor.
Buy a few sleigh bells - or, if you're the arts and crafts type, make your own - and scatter them in the garden. Find an excuse to discover them the next morning and tell your children they must have fallen off Santa's sleigh!
4. Sprinkle some reindeer dust.
It probably hasn't escaped your notice that the average reindeer can't fly. What they need in order to take off is reindeer dust, which sometimes falls from their hooves when Rudolph and his merry gang land at your house.
Okay, so reindeer dust doesn't exist (in case you hadn't figured that out already). But just mix some glitter with some oats and scatter it around. Be wary about sprinkling it outside as it can be harmful for wildlife.
This one isn't particularly Santa-related, but it is a great way to really get your children excited on Christmas morning. Simply cover the entrance to your living room with wrapping paper just before you go to bed on Christmas Eve. Your kids can then burst through it the next morning into a room which is filled with Christmas lights and presents - it'll be the best start to what will be the most magical day.
Do you do anything differently? Let us know in the comments, below!