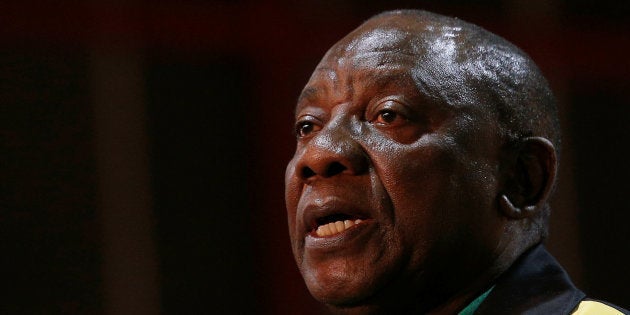 The process of restoring land to previously disadvantaged South Africans will be conducted with great care, ANC president Cyril Ramaphosa has said.
He was speaking at the gravesite of Chief Albert Luthuli earlier on Monday, following a number of wreath-laying ceremonies at the gravesites of former ANC presidents, where a number of senior ANC officials were in attendance ahead of the ANC's 106th-year anniversary in East London this coming weekend.
Ramaphosa strongly backed the returning of land to black South Africans. He said the process of land restoration would not be a "smash and grab" operation.
We must not even see it as taking land from people. We are merely restoring land to its original owners. As this happens, we will keep in mind securing important resources such as food security. Farm production must go up and so must the economy.
He said with the restoration of land, "we must make sure we grow our economy and empower our people".
"We will come up with tactics and plans for practical implementation."
Luthuli 'a good example for unity'
Ramaphosa went on to sing Luthuli's praises, saying the struggle hero had sacrificed his own comfort for the greater good. He said Luthuli was iconic in his mentality as a leader.
"He was once told by the minister of native affairs that he had to choose between being a chief or a member of the ANC. He immediately chose the ANC. This decision was at great personal cost to himself."
He said Luthuli could have lived a comfortable life but chose the struggle.
"He chose between prestige and struggle. He chose the ANC at a time when just being affiliated with the ANC would get you harassed or even arrested. He lived a life of courage in the face of adversity."
Ramaphosa also lauded Luthuli's ability to foster unity. "This is something we can take with ourselves today."
He repeated his call for unity in KwaZulu-Natal. He made a similar plea when he visited the gravesite of John Dube in Inanda earlier in the day.
"KZN is a place full of legends. Legends of the struggle that we can all learn from. This province has made a great contribution to the struggle and it is an essential part of our country."
Earlier, Ramaphosa said the newly elected leadership of the ANC would focus strongly on rooting out corruption.
"We will adopt a value system to root out corruption within our ranks. Corruption undermines the interest of our people as a whole. As we do this, we will be strengthening the ANC."
He added that the party would aim to strengthen its core constituency through branches.
"We want to strengthen our branches, make sure they are alive." Ramaphosa is expected to visit Xhosa King Zwelonke Sigcawu and Rharhabe Queen Noloyiso Sandile in the Eastern Cape.