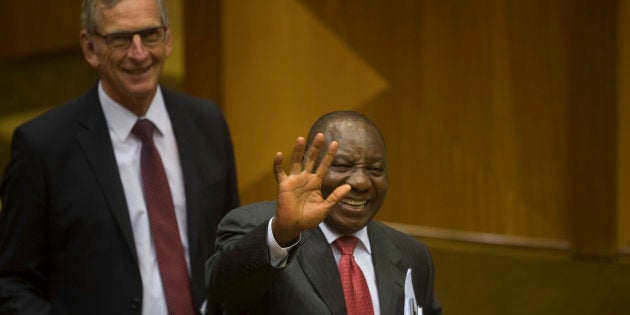 Julius Malema, Economic Freedom Fighters (EFF) leader, went full tilt on land on Monday when he threatened the DA during the parliamentary debate on President Cyril Ramaphosa's state of the nation address.
He told the National Assembly that the issue of land and ownership remains the most pressing issue in South Africa and that Ramaphosa must not be allowed to bluff the electorate. He then told the DA that its "stay" in the coalition metropolitan municipal councils was dependent on its approach to expropriation without compensation.
"I want to say to the DA: your stay in the metros is dependent on your attitude towards this question. There is no doubt about that," Malema said to raucous applause from the EFF benches.
He also told Ramaphosa that the EFF would not be fooled and that the president needed to keep his promise about land restitution.
"Investors were worried when you made the announcement of expropriation without land. You cannot make promises, bluff and then say 'don't worry, I'm just silencing my opponents inside the ANC'. There can be no conditions attached to land... there [were] no conditions attached when they took our land and killed us," Malema said.
Earlier Lindiwe Sisulu, minister of human settlements, who is being touted as a possible deputy president, had a rough time when she delivered her speech.
She was harrangued and heckled by the opposition throughout after she objected to DA leader Mmusi Maimane's earlier critcism of ministers including Bathabile Dlamini (social development), Mosebenzi Zwane (mineral resources), Nomvula Mokonyane (water affairs and sanitation) and Lynne Brown (public enterprises).
Maimane, during his reply to the president, told MPs these ministers needed to be dismissed immediately. He was magnanimous in his speech, congratulating Ramaphosa and concluding that the DA was willing to work together with government and the new president.
He did, however, identify a litany of problems South Africa faces, including a struggling education system, a bloated public sector and wage bill, cadre deployment and leadership issues at the National Prosecuting Authority and the Public Protector.
Bantu Holomisa, United Democratic Movement leader and an emerging voice of reason in the National Assembly, didn't mince his words, telling Ramaphosa that the ANC for many years turned a blind eye tot corruption. "There must be consequences," he said to applause.
The debate, which started at 10:00, is set to continue until 20:00 on Monday night. Ramaphosa will reply on Tuesday at 14:00.