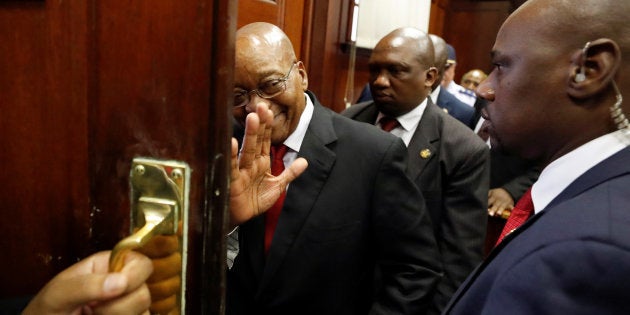 Former president Jacob Zuma will fight a court case intended to cut off his legal funding from the state, TimesLive reported. The DA wants the court to stop the state from funding Zuma's legal defence for his various court cases, including his current fraud and corruption charges.
In 2006, the government made a "deal" with Zuma that it would cover his legal fees unless he was found guilty.
It was initially thought that Zuma had cost the state some R32.4-million in legal fees, but justice minister Michael Masutha revealed on Monday that his total legal fees over the years had amounted to R24-million, according to IOL.
Masutha reportedly said this in a written reply to a Parliamentary question. He reportedly said the state had five files on Zuma's legal fees. R15.3-million had been spent on his current fraud and corruption court case and his attempts to fight it off, Masutha reportedly said, while Zuma's failed challenge to the Public Protector's report on Nkandla cost the state R3.2-million. Five advocates reportedly represented Zuma in that case.
Nearly R2-million was spent on a case where Zuma challenged a High Court judgment that the appointment of National Director of Public Prosecutions boss, Shaun Abrahams, was unlawful, IOL reported.
According to TimesLive, the court made a personal costs order against Zuma to the tune of R10-million in the state capture case, where Zuma unsuccessfully appealed the Public Protector's recommendations in her state capture report.
Just after Zuma appeared in court on fraud and corruption charges earlier this month, President Cyril Ramaphosa reportedly announced that the state would not be opposing that costs order on Zuma's behalf, leaving him to defend it out of his own pocket.
Last month, Ramaphosa reportedly said that the state's 2006 agreement was legal as Zuma's legal fees were "of public import". TimesLive reported at the time that the deal was concluded in terms of the State Attorney's Act, which stipulated that it was legal for the state to pay Zuma's fees if the alleged crimes to place while he was in government.
But Wits law professor James Grant questioned whether the deal was legal. He told Eyewitness News (EWN): "Does an agreement between Mbeki and Zuma amount to national legislation? No. So is there any basis for government and ultimately us to be carrying the costs? No."