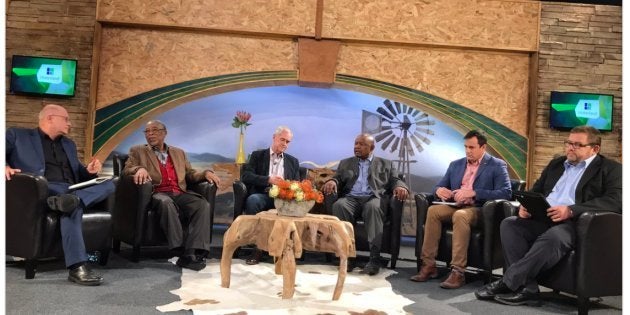 Panelists debating on potential amendments to the constitution to allow for land expropriation without compensation have launched a scathing attack on the ANC, accusing the party, along with the EFF, of using this as a tool for electioneering.
Speaking at the "Nation In Conversation" debate hosted at the National Maize Producers' Organisation [NAMPO] Harvest Day, political economist Moeletsi Mbeki said he is not worried about the land policy because it is "propaganda".
He was joined by DA chief whip John Steenhuisen, AfriForum boss Kallie Kriel, COPE leader Mosiuoa Lekota and politics veteran Roelf Meyer.
"This is not about land. It is about the loss of votes by the ANC. And the ANC and its little son, the EFF, they think they can bring back the voters who are abandoning the ANC by attacking the white population," Mbeki said.
"Its solution is to attack the white population. Malema is leading the ANC's election campaign by attacking the white population."
Steenhuisen argued that section 25 of the constitution, which deals with land, is not an impediment to land expropriation.
"We will be demonstrating very clearly how the constitution is not the impendent...One of the first opening acts of this (Cyril Ramaphosa's) presidency was opening up this whole issue of expropriation without compensation. It's opened up an emotional debate in South Africa, one which I think is important to have, but it mustn't come at the cost of the future economic viability," he said.
"We should be using legislative means to ensure we have restitution and redistribution in South Africa. The constitution is now being scapegoated as the reason why we hadn't had land restitution in South Africa."
Kriel said his organisation will protest the decision on land expropriation without compensation "at all costs".
"What can we do to stop this from going ahead? Are we going to sit back and hope for the best? We must do something...We know that the economy will be destroyed if this happens, land reform will not be successful...If you don't have a title deed, you are not going to get funding, you are not going to have a successful farm," he said.
Lekota made an emotional appeal for South Africans to move beyond race.
"I appeal to all of you, we must stop being seized with the mentality of apartheid, the future is non-racial ... We no longer live in those tribal states that were there before the advent of other people. We are a modern national state called South Africa. We are not the people we were at the beginning of the history that made this country. We will not, and we must not, continue to think in these terms. We are South Africans whether you like it or not," he said.