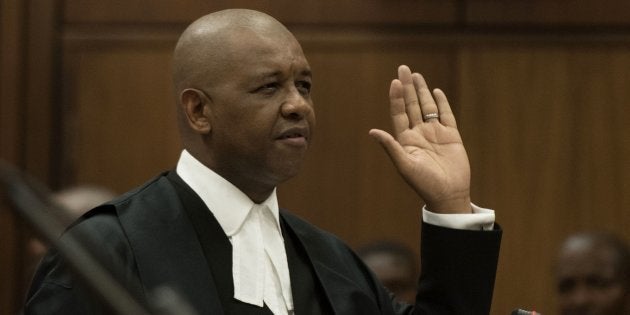 Jacques Pauw, award-winning investigative journalist and author of the Zuma/Guptas exposé "The President's Keepers", had an interesting insight to add on Wednesday to the Twitter spat between EFF chairperson Dali Mpofu (also the advocate acting for suspended Sars commissioner Tom Moyane), and constitutional expert Pierre de Vos (the Claude Leon Foundational Chair in Constitutional Governance at the University of Cape Town) — after De Vos concluded that Mpofu's extraordinary efforts on behalf of Moyane were legally irrelevant.
De Vos published a blog on his Constitutionally Speaking page on Tuesday, entitled "Attacks on Sars Commission have no legal basis, must be politically motivated", in which he explained inter alia how a commission of inquiry differs from a criminal court proceeding... and therefore how Mpofu's demand (on behalf of Moyane) that retired judge Nugent's commission investigating Sars recuse certain members, expunge witness testimony — and in short, refuse a lawful instruction from President Ramaphosa — was legally nonsensical.
Mpofu took exception to this blog — claiming it was "insulting, defamatory and possibly racist" — but surprisingly, chose not to follow the traditional procedure adopted by lawyers who believe they have been defamed.
Gosh, you really do learn something every day. I thought that when lawyers demanded retractions they sent private emails or letters, because doing it on Twitter would obviously just look like cheap political grandstanding. Consider me schooled. https://t.co/6I3CeXghsY

— Tom Eaton (@TomEatonSA) July 4, 2018
Dear Sir

I hope this finds you well

If you do not remove this article which I find defamatory,insulting & possibly racist from any public space in which you have published it plus any references to it on your timeline & any other platform by 12h00 expect legal action

Thanks https://t.co/XkQ98uCpn3

— Dali Mpofu (@AdvDali_Mpofu) July 4, 2018
By 12 noon on Wednesday, De Vos had not bothered to respond or remove the blog, but by 10pm, neither was there any evidence that advocate Mpofu had followed through on his on social-media threat of legal action (perhaps De Vos DM'd him a SadFace-SmileyFace-SparklyHeart?).
Both Mpofu's and De Vos' timelines, however, were seething with argumentative tweeps. That's when veteran investigative journalist Pauw took the debate in a whole new direction:
Pauw's Tweet sparked more than 1,300 likes, 1,100 retweets and around 200 comments. He followed it up six hours later with:
I seriously doubt Dali Mpofu's legal acumen and common sense. Gave Pierre de Vos a 12h00 deadline to remove insightful piece about Mpofu's blunders at SARS commission. If not, says Mpofu, expect legal action. Huh Dali, what have you smoked? You and Tom and Adriano and Julius?

— Jacques Pauw (@Jaqqs) July 4, 2018
Mpofu did not respond directly to Pauw — or De Vos, after his initial attempt at a Twinterdict — but he interacted vigorously with other Twitter users over the rest of the afternoon:
I will fight the New Stratcom in the same way I fought the original Stratcom!

Their intentions are the SAME:

Paid to sanitise the continued economic oppression of black people by portraying the status quo as acceptable & not needing to be fundamentally changed or disturbed..👀

— Dali Mpofu (@AdvDali_Mpofu) July 4, 2018
De Vos was sighseeing in Myanmar through much of the drama, but he did post a cheeky catch-up later on Wednesday.