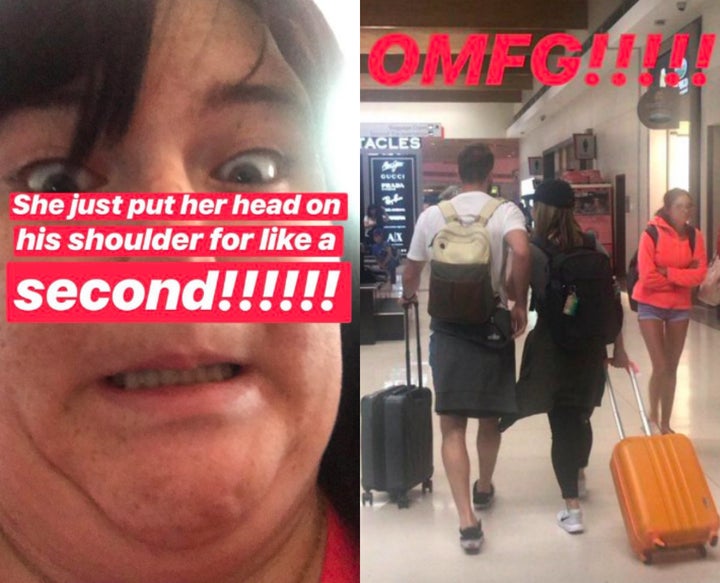 Two strangers may have fallen in love on a flight, and the hero woman who set it all in motion documented every minute of it in a truly one-of-a-kind viral tweet thread.
Twitter user and actress Rosey Blair was on a flight to Dallas when, in order to sit next to her boyfriend, she asked a woman to switch seats with her. Little did Blair know that she and her boyfriend were about to witness a meet-cute that would captivate the internet.
"We made a joke that maybe her new seat partner would be the love of her life and well, now I present you with this thread," Blair tweeted on Tuesday.
Blair's thread of her Instagram story quickly went viral. As of Wednesday afternoon, her steadfast reporting of love at 10,000m had amassed more than 250,000 retweets and 630,000 likes.
Blair went on to masterfully detail every move the two potential love birds made for the next hour. According to her, the duo began making small talk and then, slowly but surely, started moving their elbows closer and flirting.
She overheard that the two are both "personal trainers" and vegetarians. "No wedding rings in sight!!!!!!" Blair later added.
"There is no TV on the flight but there is WiFi and romance!!!" Blair tweeted.
At this point, Blair's story had gone viral and she reassured her steadfast followers that she would be "following this story to baggage claim."
Blair reported that before the plane landed the anonymous woman went to the bathroom with her hair in a ponytail and came out with it down. Obviously, something was cooking between these two lovebirds.
Blair's top-notch meddling allowed her to find out that the guy "used to be a pro soccer player."
Her boyfriend also made a cameo when the drink cart was approaching. "Will he get her a drink?!" Blair wrote.
Unfortunately no one ordered drinks, but as Blair so astutely pointed out the two did order a cheese plate to split. How romantic!
The smitten kittens even started talking about their families, with the anonymous hunk showing the woman a picture of his mom.
At this point, Blair and her boyfriend were just as entertained as the rest of the internet.
At one very exciting point the duo left for the bathroom together. Later on, the anonymous woman even put her head on the guy's shoulder.
Blair was, understandably, fully freaking out.
Other people following Blair's thread began replying to her story asking for more details. Everyone else was fully invested at this point.
Encouraged by her loyal viewers, Blair followed the two off the plane once it landed. What she encountered was beautiful: The duo walked off the plane together looking quite comfortable with one another.
"OMFG!!!" Blair tweeted, quickly adding a video of she and her boyfriend dancing.
"Guess what? They both appear to be based right here in Dallas, Texas. They're gonna fall in love and get married and have babies!!" Blair said.
Blair's hard work and diligent reporting certainly paid off. She tweeted on Tuesday night that she had found one half of the anonymous duo and he gave her permission to share his Twitter handle.
The real name of Plane Bae ― as he was dubbed by the collective internet ― is Euan Holden. He weighed in on the story, adding his own hashtag: #CatchingFlightsANDFeelings.
"The internet wins, you guys are awesome," Holden tweeted Wednesday morning.
As of Wednesday afternoon there was no update on the identity of the woman on the flight.
Not to worry, though ― with Blair's steadfast reporting we're sure to get an update to this love story soon enough.
Head over to Blair's Twitter feed to read more about the in-flight connection.