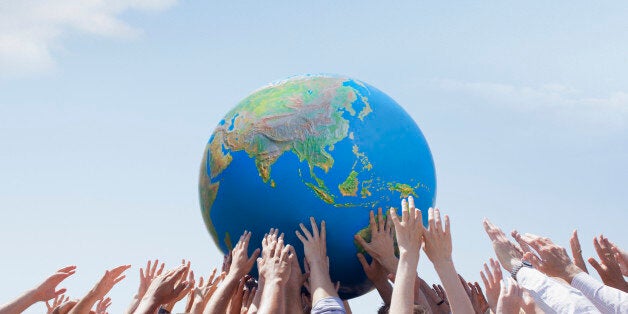 I recently had the incredible pleasure of attending the One Young World summit in Ottawa, Canada and joined a delegation of 1300 inspirational young leaders from around 200 different countries around the world.
I met refugees, entrepreneurs, policy advisors, campaigners and development experts as we discussed key global issues such as unemployment, inequality, climate change and politics. The newly launched Sustainable Development Goals, or Global Goals, ask the world to consider key outcomes in order to make society fairer, safer and more sustainable. Every issue intersects with another and this is a key learning I certainly took away from the conference.
World-class speakers such as Mohammed Yunus, Emma Watson, Bob Geldof and many more took to the stage to share their thoughts on these issues discussing initiatives such as equality campaigns, the power of social media, collaboration, entrepreneurship and cross-sector partnerships.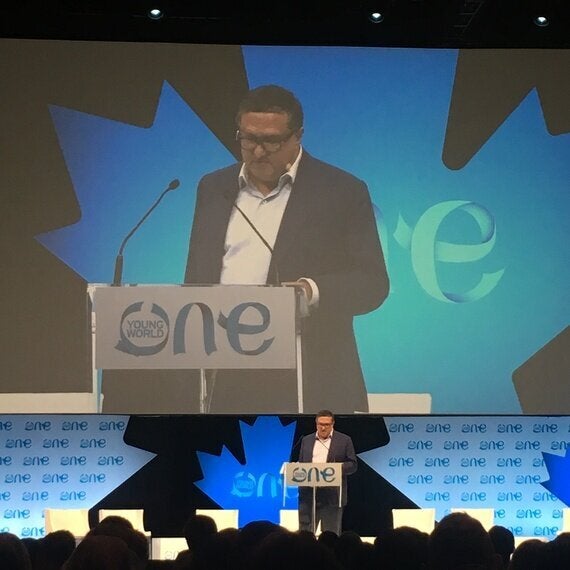 Panel discussion at One Young World, image: Adam Bradford
A number of young people, including an array of my 2015 & 2016 Queen's Young Leaders colleagues shared their leadership insights and inspired the audience.
I learned that to change the world, we have to unite. As emerging leaders and the leaders of today in our communities, working alone is simply not an option.
1 - If you want to go fast, go alone, if you want to go far, go together
2015 Queen's Young Leader award winner PJ Mandewa-Cole from Sierra Leone talked about his organisation's efforts in transforming the situation in the country and how by building a movement and leading people to join his mission really helped super power his work.
2 - We need to bridge the gap between developing and developed nations
Listening to the way Mohammed Yunus has used social entrepreneurship and microfinance to transform livelihoods into sustainable entrepreneurship across Bangladesh inspired me. Developing parts of the world can adopt practice from other regions and the infrastructure and thought leaders from developed parts of the world can play a key part in injecting the inspiration, governance and leadership to help effectively capacity build on a global scale. We need cross-fertilisation of ideas and talent between all corners of the world if we really want to unlock the key to equality in both participation of various groups and in economic development and opportunity creation.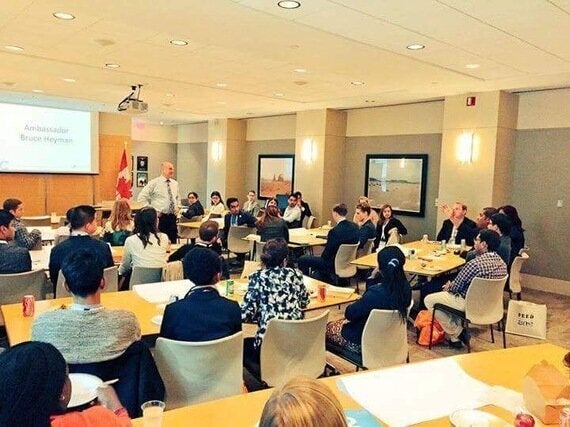 Session at US Embassy on tri-sector leadership, image: Adam Bradford
3 - Cross-cutting partnerships are the way forwards
Every sector, every country, every leader, has a piece of knowledge and experience which could be useful. I learned from breakout sessions at the conference that economic opportunities could be created for young people through effective collaborations between corporate foundations donating their employees' time along with effective microfinance schemes, government backing and local leaders promoting opportunities. Who will be the leaders, the glue, the nucleus which joins such initiatives and leadership together to achieve systemic, sustainable social change? We need to think deeply about strategic, cross sector partnerships. In the UK for example, Youth Business International who I work for, work with governments, local agencies, donors and corporates in order to build youth entrepreneurship programmes across the world creating businesses and employment opportunities for young people.
I hope my thoughts and reflections are useful and give you some ideas about achieving social change in innovative ways in your community. I will certainly be sharing further insight in future posts and look forward to your comments.