The power of networks and the power of passion are two things that I hold very close to me.
At the end of June, 63 of the world's most promising young people came together in London and I am proud to say that I was one of them.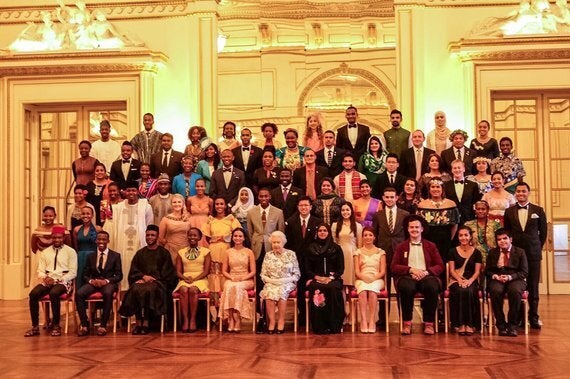 Image: @QueensLeaders, Twitter
The Queen's Young Leaders, exceptional young people from across the Commonwealth changing the world for others, came together and shared their stories, experience and had an incredible time exploring the UK - from the University of Cambridge through to 10 Downing Street, Twitter and the likes of PWC and Standard Chartered bank, we did it all!
Let me not forget to mention that we all attended a special reception at Buckingham Palace, which was attended by David Beckham and members of the Royal family including Her Majesty The Queen herself - who presented us all with our Queen's Young Leaders awards.
It is an honour to have shared a week with these amazing young people and to have met Her Majesty The Queen.
Here are just a few my fellow young leaders and friends who inspired me:
Tevin Shepherd, 23, Saint Lucia
Tevin is a co-founder of ProjectCan which engages young people in enterprise, education and leadership. He has also worked with student councils across secondary schools in Saint Lucia introducing students to governance and leadership. Tevin also set up the Mario Michel NYC education fund to help young people access scholarship opportunities. Connect with Tevin here.
Dillon Ollivierre, 27, Bequia
Dillon is a director of Rise Up Bequia, an NGO which helped those affected by the 2013 floods in the region. He is a teacher, poet and youth activist. He wants to inspire young people to become model citizens. He creates his own spoken world pieces which focus on social issues - his latest video focuses on the environment and you can watch it here.
Ella McKenzie, 19, Cambridge
Ella is a young adult carer, who has been looking after her mother, who has fibromyalgia, since the age of 17. When Ella lost her father at the age of 18 she started attending a local Young Adult Carer group. She now works with the Carers Trust on a range of projects and has addressed MPs about the needs of young carers. Ella has also worked on a London-wide consultation on carers and is a member of the About Time steering group, which make funding decisions on carers projects. She runs the Take the Lead project at Carers Trust Cambridgeshire, a leadership project for Young Adult Carers.
Adeloye Olanrewaju (24), Nigeria
Adeloye was worried as a student of Medical physiology when he noticed pregnant women especially in rural communities weren't getting the childcare and birth support they needed. Nigeria presently loses 260,000 new borns and 40,000 pregnant mothers due to preventable conditions. Therefore he founded SaferMom a mobile service for pregnant and nursing mothers (with baby up to 1 year) to access health information and make informed health decisions via basic phones (2 way SMS, voice call services, help line and mobile app) in any preferred local language. SaferMom's goal is to reach at least 50,000 users by the end of the year through partnership with Government institutions, health institutions, local and international NGOs.
Do I need to say any more? I think the Queen's Young Leaders are the change makers and world shapers of the future. Find out more about our journey through the #QueensYoungLeaders hashtag and at www.queensyoungleaders.com.