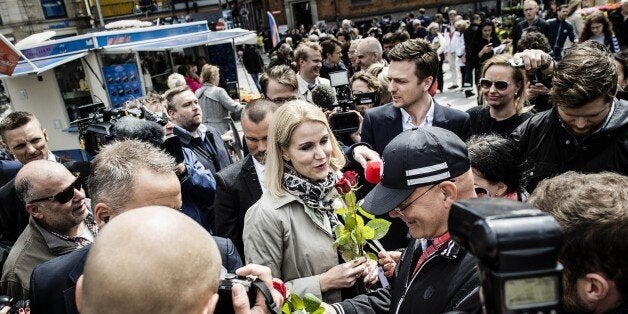 As I left the supermarket, a political campaigner who was handing out election postcards stopped me. Rather than giving me a picture of the conservative party candidate he was representing, a photo of a baby was smiling up at me. The caption underneath read in Danish "For my future". I was intrigued. Why was a child being used to promote a politician? "His name is August," the man told me. "By the time he's an adult, he alone will be paying tens of thousands of Danish Kroner towards our current debts. This can't happen. We need to sort it out now."
I can't imagine many British politicians daring to use an image of a baby in this way. But this is Denmark. One independent candidate, John Erik Wagner, has already won global attention for his campaign posters in which he poses naked. His private parts aside, this Danish election has become something of a political beauty contest. On trees, lampposts and across bridges, it's hard to ignore the (mostly) attractive faces staring out at passers-by.
One of those faces belongs to the prime minister, Helle Thorning-Schmidt. She's probably best known, internationally, for the selfie she took with Barack Obama and David Cameron at Nelson Mandela's memorial. She also happens to be married to the Labour MP Stephen Kinnock with whom she was campaigning in Wales in the run up to the UK election. Now it's she who could do with all the support she can get.
Back in 2011, the leader of the Social Democrats formed a centre-left coalition in Denmark. Despite running a country that boasts some of the highest taxes in the world, Thorning-Schmidt made some unpopular decisions including welfare reforms. Following several high-profile resignations, the government almost fell apart last year after one of the parties quit the coalition altogether.
Rather like Birgitte Nyborg, the fictional prime minister in the Danish drama Borgen, Thorning-Schmidt has been staging a political fight back. Over the last few months, she's gained ground on her main opponent, Lars Løkke Rasmussen. He's leader of The Liberals (Venstre) and as former prime minister led a centre-right coalition up until the last election. With the polls so close, the battle between the two has become deeply personal.
While she's still referred to as 'Gucci Helle', because of her designer clothes, Thorning-Schmidt's party has tried to ensure it's his outfits voters are talking about. The Social Democrats commissioned adverts targeting Rasmussen's credibility by alluding to his expenses that included clothing and plane tickets. Fair game, you might think. But in a country that's used to consensus and compromise, this type of campaigning is unusual.
While Thorning-Schmidt has been trying to persuade voters to focus on the improving economy, it's another issue that's hijacked this election - immigration. It makes many of us foreigners living in this country of five and a half million people feel rather uncomfortable. The real targets, however, are those from outside the EU, most notably asylum seekers from non-Western countries. At almost 15,000, the number of refugees coming to the country in 2014 was double that of the previous year.
It's not just the popular right-wing anti-immigration group, The Danish People's Party (DF), that's obsessed with this issue. The Liberals have launched an eight-point plan on how best to cut the numbers. Leader, Lars Løkke Rasmussen, has promised to put an immediate stop to refugees entering Denmark and is supported by all the parties on the right.
Even Thorning-Schmidt has toughened her stance on immigration in the hope of wooing back voters from The Danish People's Party. Polls suggest almost one in five Danes could vote for DF this time round. A new campaign by the Coalition of Danish Secondary Students has asked all politicians to "shut up with the immigration debate". But that won't happen. Instead it looks like this issue could become the deciding factor in who forms the next coalition government.