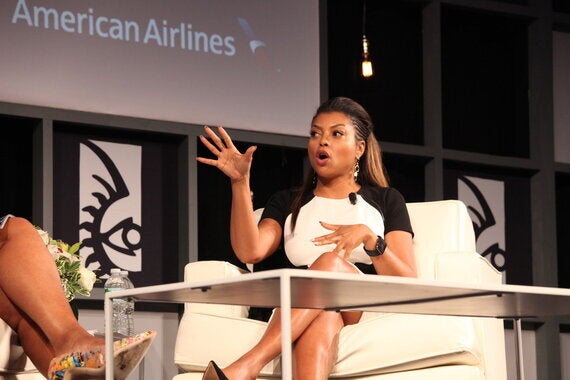 This year's American Black Film Festival was as much about contemporary classics as it was about glam galas. By far the hottest ticket of the event was Empire star Taraji P Henson in conversation with Gayle King. Held in the Hilton Hotel's Grand Ballroom, which was only just big enough to accommodate Henson's legions of fans, the discussion was frank and revealing. For instance, I didn't know that Henson had originally gone to college to study electrical engineering before dropping out to study drama at Howard University. And I certainly didn't know that Henson based the character of Cookie on her plain-speaking father, who encouraged her to follow her dream of acting.
Though not quite a rags-to-riches story, Henson certainly knew hard times. As a junior at college, she fell pregnant but continued with her studies. "Being pregnant is not a disease," she insists and Henson refused to become another statistic, eventually leaving Compton, south Los Angeles, for the bright lights of Hollywood with "just $700 and Jesus".
In auditions, Henson was told that she was too old or that she wasn't "hot" enough. Nonetheless, she got her first big break in 2001 in John Singleton's Baby Boy, where she starred opposite model Tyrese. But she was intelligent enough to recognise the gender politics at play in Hollywood, so when Tyrese's career took off after the movie's release but not hers, she was not surprised. "It's a man-made world," she says. "But I keep my grace and I refuse to become bitter. I realised that I was going to have to make a lane for myself."
Fast forward a decade and Henson has appeared in a string of successful TV shows including Person of Interest, Eli Stone and The Cleveland Show, and was nominated for an Oscar for her role as Queenie in The Curious Case of Benjamin Button in 2009. She now shares a manager with Halle Berry and director Lee Daniels is a close friend (Henson is "like a mother" to his daughter), and was in a position to fight for her as the lead in Empire. Nonetheless, she still had to audition to see if she had chemistry with co-star Terrence Howard, something Henson laughs at.
The scene they chose involved Henson slapping Howard across the face, which she did for real - forgetting to remove her ring beforehand. "You could see the imprint of my ring on his face - I thought he was going to kill me!" There was a long awkward moment, then Howard looked at her and said, "Do it again."
And the future? Henson is in this for the long haul. "I want longevity," she says, and doesn't want to be defined solely by the colour of her skin. "I'll be glad when we can get to a place where we're not saying black this and black that."