To mark 100 days of the first Conservative government in nearly 20 years, HuffPost UK is running 100 Days of Dave, a special series of blog posts from grassroots campaigners to government ministers, single parents to first-year students, reflecting on what's worked and what hasn't, whilst looking for solutions to the problems we still face.
A 100 days but already the parents of a child born on the 8 May would be justified in feeling nervous about her future. Since its re-election, the Conservative government has brought in a raft of policies that may profoundly affect their child's life.
The most basic is one of definition. Currently, a child born to parents who earn less than 60% of the median income is defined as living in 'relative poverty'. It's not a perfect measure of all the different aspects of poverty, but an income-based measure like this is essential to help us track broad trends in the number of children growing up in hardship. That number currently stands at 2.6million (3.7million if you take housing costs into account).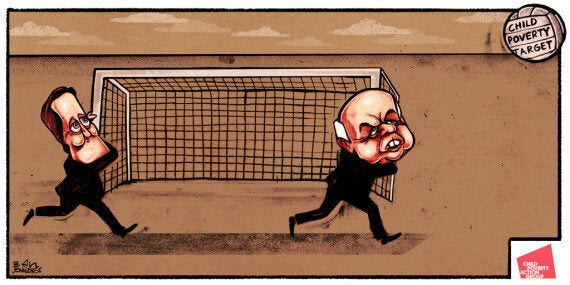 If the government passes the Welfare Reform and Work Bill, as it stands, poverty will no longer be measured according to income, and the government will no longer be bound by targets to eliminate it by 2020. Instead, it will track the number of children living in workless households, and the number who fail to achieve a certain number of grades at GCSE. Both of those are important issues which deserve attention - but neither of them are definitions of child poverty. This amounts to an attempt re-define poverty - not having enough money - out of existence. The government has gone even further than our cartoon suggests: they haven't moved the goalposts, they've sent the players home and taken up croquet instead.
It's particularly disappointing in view of the fact that less than a decade ago David Cameron declared: 'I want this message to go out loud and clear: the Conservative party recognises, will measure and will act on relative poverty.'
That child born in May 2015 will be particularly at risk of growing up in poverty, whatever the government's definition, if her parents are among the 5.2million low-paid employees in Britain's workforce. Most recent figures show more than two thirds of poor children live in working, not workless, households. Our yearly research on the cost of a child found that two parents working full-time on minimum wage fall 16% short of affording the minimum standard of living needed to raise their child.
And support for working households is about to fall. While a higher minimum wage (or 'national living wage' as it is not entirely accurately described in the Budget speech) is hugely welcome, the IFS and other independent analysts point out that it can't compensate for the big cuts to child tax credits. Those cuts will mean that even if both parents are working full-time on the new minimum wage, they'll still be £850 a year worse off - that's £16 a week, which might not sound like much, but makes a big difference when you're scraping to get by.
We can only hope, for that child's sake, that she is born in an area with low rental prices. If she isn't, and her parents lose their jobs, they might find themselves hit by the government's newly tightened benefit cap, and unable to afford their rent. So far, the evidence is that the benefit cap encourages very few people to get a job any faster than they would anyway - most affected families neither move into work or move into a cheaper area; they try to absorb the hit and end up in greater hardship. We'd better hope, too, that her parents don't provide her with a third sibling after April 2017, when tax credits will be limited to two children per family. Children in large families are already at greater risk of growing up in poverty, and that risk will now increase.
On the upside, new childcare funding introduced in the first few days of this government might mean it is easier for both her parents to go out to work while she is three and four. But while welcome, it is so far unclear if the new funding covers holiday provision and looking for a job - it's hard to job-hunt when you're caring for a three year old.
By the time that child born in 2015 is five, the impact of the decisions made in the first 100 days of this Parliament by the Chancellor and Prime Minister will have taken effect. The Government is refusing to publish the impact of these new measures on child poverty numbers but what we do know is that independent experts project that the policy decisions made by the coalition in 2010-15 will increase child poverty by 700,000 in the decade to 2020 - that's at a rate of over 19,000 more children in poverty every 100 days. And, after the latest Budget, that pace can only quicken.
Judging by the past 100 days, it seems children from low-income families are at the bottom of the government's list of priorities.