The debate over the benefits of Wayne Rooney's ongoing presence in the first choice starting lineup both for his club and country continues to rage on. Despite scoring the only goal of the game in a 1-0 win in Tallinn on Sunday evening, Rooney was widely criticised for another wasteful display against lesser opposition. Given he is now captain for Manchester United and England, there is little chance of him losing his place in either team, but there is no doubting that he is no longer performing to the levels he once did.
The question is thus, is he still deserving of his guaranteed spot in both teams? He is still scoring goals. So many in fact that he is approaching the top of the list of the all-time highest goalscorers in the Three Lions' history. He now has 43 goals in 99 appearances for England. He even managed one at a major tournament only this summer.
He has consistently for years now had impressive attacking figures to show for his work. He is the only player to hit double figures in terms of both goals and assists in three of the five Premier League seasons prior to the current campaign. He is one of only three players with at least two in both columns already this season, along with Raheem Sterling and Ángel Di María, both of whom would be considered to have had decent starts to the campaign and certainly won't see their first team berths questioned. As mentioned, Rooney scored one at the 2014 World Cup; he also set up the other of England's two goals. It seems absurd that he should be having his selection doubted, but does he truly contribute enough to the rest of United or England's game to mean he should retain a place in the team?
On Sunday against Estonia, Rooney broke the deadlock with a 73rd minute free-kick - a goal that won the game and secured three more important points for England, who already look a shoe-in to qualify for Euro 2016. The forward also, however, had seven other shots in the clash and still came out with just the one goal and that came from a set-piece. There were three clear-cut chances in the game, each of which fell to Rooney, and each of which was missed.
Over the course of two games against San Marino and Estonia, respectively placed 209th and 81st in the current FIFA world rankings, Rooney had 21 shots but scored only a penalty and a free-kick. He had 17 shots from open play against two teams made up of part-timers and failed to score with any of them. While in one sense you can look at the two games and conclude that England took maximum points, with Rooney the match-winner in the tougher of the matches, but in another sense it is still worth considering the fact that England were very nearly made to pay for Rooney's profligacy. Against a better team they could easily have lost the game.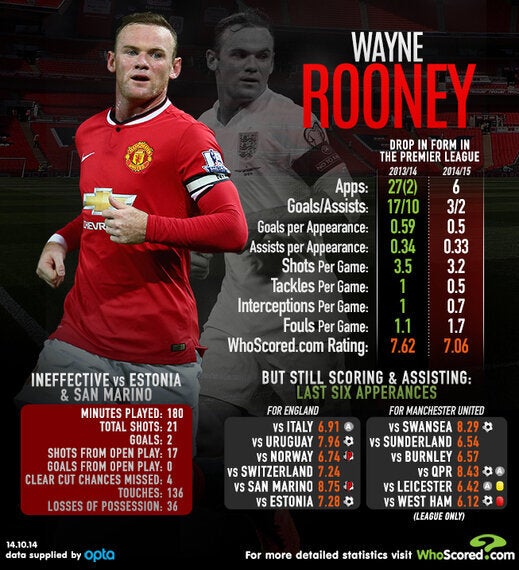 Rooney has contributed five goals or assists in his last six starts for England, while he has five more in his last six starts for United, both of which, disregarding the great many misses against lowly San Marino and Estonia, remain fantastic records. Meanwhile, it is difficult to recall the last truly fantastic performance he put in for either club or country.
In Tallinn, Rooney was largely ineffective, and with his touch below par he surrendered possession all too often. Only the young, inexperienced Calum Chambers was tackled more times (seven) of England's players than Rooney (five), who gave the ball away with 29.4% of his touches - the highest proportion behind goalkeeper Joe Hart (40.7%). Rooney completed a rather meagre 81.8% of his passes.
For United this season, his performance levels have also dropped. His rating is at its lowest (7.06) in any of the Premier League seasons for which WhoScored.com have ratings (since 2009/10). Granted, we are only 7 games into the current campaign but the signs of decline - or at least a distinct lack of form and motivation - are there.
Rooney's key passes are down to 0.8 per game from 1.9 last season; his 15.8% conversion rate is slightly down on last season's 16.8%; he is making fewer tackles (0.5 per game this season compared to 1.0 last season) and fewer interceptions (0.7 down from 1.0) but significantly more fouls (1.7 up from 1.1), including the plainly stupid and nearly costly kick-out at Stewart Downing, for which he was rightly sent off. Ever-building frustration has always been a part of Rooney's game that is dangerous not only to opponents' wellbeing but also his own team's chances, and as he becomes less effective with the ball his petulance could again become a real worry.
So is he really worth it all? The many attacking options available to Louis van Gaal mean he could at the very least be rotated in and out of the Manchester United first team. For England, there are fewer attacking players at Roy Hodgson's disposal, but if Danny Welbeck continues to play regularly through the middle for Arsenal, with Daniel Sturridge unquestionably England's most potent forward and Raheem Sterling increasingly impressive at the tip of a midfield diamond, there are alternatives to be considered. If Rooney continues to score it will remain tough to drop him, but if his performances continue to wane his managers' hands may well be forced.
All statistics courtesy of WhoScored.com, where you can find yet more stats, including live in-game data and unique player and team ratings.