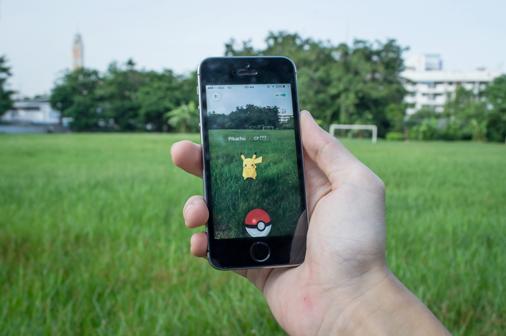 Only several weeks ago the idea of Pokémon making a comeback sounded absurd, but my how the world turns. Personally, the game isn't for me, how people find the time is an envious mystery. However, the worldwide social phenomenon is undeniable, and the impact of this game is changing the future of society.
Augmented reality (AR) started development in the 1960's, running parallel to the development of virtual reality (VR), this year's stand out game-changing technology. Overlaying the virtual on top of real, physical environments, AR invites you to see the world in a new way. It may have fumbled with early incarnations, like the poorly planned Google Glass, but now, with the help of a nineties throwback, it has finally broken into the mainstream. While it's a great distraction from the violence and politics in the media, maybe the best thing about AR reaching the masses is that it's subtly rolling out the red carpet for its more advanced big sister, mixed reality (MR), ready to really shake things up.
Innovation leaders have been predicting the rise of AR for years due to its power to bring brands to life, and many industries have already tried and tested its ability to attract, engage and accelerate sales. Today on London's Regent Street, cosmetic brand Molton Brown invites customers to experience their 'Magic Mirror of Exploration', using AR to trigger animation and sound, transporting you around the world to learn about their exotic ingredients. In the Galleria Mall in Abu Dhabi, AR has been used to allow women to virtually try on the latest fashions and accessories without ever having to remove articles of clothing. Property professionals use it to convey the value of yet-to-exist real estate to customers, the auto industry uses it to bring cars with them wherever they go, both utilising the technology to show how their products work and the extent to which they can be personalised to a customer's specific preferences.
Where Pokémon Go has succeeded in taking AR to the next level is in mapping the world so anyone can have an AR experience anytime, anywhere. It's a scale that has always been possible, just not utilised in such an appealing, intuitive way.
But we can't look down at our phones forever. One of my biggest problems with the modern age is people viewing what's right there in front of them through the screens of devices, mediating the world through a monitor, putting a layer between self and experience, like a safety blanket of non-commitment. In the last few weeks we've heard about people ending up in the A&E, discovering bodies, and falling off cliffs, making a significant case for headsets, aptly referred to as 'heads-up displays'. And this is when mixed reality makes its entrance.
Mixed reality takes AR to the next level, and devices like the Meta2, ODG Smartglasses, and most notably, Microsoft's HoloLens, are here to prove it. The HoloLens projects 3D holograms onto reality that can be viewed in 360 degrees with audio to match. The holograms can be interacted with and manipulated through gesture and voice activation, and multiple people can experience the same virtual views at once, never having to exchange one reality for another, or risk walking off a cliff.
Earlier this year a crowdfunded short film, Hyper-Reality, did an excellent job conveying what a future world may look like under the impact of augmented reality, showing the extremes of possibilities AR and MR present. The eventual popularity of this technology seems inevitable, and someday pioneers of MR may look back and have Pikachu, Mew and Charmander to thank for introducing the masses to AR and giving them a taste of what's to come.
One of the biggest challenges with new technologies is adoption and integration into our lives, with gamers and proud tech-geeks blazing the trails for society to eventually catch up. But with so many people around the world now sharing a common activity through Pokémon Go, as well as the shared emotional state, interest and excitement, we are experiencing the rise of an 'Augmentality', forever altering our expectations towards technology, business, and how we experience the world at large.
Related