Recently I returned to the camps of Calais for the third time, having previously taken donations in the biting cold of January, and then again as part of UKHIP in March. This time I was to be in Calais for four days, at the start of a film project which aims to tell the stories of those who continue to arrive and exist on France's northern shores.
The sun shone on our first day, and in the tradition of my previous trips the day took itself down a path far different from planned. We learned of a one-day event on the crisis held at Le Channel arts centre. The event was open to all, citizen and non-citizen alike, and there we found migrants cooking free food, Jeux Sans Frontières games in full swing (I lost all my attempts), and an interesting, considered exhibition inside. That evening the centre hosted a gig by SOAS students, and volunteers taxied migrants from the far side of town so they could attend.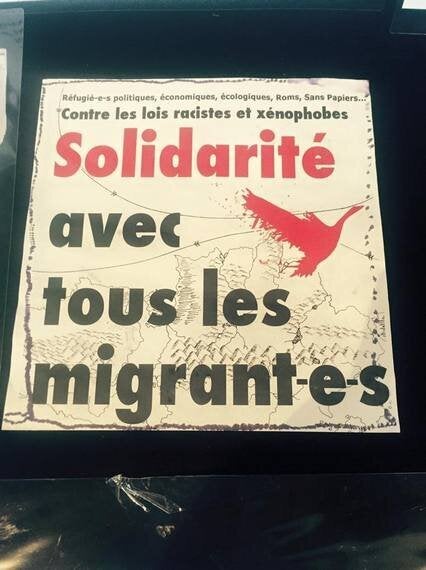 In the interim we visited a nearby camp, small in comparison to the main Jungle far out of town. The tall walls surrounding this camp, covered in graffiti calling for freedom, respect and human rights, render this place to another plane of existence from the town on the other side. It's since been evicted, the seventy people it was home to relocating to the windy Jungle an hour's walk out of town.
We spent the evening chatting to residents of the camps, sharing jokes and trying (and failing) to learn Arabic. The day was a peaceful bubble within a situation that is violent and cruel. This theme repeats itself throughout any trip to Calais: it is so easy when speaking with people to forget your surroundings, then something jolts you back to reality and the injustice of the situation suffocates.
The following day came, and with it the rain. We walked the long desolate road to the new Jungle, where I'd helped people relocate to two months previously. We passed the evicted Tioxide camp; the area was re-fenced and two security cars sat at the entrance. The mural on the old gym remained, and it seemed a lifetime ago that we'd watched people from different nations play cricket together there.
The new Jungle was, unsurprisingly, fuller and busier than my last trip. Impressive handmade structures filled the wastelands - homes, shops, mosques, and a church under construction. Tents were arranged in small clusters, these miniature villages operating as extended homes, with domestic responsibilities and resources shared out.
This was the case for the first person we interviewed. We sat in his pristine tent with him and his two friends to listen to his story. Originally from Afghanistan, he fled because his life was threatened by the Taliban. He lived in the UK before being deported back to Italy, where he'd been fingerprinted. He was told that he'd be looked after in Italy but this did not occur, so he hoped to return to the UK. He had British hairdressing qualifications but no one in Calais would give him a job. He cut hair in the camps, but as no one had money, he did so for free.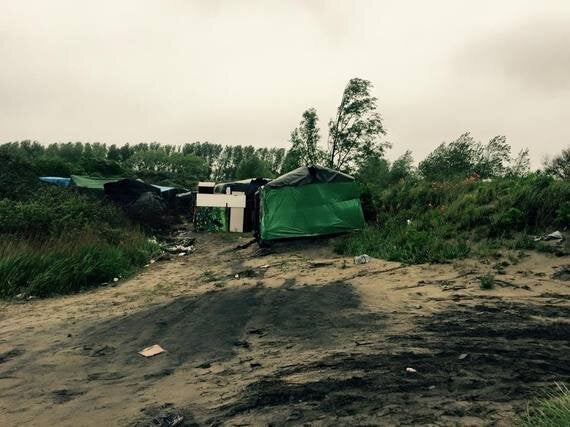 Later, as we waited for someone we'd met the night before, we sat on a wall by the side of the road near the government-run Jules Ferry centre which provides one meal a day, and has a (full) shelter for women and children. As we did so a constant stream of 'Bonjour' and 'Hello' came our way, and endless invitations to join people for tea. In the end the rain forced us to retreat towards these towards these generous offers.
The smiles, jokes, and guitar playing around the fire, provided a thin veneer of calm over the desperation of the situation, and of people's desire to reach the city I'd shortly return to. I answered questions, and wanted to do so much more.
Later we bought Lidl cola from one of the camp's shop owners. Like others he'd previously lived in the UK; he'd worked for a restaurant in London. Then all was turned upside down - he was deported back to Afghanistan. Feeling he had no choice he returned to Calais, and is now stuck in this no-man's-land. He is one of the luckier ones - he has enough food to eat.
The atmosphere of our final day did not reflect the weather, which was uncharacteristically warm. An ambulance and police were on site as we arrived. We learned of the previous night's fight; some homes were still vaguely burning. Everyone was on edge and we were informed that 200 people were now without shelter. The Jungle was unravelling; people denied everything are now turning on each other in the desperation to survive.
A young woman with a beautiful smile approached us; she thought we worked at the women's shelter. She pointed towards the smouldering remains of her home as she asked for a space to sleep. What can I do for her except tell people she exists?
As we left a group from the Sudan offered us tea. They joked that they are animals, since they live in the jungle. They are not animals, but they are treated this way (or worse). The dignity they maintain is humbling. They are being pushed further and further out into the sand dunes of northern France, to become a ghetto of forgotten, unwanted people.
One of the guys we met lived near where I live now. He smiled as he explained which buses he took to work; he should be there now.