On 28th March UKHIP's flotilla of solidarity made its way to Calais in a convoy which included a van full of donations - both given and bought with the funds raised by the crowdfunding campaign.
Spirits were high as we made our way to the coast, two months of preparation finally coming together, but in the back of my mind was the knowledge that we would soon once again confront the realities of Calais' entrenched humanitarian crisis.
Calais is as bleak and windy as I remember. Heading to the Tioxide camp (also referred to as the jungle) at the back of an industrial estate we passed migrants wandering to and from the town, and huddled in groups with nowhere to go.
Pulling up outside the camp it was clear that something unusual was going on. People were standing on the roadside, and we were immediately asked if we were there to help. Indeed we were, but we had different ideas in mind - it was not our van load of donations, but an empty van that was sorely needed. After the initial confusion dissipated, it became clear that it was moving day: the camp was being largely abandoned in advance of impending evictions, which could start as early as 1st April. Evictions can be violent affairs, with what limited property is owned heartlessly destroyed in the process. It's best to go before being pushed. The scale of the move took those volunteering at the camps by surprise and camp life's daily struggle took on new urgency. The lingering air of desperation that circles the camps was pushed to the fore, and tensions were running high.
So, distribution would have to wait. With our donations stored elsewhere we set about moving people's meagre possessions down the road to the new camp. Only a couple of miles down the road, this camp was hugely exposed to the elements and is rocky, sandy and muddy.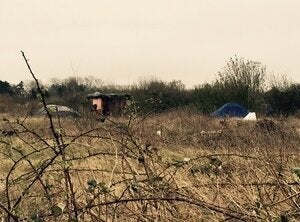 This pre-emptive exodus was being conducted under the watchful eyes of the local motorbike club across the road, whose members stood imposingly at the entrance, staring at the camp's activity scornfully. Local police cars were present in various numbers throughout the afternoon, as were vans of gendarmes, who rolled by slowly, filming and taking note of vehicles present (our van was chosen for a search as we entered the port).
As if the situation wasn't dire enough, those living at Tioxide were now being forced to drag their minimal possessions down the road in front of representatives of the institution which assaults their numbers and of the country which resents their existence and ignores their needs. But they were not alone; many people had turned up with vehicles to help make this painful process less painful. I took heart in that, it was solidarity made real.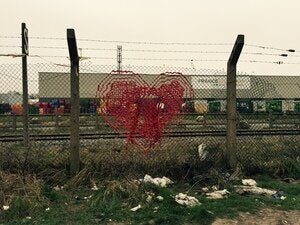 On seeing our British number plates everyone we spoke to told us that England was wonderful and that they wanted to get to London. It broke my heart. England is not a friendly place for immigrants, regardless of their reason for arriving on our shores. And with the camps not receiving political sanction, those living in Calais are not seen as 'genuine', 'worthy' refugees - and they face the ire of large swathes of the British public.
But the spectre of colonialism is strong. We invaded countries, interrupted cultures and told the world that the English way of life is the pinnacle. We did this not because we needed to, but out of self-interest. And now, when those who have travelled to Calais need us - really need our protection - our borders become fortresses. But who am I to tell the man sat next to me in the van of all this, when hope is all he has? Hope that things will get better - if only he can make it across that stretch of sea.
And amongst this, a scheduled cricket match was going ahead. Brand new cricket whites set against the backdrop of a deserted refugee camp. Life continues. We all deserve to play cricket on a Saturday afternoon (those escaping war and violence more than most) - not to be dragging wooden pallets down the road under the threat of police violence.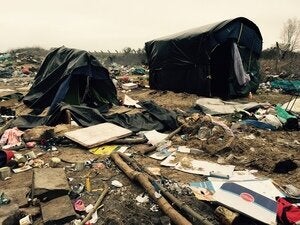 The new camp is near to the newly opened Jules Ferry centre, a day centre miles out of the town which provides one meal a day to a percentage of those who need it. It appears to serve a dual purpose - to present France as doing something positive to improve the crisis on its doorstep after having come under fire recently by Human Rights Watch, amongst others, while simultaneously pushing the migrants out of town and far from the port - thereby appeasing local residents' concerns over presence of migrants in the town and political pressure from the UK to curb numbers of stowaways. It is a cynical move which does nothing to rectify the situation or support those whose lives are hanging by a thread. In fact it makes it worse: out of sight out of mind.
Saturday was exhausting, but it was just one day in my life. I was able to show my British passport at the border control and go home to a world of security and peace. As we waited for the ferry it began to rain and the wind shook the van. I cried then, thinking of the people we'd just met putting up their tents in that weather, on scrubland and sand dunes.
Two of our group helped a 16 year old boy move his possessions, all his family are dead and he is alone, trying to make the crossing to England to forge a life for himself. We gave a lift to someone who had been in Calais throughout the bitter winter, trying to get to England for six months. These are the faces behind the faceless banner of 'immigrant'; these are real people fleeing real violence, with real needs and wishes. They had met us with smiles and handshakes, and I was humbled, ashamed and inspired in equal measure.
We are revelling in self-congratulation over the Magna Carta's 800th birthday, but we are shamefully letting down our fellow human beings in denying them two central tenets of human rights: freedom from fear and freedom from want.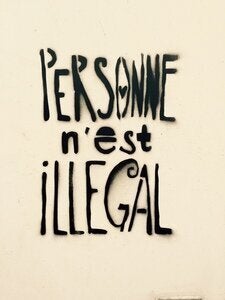 Popular in the Community