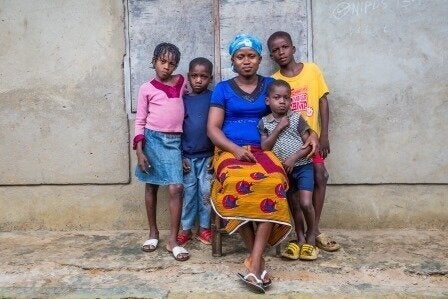 Elohor knows firsthand the human costs of underfunded hospitals and roads
Three of the world's biggest oil and gas companies - Shell, Total and ENI - were granted an extraordinary series of tax breaks worth a staggering US$3.3billion in Nigeria, a country where millions of people live in extreme poverty.
A new report from ActionAid, 'Leaking Revenue' has for the first time revealed the scale of the tax loss - money that could have been used to fund key public services like healthcare and education.
Elohor Siakiere, 30, lives in the oil rich Delta State and knows firsthand the human costs of underfunded hospitals and roads: "I was pregnant and when my labour started, I was transported in a canoe to Ukperhren where I was put on a motorcycle to go to the general hospital in Warri. But the road was very bad and I fell down many times. It was a painful ordeal to get to the hospital."
Elohor survived the precarious journey in the dugout canoe and the 15 kilometers on the muddy and slippery road, but unfortunately her unborn child did not. "At the hospital, the doctor told me the baby was dead," Elohor says quietly. "They did an operation to remove it. I felt very bad losing my baby."
Nigeria granted the tax breaks to the three companies from 1999-2012, exempting them from corporate tax payments. The British-Dutch oil giant Shell was the greatest beneficiary after being exempted from paying a total of $1.66 billion - equivalent to more than the entire Nigerian annual health budget.
French company Total was exempted from paying $977million and Italian company Eni was exempted $677million.
The report raises further questions about whether developing countries are giving away billions of dollars in tax revenue unnecessarily. ActionAid's research shows that the oil companies' investment would have been highly profitable even without these harmful tax incentives.
To tackle this, Nigeria should publish and review its tax break policies and collaborate with other countries in West Africa to end harmful tax breaks.
We also need to see multinational companies working in Nigeria, such as Shell, pay their fair share of tax and publish their tax payments in every country they operate, including details of tax breaks they've been given. These companies should not seek harmful tax breaks that haven't been publicly disclosed or debated by lawmakers.