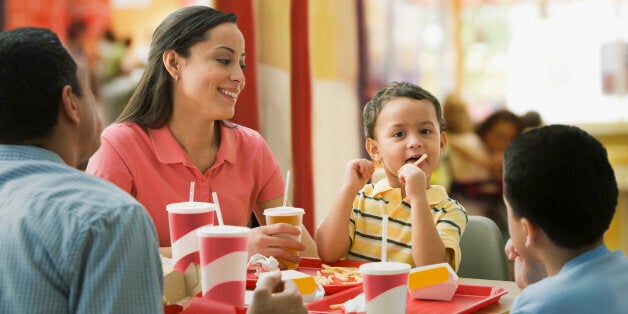 The office Christmas party season is upon us! Yay. Time to meet with work colleagues for the annual knees-up to celebrate the holiday period over food, drink and sheer joy. However, this year, my Christmas extravaganza was a little different to previous years, for I shared a table with my new, small colleagues - namely the two boys I look after as their nanny. "Christmas Time, Mistletoe and Wine", he sings at the top of his voice. Partaaay!
My boss? Their parents. Boss is too strong a word, though, as is the kindness they have shown me since arriving into their boys' lives as a nanny last May. They suggested going out for a meal - my wife and daughter also attended.
A "no nonsense" feast, "£200 per head and an unlimited bar"? I jokingly asked.
Here you will find 14 things that did not happen during this alternative festive gathering of colleagues at a local restaurant:
1. There was no fancy dress or dressing to impress people you see daily.
There was rather an air of dressing down. I wore a talc infused jumper with some spaghetti stained jeans freshly delivered from lunchtime with my own daughter.
2. There were no 'pre-drinks', neither was there any downing of copious amounts of alcohol until you somehow end up vigorously debating the pros and cons of Brexit... with colleagues you have never spoken to.
Nope. Instead, I downed the remainder of my daughter's blackcurrant juice as my pre-drink. During my meal, I think I had lemonade with a shot of strong orange juice. And, we didn't debate anything.
3. No ridiculously over-priced three-course meal in sight.
Nope. No time for that here. A Wowcher coupon. They had their two boys and I had my daughter. We have both learnt to accept that three course meals as parents are as common as a seeing a Tyrannosaurus Rex taking a selfie of himself and a Triceratops.
4. No dancing like a lunatic to Mariah Carey, Slade or Sir Cliff on the dance floor.
There was no dance floor. I tapped my feet to the faint background sound of that East 17 song. My daughter randomly sang Frozen songs and told us some quotes from Ben & Holly. And the two boys were talking about buckets.
Nah. Unlimited lemonade and tap water. I would occasionally be brave and opt for a Coke Zero.
6. No loudmouths who are, well, loud.
Just loud children who were being, well, children.
7. No awkward conversations with people you have no interest in.
Nope. Only asking the eldest boy what is on his Christmas list when mummy and daddy looked at me with the, "We haven't got that for him" look.
8. No throwing up on the company hired coach.
I had lemonade and a shot of orange juice, remember? I was eying up a red fruit shoot, though. And besides I brought along the Renault Clio. We also had a buggy.
9. No getting on too well with somebody you shouldn't be.
I was with their parents... and my wife.
10. No bad-mouthing colleagues on other tables.
There were no other tables.
11. No getting a kebab on the way home.
We went straight home as it was, "getting on for 8". Kebab shops probably only open at 2am.
12. No colleagues who insist on talking about work.
"Andy, you are not taking me to school next week because there is no school". Is the closest we got to talking about work.
13. No awkward present giving-and-opening when somebody else on the table didn't receive a present.
Rule number 1: Ensure all small people have a present prior to attending Christmas party.
14. No childish food throwing.
Hold on a minute...the youngest boy did throw a couple of baked beans.
So, there you have it; my refreshing alternative Christmas party with my new colleagues.