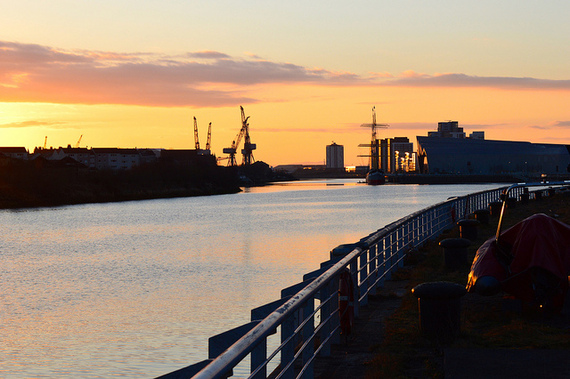 Copyright Marian Craig 2013.
With the polls tightening and the bookmakers shortening their odds, there is now a very real chance that Scottish people will vote for independence in two weeks time.
The debate has understandably focused on domestic policy, with heated debates over pensions, currency and health. Much of the discussion of global issues, such as EU and NATO membership, has centered on whether or not the membership can be maintained, rather than whether or not it would be in Scotland's interest.
However, one of the most positive contributions has been the Scottish Government's commitment to a 'do no harm' arms exports policy in the event of a Yes vote.
This policy of engaging positively with the outside world and ending the sale of weapons to tyrants and dictators was strengthened last month when the Scottish government responded to revelations that Scottish-made components may have been used in Gaza by joining the growing calls for an embargo on all arms sales to Israel.
The call followed a pledge made earlier this year by the Scottish government's Minister for External Affairs and International Development, Humza Yousaf, who wrote "Our good work globally will not be undermined by the selling of arms to some of the world's most brutal dictators, as has been done by previous UK governments."
So far so good, particularly when paired with the Scottish Government's long standing policy to abolish nuclear weapons. There is no question about it, the Scottish Government's goal is certainly admirable, but it also needs to be underpinned by a greater clarity.
According to the Scottish Council for Development & Industry, there are 185 arms companies with offices in Scotland, which employ 12,600 skilled workers and account for annual sales of £1.8 billion, so what happens to them is obviously a matter of concern.
However, despite the daunting numbers, it should be emphasised that arms exports only account for 0.2% of UK jobs, and are subsidised to the tune of £700 million per year. You would be hard pushed to find any other industry of comparative size that receives the same level of political support and public funding.
One tricky issue that is refusing to go away is what would happen to jobs in Govan, Rosyth and other shipyards if Scots vote yes.
Commercial ship-building in Scotland is in a precarious position, with the Ferguson shipyard entering administration and a number of industry workers in the military sites already fearing for their jobs.
Unfortunately both sides of the debate have tended to focus on how the status-quo can be maintained rather than how it can be challenged. Very few voices have looked at the ways in which the government can encourage a more positive and constructive manufacturing sector, with less focus on military industry and the arms trade.
If the government, whether in Scotland or the UK, transferred the kind of resources currently provided to the arms industry into promoting renewables, then it could produce more and better jobs. Ship building jobs have declined by around two thirds in the last 30 years, but a new industrial strategy centered around the promotion of green energy could also fill the skills gap facing the renewable sector.
When the Scottish Government's White Paper was released the Unite union's Scottish Secretary, Pat Rafferty, suggested "there is a case for the creation of a Scottish defence diversification agency to help offset the employment impact on the proposed removal of Trident." With a wider brief, such an agency could also examine alternative work for the other people currently employed in the military industry in Scotland.
Not only would a 'do no harm' foreign policy present fresh and ambitious new thinking on an area that is traditionally done in the dark, but in the event of independence it would see Scotland leading by example and could have a role in forcing the UK to focus on the impact arms exports have on global peace, security and human rights and reflect on how this can be improved.
Of course this isn't the first time that politicians have spoken about the need to put human rights at the centre of foreign policy. Even the current minister responsible for the arms trade, Vince Cable, who recently made a U-turn on his pledge to suspend arms to sales to Israel, has a history of calling for change to arms sales policies.
In 1997, the late UK Foreign Secretary Robin Cook spoke about the need for a foreign policy which put human rights at its heart. He also argued for the conversion of military industry to socially useful production. Unfortunately neither of these goals were realized, but Scottish people should always remember his arguments and take warning from his failures, whether in an independent Scotland or as part of the UK.
Andrew Smith is a spokesperson for Campaign Against Arms Trade