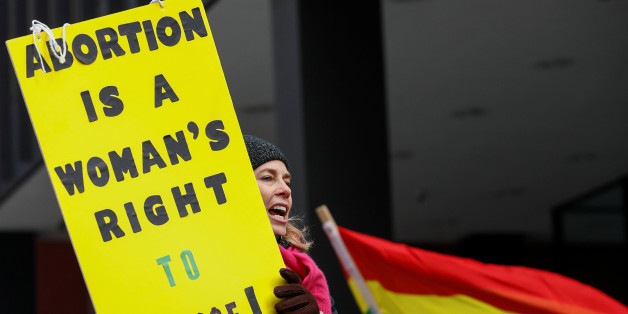 Kamil Krzaczynski / Reuters
Ireland, north and south, enshrines the inequality of women in law. Britain must question its role in this discrimination.
Women on the island of Ireland do not have access to free, safe, legal abortion. Nearly 206,000 Irish and Northern Irish women have travelled to Britain for an abortion since 1983. That's the equivalent of every woman in Bristol. Ireland looks away while Britain provides vital care for Irish women--seven a day--who, if they can afford it, travel to London and other British cities for access to abortion. And Britain also looks away while these women come and go, often alone, vulnerable and in need of further healthcare they won't get at home.
So why the silence?
Tact maybe has a role to play. Britain telling Ireland what to do is not a recipe for success. Fear as well, that seeking change runs the risk of provoking a clampdown on Irish women's current access, flawed but functioning, to abortion in Britain. Ignorance: When Theresa May's alliance with the Democratic Unionist Party exposed the total absence of reproductive rights for women in Northern Ireland--and the arcane views of some Northern Irish politicians on the subject--many in Britain admitted they simply hadn't known.
Britain must break this silence.
Ireland is opening a new chapter in the struggle for women's rights and it needs support from allies in Britain.
In the Republic of Ireland, a referendum will be held next year to repeal the 8th amendment--the part of the Irish Constitution that equates the life of a woman to that of an embryo and allows women to die rather than access an abortion. In Northern Ireland, a spotlight has been shone on women's rights and as of June this year the UK government has granted free access to abortions in England for women from Northern Ireland bringing it inline with the rest of the UK. This is a welcome development but only a stepping-stone on the road to free safe and legal abortion in Northern Ireland.
Change is coming and British political voices like Stella Creasy and Sian Berry have already played an influential role. Others must now join them. British feminists can help break the silence that has hidden Ireland's shameful treatment of women for over thirty years.
On Saturday September 30th at 2pm outside the Irish Embassy in London, join our solidarity event with the Abortion Rights Campaign's 6th Annual March for Choice.
We will make 205,704 chalk markings on the pavement outside the Irish Embassy; making visible the 205,704 Irish and Northern Irish women who have travelled to Great Britain for an abortion since the 8th Amendment in 1983.
Please stand with us.