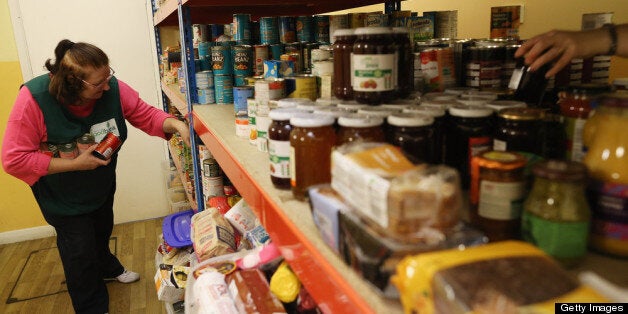 Statistics published today worryingly put the government on course to miss its legal duty to eradicate child poverty by 2020.
It is a national scandal that the 21st Century, child poverty in this country is continuing to affect children's lives.
Sadly the facts speak for themselves. Research by the Sutton Trust found that poorer children can have a vocabulary 15 months behind their better-off peers when they start school. These children are more likely to face health problems, fall behind in school, be unemployed on leaving education and ultimately die younger.
Furthermore, recent research from Loughborough University projects that the long-term bill for society in terms of these children's reduced productivity, lower educational attainment and poorer physical and mental health will hit £35billion by 2020 (Hirsch 2013).
Yet far from there being a fall in child deprivation, absolute poverty has rocketed and 3.8 million children are now living on the breadline. Whilst the number of children living in relative poverty does not appear to have increased, the Institute of Fiscal Studies (IFS) predicts that by 2020 a further 1.1 and 1.4million children will be living in relative and absolute poverty.
Barnardo's works with the real children and families that make up these statistics. We see the families who are forced to visit food banks, meet the children living in cold and damp housing. We counsel those forced to take out loans with extortionate interest rates just to be able to make ends meet.
And while government rhetoric focuses on reducing poverty, the truth is that its policies have often had the opposite impact.
It is a matter of great concern that the government's decision to introduce a cap on benefits increases which break the link between benefits and inflation will plunge a predicted further 200,000 children into poverty.
In addition, whilst Universal Credit is held up to have the potential to 'make work pay', the reality is that in practice parents who work part-time on minimum wage will still often end up paying more in child care costs than they earn. A golden opportunity to rectify this was recently missed when the government chose to focus 80% of its £1billion worth of childcare support on tax breaks for those earning up to £150,000 a year. A mere 20 per cent of this would go to families who claim Universal Credit.
But most counter intuitively, these additional funds will only be available to parents who earn enough to pay income tax, which means that those who are working part time for minimum wage will not be eligible for this additional help.
There is still time to change the futures of these children who are teetering on the brink of poverty, but the coalition must move fast to stop them from falling over the edge. For example, this summer it will be consulting on how to address the childcare funding crisis. Barnardo's has argued that by increasing childcare subsidies for the poorest from 70 to 85 per cent, the government could put its money where its mouth is and truly help to make work pay for low income families (Paying to Work 2013). Then later this year the Child Poverty and Social Mobility Commission, will also report back on how the UK is measuring up so far on reducing poverty and increasing childrens' life chances.
If there is to be any hope of the government lifting families out of deprivation by 2020 rather than plunging them into it, then they must not miss the opportunity to genuinely listen to the Commission and to charities like Barnardo's, and act to ensure that there is a coherent, long-term strategy on tackling child poverty in the UK.