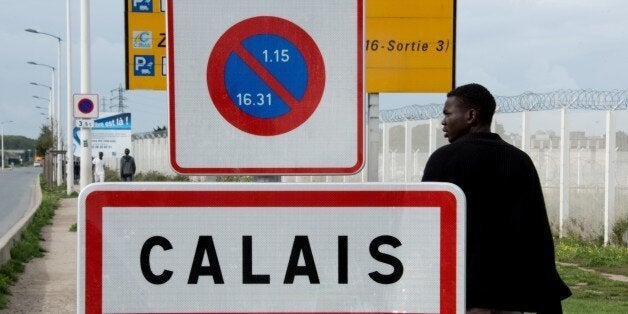 A Student Nurses First Experience of Volunteering First Aid to the Refugees of Calais.
Please note, the names that appear in this text have been changed to protect the identity of those individuals.
My parents raised us to be outward looking and compassionate - two qualities which have guided me into nursing. Witnessing suffering ignites something inside of me but often leaves me feeling powerless to help and angry at the cruelty in this world. Seeing media coverage of desperate human beings risking their lives to find safety hit me hard. I didn't want to imagine what had happened to these people or what they had seen; if what they were attempting was their better option, it didn't bare thinking about. I wanted to help and I didn't know how - but now a nearly qualified nurse, maybe I could! I connected with some other volunteers, teamed up with a colleague (Gemma), collected some supplies and went to Calais. This is a diary of what I experienced on my first weekend volunteering first aid in "The Jungle":
The day we arrived in Calais, we bravely set out on the right hand side of the road, Gemma at the wheel and me on navigation duty. We had a few inevitable near misses with a mix of on-coming vehicles and pedestrians, but we arrived safely and checked-in to our hostel.
Once settled, we went to explore the surrounding area. It became apparent very early on that there was tension surrounding the political situation, just by visiting the local restaurant. On paying for our food, the owner asked us why we were here and despite us not giving our intentions away (following guidance from experienced volunteers), he took it upon himself to talk about 'Brexit' and how its effect would hopefully mean that all the 'migrants' were shipped to the British side of the Channel. It left a taste of unwelcome in our mouths so we finished our drinks and returned to the hostel to get an early night.
In the lead up to our trip, family and friends had been very generous with donations and as a result, we had approximately £400 of medical supplies that we needed to drop off to the storage containers. We put the sat-nav on and braved the wrong side of the road again for a short drive to a yard, about 20minutes from the camp. We were greeted by the first of many volunteers, who offered us a cup of tea whilst we waited for the keys to arrive. We watched as the warehouse volunteers started to sort through the mountain of clothing and sanitary items that had been donated.
I thought I would make use of the porta-loo on site since I didn't know what to expect on camp, or when I would next be able to go to the loo! In there, I was greeted by a sign that read "You're beautiful, you are more than a cardboard box". Queue the beginning of my first emotional moment during my time in Calais. What a beautiful sentiment and such an appropriate thought for all the people we were soon to meet, who had arrived in an unfamiliar place, many having with them only what they had in their pockets.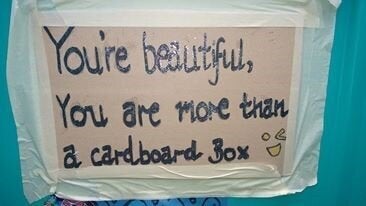 We left the boxes and bags of medical supplies at the containers and set off in the car again towards the camp. We had been advised to park on a road near the camp and walk up. Once parked, a technical hitch with the sat-nav meant that we headed off in the opposite direction to the camp by accident. It wasn't long before we started to see refugees sat on the side of the road. Many were just sat watching the world go by, some were in pairs chatting to each other and I couldn't help but wonder what they were doing out of the camp since there was nothing around for miles...
A while later, as we approached the end of the road, there was a sense of apprehension. Ahead of us, there was a group of men scattered over both sides of the road. It was a very quiet area with not much traffic so it was just us; two women from the UK, and them; eight young men. If we were to walk through them, they would be surrounding us and we would be outnumbered. I felt intimidated. I like to consider myself fairly street wise, so regardless of who these people may or may not be, the potential risks were clear. I immediately covered my waist bag, told Gemma where my alarm was and planned where we would run, if a situation arose where we needed to. Since there was nothing behind us, the only choice was to go forward, and walk through the middle of them. There were busier roads in front of us and, at this point, we still thought we were headed in the right direction.
As we approached, approximately 100m away, a lorry came past us. As it slowed down to turn right at the T-junction, one of the men ran out behind it and attempted to jump on to the back of it. We couldn't believe what we were seeing and we both just stood still in shock. The man fell to the floor as he couldn't get his grip and then jogged back to join the group. I wasn't sure whether we should be reassured that this meant they weren't interested in us or even more concerned that they were so desperate to go to such measures, they wouldn't think much of mugging two girls for some money that may help them on their way. Or worse. Anyway, as we walked through them, they said hello to us and were actually really pleasant. A taster of misconceptions which set the tone for the rest of our experience. We walked round the corner and we didn't see them again. It was at this point we realised we were going the wrong way so we navigated our way back round to the camp. In all, I think we must have walked about 7 miles for no apparent reason. Needless to say, we didn't use the sat-nav after that.
We messaged the other first aid volunteers to let them know we had got lost and one of the girls, Emma, came to the entrance of the camp to greet us. It turned out that another two volunteers were equally late so the first time we entered the camp, there was a group of five of us. I found this reassuring because all of the pre-trip guidance said to stay in groups.
Catch up on part 2 next week.