Olivia Arben
British model signed to Wilhelmina, Ambassador for the British Heart Foundation.
Olivia is a British Model represented by Wilhelmina models who has appeared in major campaigns including NFL Europe Super Bowl 2017, L'Oreal, Timberland, Harvey Nichols, Italian Vogue, Joshua Kane Bespoke, Harrods, Triangl Swim. Olivia is also an Ambassador for the British Heart Foundation and encourages young people to support the charity and be aware of their own overall health via her social media platforms, primarily her Instagram account - @oliviaarben, of which she has over 50k followers.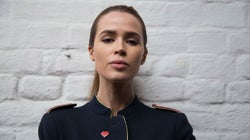 [picture: blogger's own, official BHF badge worn in image]
Unsurprisingly, social media is where I found out more about the British Heart Foundation (BHF). Having previously worked
The main driving force and powerhouse that is the internet has thankfully led to different sized models from countless ethnicities featuring in major campaigns as we all "celebrate" our differences and recognize that not everyone is a size zero... or at least that is how it appears.