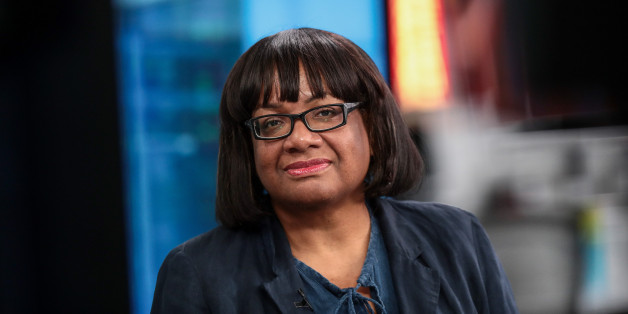 Bloomberg via Getty Images
Electing a Labour government with Jeremy Corbyn as Prime Minister and Diane Abbott as Home Secretary together with others in the Labour leadership is the best way to defend living standards against the brutal cuts of the Tories.
The Tories have overseen cuts to the Police and an undermining of measures to protect the population's security. This alone discredits their record in the Home Office. Labour stands in clear opposition to this, as it does to their brutal policies which have hit ordinary people hard; tuition fees trebled, the NHS in crisis, pensions threatened, disabled people wrongly assessed for work, tax collectors cut in the HMRC and their time in office has seen billionaires benefit while the rest suffer.
The Tories understand that thanks to Labour's radical manifesto, the electorate faces a real choice in this election. That has got through to the population and has seen a narrowing in the polls. The Tory-biased media are targeting senior figures in the Labour leadership, including a vile campaign coming from the Tories themselves.
The campaign against Diane Abbott cuts to the heart of many of Labour's core values. Elected the first Black woman MP in the late eighties, she was part of a pioneering intake of Labour MPs from African-Caribbean and Asian background which made history. Diane talks here of how for 30 years she has faced racism and sexism. She has faced an increasingly aggressive, threatening tone on twitter following her appointment to Labour's front bench. As a Black woman, I and many of us will be asking, is this the price we have to pay for participating in politics on the front line? It's a price that is not asked of our white or male counterparts. How can I say to my young daughter, you are part of an equal society, when the moment you sit up and advocate for yourself, and for your community, the political knives are being sharpened and thrown by a Tory party and their media friends using tactics that belong in the dustbin of history? I have yet to hear a clear call from any leading Tory in this campaign standing up to the racist and sexist abuse that Diane Abbott has faced.
Instead, they have tweeted "If Jeremy Corbyn became PM, Diane Abbott would be Home Secretary". This from the party that used to say 'If you want a N***** for a neighbour, vote Labour'. Why was it that in the televised leader's debate Amber Rudd asked why Diane Abbott was not present? Abbott's slap down tweet to Rudd reminding her that it was a leader's debate and May was absent got more retweets than the silence that greeted her idiotic comment. Why do they have a poster rounding on Labour depicting Diane Abbott an Jeremy Corbyn, when Diane's Shadow position, Home Secretary, has very little to do directly with Brexit? Why did Theresa May suggest Diane Abbott wants to remove criminals and terrorists from the DNA database repeatedly on the BBC Question Time Leaders Debatewhen her actual position was to oppose innocent people being on the database and to highlight concerns over a raid on a Tory MP?
The fact of the matter is that Diane Abbott would make an infinitely more sensible Home Secretary than either May or Rudd. This campaign against her has all the hall marks of a campaign run by Lynton Crosby, architect of some of the most divisive campaigns that the Tories have mounted in recent years. Campaigns which whip up reaction, bury real debate about the best choice in the election and provide the right wing pro-tory media with lurid headlines accompanied by the drum beat of hysteria. When the Tories are on the ropes they revert to type. With the difficulties that are to come in British Politics with Brexit and an economic crisis upon us, this is really bad news for Black people, and anyone else they target.
Labour is right: we need a new politics. Not only are the Tory policies brutal in deed, but they are accompanied by a toxic, divisive media that seeks to reduce the public consciousness to their own poisonous view of the world. One where the corridors of power are maintained for the elite and the bottom 99% are outside, and beneath them. It is no wonder that Diane is a target. Her record on justice and equality from cuts, to racism, to anti-war campaigning, LGBT, women's rights will be remembered as she was promoting these positions long before they were popular. The choice in this election is between two visions of a society that is to come. One where people who look like me, think like me, can be slammed down by the Tories for daring to step up. Or one with Labour who are to be congratulated for a radical manifesto which puts the needs of the many at its heart. A Corbyn cabinet will be the most diverse in history, with Diane Abbott as Home Secretary. I will be proudly voting for Labour this Thursday.