If you've been reading certain doom-filled parts of the media over the last couple of weeks, you may think that the debate about aid centres on numbers. Screaming headlines either talk about millions, billions or strato-trillions of taxpayers money as blustering aid haters forget how the UK's commitment to the poorest only costs us 7p in every £10 of our income. They forget that it is a fact that the world spends more on ice cream than on helping those in humanitarian need.
Last night there was a debate in Parliament to discuss our UK aid target. Despite the negative articles, the room was packed with MPs, and with cross-party backing for the 0.7% target evident - with no individual MP actively criticising that target.
So here at Bond we reached out to our network of over 470 civil society organisations and asked them why do the people that receive aid think the UK taxpayer should be #ProudOfAid.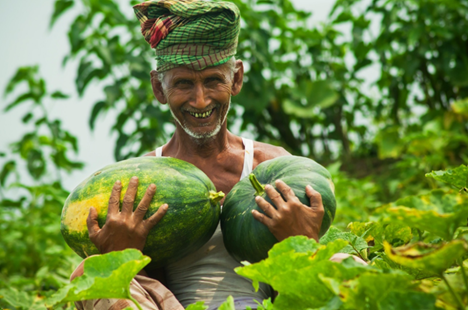 "Life is not so easy in my area. Flash floods mean that land remains under water for almost 6-8 months every year. This combined with the fact that we can only harvest rice once a year means that food prices are always going up and down."
Islamic Relief Bangladesh funded by UK aid gave Bikash a hand up by giving him salt-resistant pumpkin seeds that survive the floods so he could get a harvest all year round. They also gave him training on how to mobilize local resources and support entrepreneurial initiatives.
"The pumpkins are a profitable enterprise and fuel the passion for cultivating the crop with farmers like me. People across my community come to ask me about pumpkins now. I feel happy when people come to me for advice. I can use my knowledge to help others."
Shila Dhakal, Teacher in Nepal
The earthquake that hit Nepal in 2015 destroyed many houses and schools. Children were traumatised and worried about going back into buildings. VSO funded by UK aid trained teachers in trauma counselling to help students overcome the trauma of the earthquake.
"We are lucky to be alive. But with the frequent aftershocks everyone is worried that the standing houses will also collapse. Many students fear that an earthquake will strike again when they're in school.
VSO's Trauma Counselling training helped me bring students back to school. Many students were traumatised and - as a Teacher - I had to visit them at home to encourage them to return. I gave them counselling and taught them what to do should another earthquake strike.
Being a Teacher in Nepal is about more than just teaching at school. Teachers in the village are viewed as authoritative figures and people depend on us in many ways, even in an emergency.
Now thanks to VSO's first aid training, I can provide basic treatment and prevent a situation from getting worse. I'll be sharing the skills and knowledge gained from VSO with my fellow Teachers and other members of the community'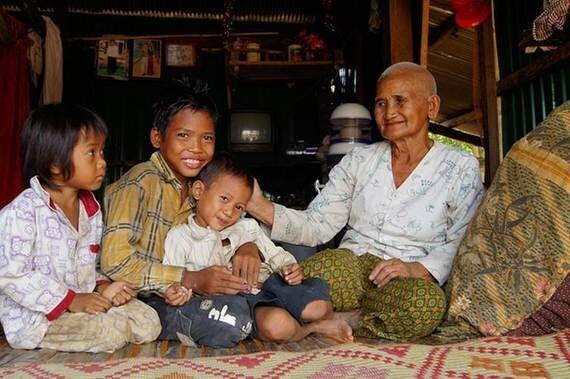 Age International working through their partner HelpAge organise older people's associations across the world. These associations are self-help groups of older people who often care for their grandchildren like the example of Dum Ream from Cambodia. The associations often provide small loans on extremely cheap interest rates to each other, "Three of my grandchildren live with me. Their father passed away and their mother remarried, so I look after them now. It is very difficult for someone older like me to look after young kids, but they are my grandchildren, so I had to take this challenge on.
Through the older people's association, I got a loan of £35 for my business of making rice noodles. They only charge two per cent interest and I will pay it back as soon as I can. I sell them in front of my house as I no longer have the energy to carry them over long distances. I do this because I want my grandchildren to have an education. I would prefer to deprive myself so that my grandchildren can succeed. I will continue fighting for them until the day I die."