The game of football is all about cycles. A team can be deemed one of the best in the world, only to see their stock drop years later. It's an inevitable, and ultimately disappointing, turn of events that football clubs often endure, but such is life. Borussia Dortmund, it can be said, are currently in a trough after enjoying a peak back in 2012 when they won their 8th Bundesliga championship.
Die Schwarzgelben, then built around offensive trio Robert Lewandowski, Mario Götze and Shinji Kagawa, the midfield tenacity of Ilkay Gündogan and the defensive solidity of Mats Hummels and Neven Subotic, romped to the championship a little over two years ago. Fast-forward to the present day, however, and Dortmund currently languishing in 13th in Germany's top tier following a shock 1-0 reverse at the hands of Hamburg prior to the international break.
The majority of the team from the title winning campaign is still there - of the aforementioned sextet, only Lewandowski and Götze have departed for pastures new, the duo signing for rivals Bayern Munich. In recent years Marco Reus, Henrikh Mkhitaryan and Pierre-Emerick Aubameyang have all joined Jurgen Klopp's side, while most recently, Adrián Ramos and Ciro Immobile have both arrived from Hertha Berlin and Torino, respectively.
The new additions mean the team should, in theory, have adequately replaced the departees, but Dortmund appear a far poorer offensive threat this season than they have in recent years. Naturally, losing players of Lewandowski and Götze's ilk would have an adverse affect, but the fall from grace has been disconcerting to say the least. Sitting just two points above the relegation zone makes for tough reading for the Dortmund faithful, who had hoped to challenge Bayern for the title. Now, after seven games, they sit 10 points behind the Bavarians.
Without looking into the matter into too much depth, injuries and underwhelming performances have played a big part in the lackadaisical start to the season. Reus, Mkhitaryan, Gündogan, Hummels and Nuri Sahin, amongst others, have spent a time on the sidelines this term, while the returning Kagawa has failed to hit the heights that made him such a hit prior to his move to United in 2012 as of yet.
Immobile and, to a lesser extent, Ramos have both underperformed in the league following their arrivals in the summer. Ramos, to his credit, has 2 goals and 2 assists to his name, a commendable return for a team that has bagged just 9 league goals, but Immobile, with just 1 goal from 6 appearances, has been regarded a flop by some so far. Of all Dortmund players to register at least 100 minutes of league action this campaign, the Italian has the lowest WhoScored rating (6.28) at the club, a significant drop from last season with Torino (7.21).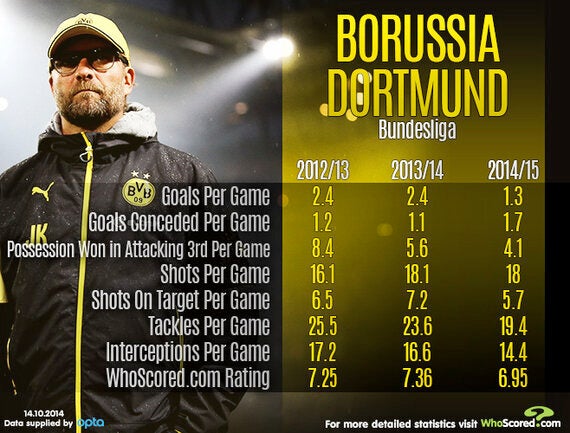 It is a tad harsh to blame all of Dortmund's problems on Immobile's profligacy, however. Injuries aside, the team are not quite pulling their weight as a whole when on the pitch. Against Arsenal in the Champions League, the German's were efficient, both on and off the ball, but this high-pressing approach has been lacking in the Bundesliga at times this season. During Götze's final year at the club, a photo of Klopp's supposed tactics when not in possession went viral on social media channels, which showed how the players must press the opposition. The process was just as effective on paper as it was in action and won Dortmund a number of admirers.
In the campaign following their title win, Dortmund were winning possession an average of 8.4 times per game in the attacking third. This season, that figure has dropped to 4.1. Either the current crop are not battling as hard as previous players would have done for Klopp in the past or the new arrivals simply have not yet bought into his philosophy. Consequently, Dortmund are shipping more goals per game (1.7) than they did last season (1.1) and the previous term (1.2) as more pressure is heaped on the defence.
The two strikers secured to replace Lewandowski - Ramos and Immobile - are frontmen with differing approaches to that of the Pole. Ramos is more capable in the 18-yard box, while Immobile prefers to hang on the shoulder of the last defender. Neither, at the moment anyway, are going to actively hunt the ball when Dortmund are not in possession, which is why the team are winning the ball back fewer times in the final third this season than in any of the previous four.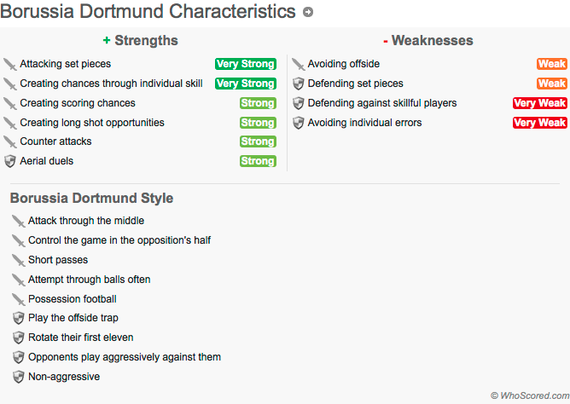 As a result, fewer chances are being created through this method and it's little surprise Dortmund are netting just an average of 1.3 goals per Bundesliga game this term. To put that into context, they averaged 2.4 goals per match in the previous two league campaigns. While the club are still creating chances - only Bayern (18.3) are averaging more shots per game than Dortmund (18) in the Bundesliga - failing to win possession as frequently in the final third means teams are better prepared to repel any potential goalscoring threat in dangerous positions.
The advantage of a high pressing game is that winning the ball deep in opposition territory catches teams off guard, which had become a benchmark of Klopp's game. With this no longer as effective, the 47-year-old is not necessarily failing to adapt his approach, but rather struggling to convince others to adhere to his instructions, particularly up front. Ramos and Immobile - 28 and 24-years-old, respectively - have both made a name for themselves with their own individual styles of play. Convincing them to alter this at the respective stages of their careers is easier said than done.
The risk of injury with the high pressing game also increases, which is why Dortmund's list of absentees is longer than they would hope, especially in attacking areas with Reus and Mkhitaryan both currently sidelined. This is clearly having a negative effect on the team, who already seem destined to end the season in the shadows of Bayern once more.
With just two wins from the opening seven games, Dortmund desperately need to turn their form around as soon as possible. However, the personnel at Klopp's disposal must help in their quest to shorten the 10-point gap between themselves and Bayern, starting with Ramos and Immobile. As difficult as it may seem, adapting to match the demands of the Dortmund boss makes defending from the front imperative.
All statistics courtesy of WhoScored.com