Prior to Real Madrid's 4-0 thumping of Osasuna last month, Sergio Ramos had netted just 1 goal in 43 appearances in all competitions this season. Fast-forward to the present day and the defender has 5 in his last 6, including a brace against Bayern to cement Los Blancos' place in the Champions League final.
Praise for his performances in front of goal is warranted, but it is in his own half of the pitch where Ramos deserves yet more credit. Carlo Ancelotti has been commended for improving the Madrid backline having improved the defensive partnership between Ramos and Pepe at the back.
Ramos, in particular, has shone in the backline, with his WhoScored rating in La Liga (7.48) its highest in any of the seasons for which ratings are available. Furthermore, the defender has won more man of the match awards (6) this campaign than the previous 4 seasons combined (4). Forget his poor disciplinary record, the 28-year-old has gone above and beyond to impress his new manager and has stepped up his game to become a more potent attacking threat, albeit from defence.
With the Spanish capital side averaging slightly more possession this term (58.8%) than last (55.7%), it's evident Ancelotti has demanded his side retain the ball more and a defender capable of playing out from the back is crucial. Only Roberto Trashorras (1194) completed more passes in his own half than Ramos (1010) in La Liga this season. Importantly, Ramos' average number of accurate passes per game has increased this season (31.6) from last (25.2), signifying the change in system under Ancelotti.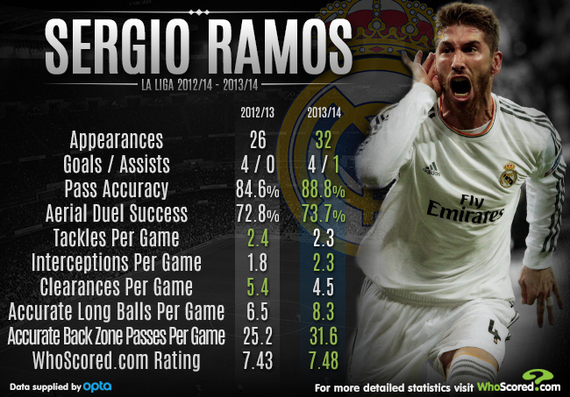 The team no longer appear to be quite as reliant on lightning quick counter-attacks as they were under the stewardship of José Mourinho, having fired fewer attempts from fast-breaks this season (45) than last (60). Instead, they are more comfortable in possession, with the team building attacks through the likes of Xabi Alonso and Luka Modric in midfield.
The duo are happy to drop deeper to receive the ball and utilise the space granted to them to attack the opposition, who rather than match Madrid toe-to-toe, sit and wait to try to hit them on the counter. Ramos in turn becomes all the more crucial to the team, with the player an adequate outlet for goalkeeper Diego López.
With lowly Liga teams hesitant to push too high up the pitch, Ramos has the time to pick the right pass in the defensive third and his pass success (88.8%) is his highest in any of the last 5 seasons. Much of that is due to Alonso and Modric operating closer to the defence to receive the ball, with the centre-back giving the ball to the duo more frequently, thus developing a WhoScored strength of 'passing'.
His reassuring performances in the backline also means Madrid are not as rash when it comes to defending. Though only Pepe (5.1) is averaging more clearances per game than Ramos (4.5) of every Madrid player, the Spaniard's figure has dropped from last season (5.4).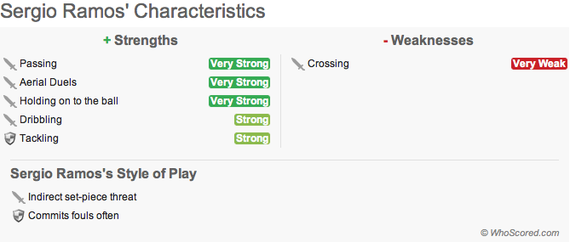 Ramos is capable of being in the right place at the right time to alleviate pressure on the Madrid goal, but rather than instantly clearing danger, his maturity is shining through when needs must and, using his experience, the centre-back instead aims to pick out a teammate in these situations. It's no coincidence that his accurate long balls per game (8.3) has risen this season from last (6.5) as his average number of clearances have dropped.
Granted, Madrid averaging more possession means the chances of the opposition forging goalscoring opportunities drops, and thus there is less pressure on the defence to clear. Yet, Ramos is remaining composed when required to relieve pressure and doing so to help instigate attacks from the back by picking out more offensive-minded players higher up the pitch.
Los Blancos have developed statistically calculated styles of play of 'short passes' and 'possession football' and Ramos' performances in the heart of defence match these perfectly. Fans knew he had the ability to perform the role of ball playing centre-back, but he has showcased this side of his game particularly well this term.
With Ancelotti favouring the possession-based passing game than his predecessor, the Italian must have been enthused to have a defender of Ramos' ilk at his disposal after succeeding Mourinho at the Bernabeu. The Spain international may have his critics, but Ancelotti is moulding him into a complete centre-back and one who is approaching his peak.
How do you rate Sergio Ramos' performances this season compared to last? Let us know your thoughts in the comments below
All statistics courtesy of http://www.whoscored.com where you can find yet more stats and player ratings.