Despite a 5-1 thumping of FC Basel on Tuesday, the problems at Real Madrid are well documented. Granted, the reigning European champions secured the signatures of James Rodríguez, Toni Kroos, Keylor Navas and Javier Hernández, albeit on loan, this summer, but released Ángel Di María and Xabi Alonso, with the duo joining Manchester United and Bayern Munich respectively, and their league form has suffered as a result.
Both players were crucial to Madrid's domestic and European success last season, with Carlo Ancelotti's side also securing the Copa Del Rey courtesy of Gareth Bale's wonderful solo effort against Barcelona. However, many fans feel Los Blancos would never have triumphed without Di María and Alonso. Madrid's early season performances suggests they may be correct.
Di María was expected to depart for pastures new at the end of the campaign, but Alonso's move to Bayern caught many off guard. "Clearly it was a surprise. It was all quiet here, but Xabi decided to go. We were surprised," Ancelotti said last month after his move to the Bundesliga champions was announced, and while his playing time may have been limited what with the acquisitions of Rodríguez and Kroos, the departure of Alonso significantly weakens Madrid's midfield.
The 32-year-old's WhoScored rating (7.06) may not have been the best of all Madrid players last season, but his range of passing and capability to make things tick for the Liga giants was essential. Alonso averaged the most passes per game in La Liga (65.6) and the third most in the Champions League (59.5) of all Madrid players last term, while maintaining an impressive pass success rate of 88% and 89.4% in each respective competition.
Madrid's loss, though, is Bayern's gain. The experienced midfielder has slotted into Pep Guardiola's starting XI seamlessly and is expected to play a vital role for the German outfit when they face Manchester City at the Allianz Arena on Wednesday night. In the absence of Thiago Alcantara and Bastian Schweinsteiger, Alonso has provided the creativity in a deeper lying midfield role for Guardiola's side.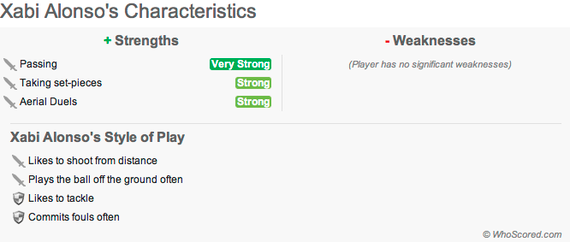 Of all Bayern players to feature in at least 2 of their 3 league games, only Jerome Boateng (7.99) has garnered a better WhoScored rating than Alonso (7.55) in the Bundesliga this season. The rating reflects what has been an impressive start to life in Munich for the player, who may have been on the peripherals of the first team had he remained in the Spanish capital. Alonso earned the WhoScored man of the match award in the 1-1 draw with FC Schalke 04 on his debut, before following this up with an impressive performance in Bayern's 2-0 win over VfB Stuttgart.
Despite plying his trade in an unfamiliar league, Alonso is averaging more passes per game (108) than any other player in Germany's top tier - Heiko Westermann (80.5) comes closest to matching that. Ball retention is Alonso's primary aim each game and he is clearly performing the duties expected of him to a very high standard. That he is maintaining an excellent pass success (90.3%) reinforces his passing ability and it's little wonder that a WhoScored strength of his is 'passing'.
While PSG (68.5%), Barcelona (68.2%) and Juventus (64.4%) are averaging more possession per game than Bayern (64%) this term in Europe's top 5 leagues, it's no coincidence that the Bundesliga giants had their worst possession return in the game Alonso did not feature - the 2-1 win over Wolfsburg on the opening day of the season. 'Possession football' is a statistically calculated style of play of Bayern's and Alonso's approach means this can be translated onto the pitch.
Bayern enjoyed 67% possession in their 2-0 win over Stuttgart at the weekend, a game Alonso effectively marshalled in the middle of the park. The Spaniard's WhoScored rating (6.97) was nowhere near the highest of all players, that honour bestowed upon Boateng (8.25), but Alonso was central in Bayern's dominance of the game. The former Madrid star had the most touches in a single league match in the win over Stuttgart (151) this season, highlighting how involved he was in play.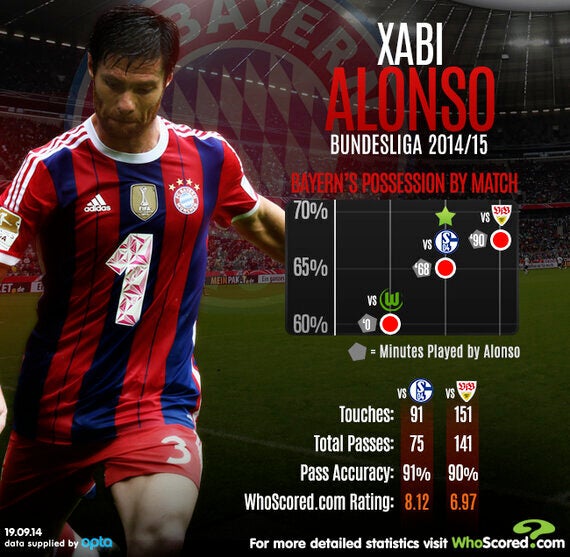 Against Stuttgart, Alonso also both attempted (141) and completed (127) the most passes in a Bundesliga match this term. While not necessarily fully involved in the end product - only 1 pass was key - the experienced midfielder allowed Bayern to control proceedings from the outset. Playing more accurate long balls (16) than any other player in the victory helped the hosts instigate swift attacks and was a testament to his vision and awareness of the movements of his teammates.
Playing under a manager who actively encourages his team to retain possession and wait for the 'eureka' moment to strike has helped Alonso adjust to the rigours of the Bundesliga with ease. While some may take time to fine-tune their game when moving to a new league, Alonso has hit the ground running as Bayern strive to dominate domestically once more.
Ahead of Bayern's meeting with City, Manuel Pellegrini, who is serving a touchline ban, will demand his players close Alonso down in order to limit his influence. When allowed to set the tone for a match, the former Spain international can wreak havoc on any unsuspecting defence and with Bayern out to avenge the 3-2 loss suffered at the hands of City last season, the Premier League champions must limit the supply if they are to come away with 3 points. If Alonso is allowed to pull the strings from midfield however, then City may be left to rue the decision to not stifle the Spaniard from the get-go.