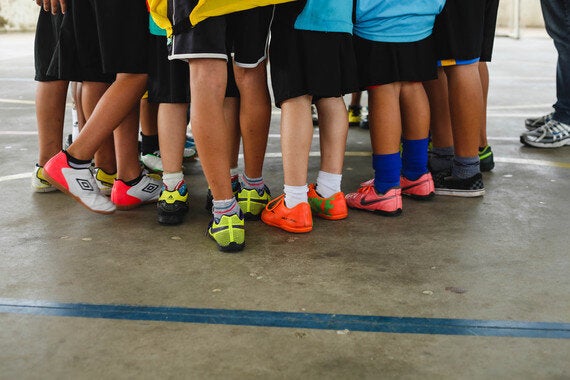 In Durban in 2008, a group of English football volunteers called Lionsraw discovered the authorities had a habit of driving street children miles away and dumping them there any time a big event came to town.
After some intervention and discussion involving local volunteer groups and the local authorities, this practice was stopped at least in this part of South Africa as the FIFA World Cup 2010 approached, and the schools and shelters built for children there by Lionsraw four years ago are in operation to this day, ensuring a lasting legacy.
As we are now less than a month away from the World Cup in Brazil, has anything been learned from experiences like this?
Arguably, with between 150,000 and 200,000 people estimated to have been evicted throughout Brazil for related works by the campaign group Popular Committee for the World Cup, widespread school and bus strikes and police methods being questioned for their brutality, the situation is even worse.
I am here in Brazil investigating the effects on children, and so far I have seen children suffer from health problems and miss out on school due to evictions and event-related works, while FIFA is set to make $4bn from the tournament. Many have been rehoused, but they are now hours away from their schools and from hospitals and other essential services.
A report in the respected Brazilian paper Hoje em Dia this week by Bruno Moreno found that between 57,300 and 76,500 children have had to move schools or change day care arrangements because of evictions or works which were linked to the World Cup, or the Olympics, which will come to Rio in 2016.
The claim is always that the international attention will bring tourists and boost the economy, but in Germany, which held the World Cup in 2006, the hosts spent $5bn and only earned $130 million from the tournament.
Too often, it is left to civil society to fill in the gaps and bring the benefits of football to all.
Lionsraw are bringing their brand of football coaching and essential lifeskills to youngsters in Curitiba, in the south of Brazil, which has suffered its own evictions and has many parallels with Durban. But while comparisons can be drawn, the volunteers have found that many more children are linked to organised crime gangs in Curitiba than they had experienced in Durban, which brings its own challenges. While there are always some patterns that seem to emerge when developing countries host mega sporting events, they happen in the unique social and historical context of that country too. "The perception is that Brazil is a rich country, but that resource isn't evenly distributed. You can fall into the trap of not believing that the destitution exists, but it does," said Kevin Clark of Lionsraw.
There are a huge number of groups here working towards mitigating the negative effects of the World Cup on children and bringing some positive ones, too. Another excellent example is the Favela Street girls' football project in Rio, winners of this year's Street Child World Cup, and a combined effort between the Rio authorities and volunteer groups aiming to protect children from sexual exploitation during the tournament. There wouldn't be space to list them all.
These groups and individuals are doing a fantastic job, and in many cases they have directly used their experiences in South Africa to inform their approach here in Brazil. The best of them are dedicated to making sure that even if the World Cup inspired their efforts to begin with, a lasting legacy is left once it's all over. But for children to really benefit when the World Cup comes to Brazil or any other country, perhaps FIFA needs to make a firmer commitment that their interests will be protected. Football can be a force for good and is certainly dearly loved in this host country, so it seems such a shame to waste that opportunity.
Otherwise, the same complaint that was raised in South Africa by activists such as Eunice Mthembu will be heard here - that the tournament only really benefited the elite, and once the party moves on there is an awful lot of cleaning up to do
Beth McLoughlin is investigating the effects of mega sporting events on children for the charity Terre des Hommes.